Dave Bautista Intimidated by the Stellar Cast of 'Knives Out 2' — Says "Everybody's Cast So Well"
'Knives Out 2' boasts a star-studded cast with Daniel Craig, Edward Norton, and Janelle Monáe, among others.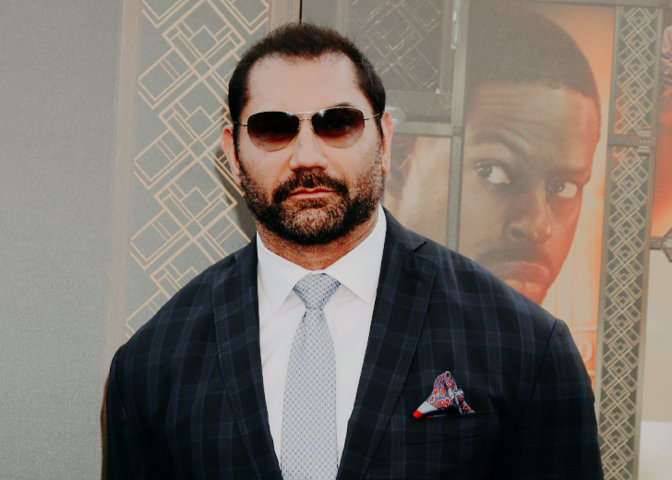 Dave Bautista didn't hold back while sharing how he felt about the stellar cast of his next big project, Knives Out 2. In an interview for Slash Film in May 2021, he confessed he was nervous, terrified, and even intimated. 
The Guardians of the Galaxy star explained his nervousness, stating that he had to meet people's expectations. Then he clarified that the intimidation factor spurred from the cast of A-list actors. He opined all his co-stars and even directors were seasoned award-winners. 
There's always going to be a part of me that feels like I'm new to this and I'm still learning, and I want to be able to hold my own. So there is a bit of an intimidation factor.
Despite the intimidations, Bautista took the movie as his most significant opportunity. He knew the brilliancy of the script and the production team and was determined to prove himself as a game player.
The hunky actor's nervousness is justified given that the sequel, like its first film, boasts big names in Hollywood.
Madelyn Cline, Kate Hudson, Leslie Odom Jr., Kathryn Hahn, Jessica Henwick, Edward Norton, and Janelle Monáe are the principal new cast. Besides them, Daniel Craig will reprise his role as Detective Benoit Blanc.
Dave Bautista Compared 'Knives Out 2' With the First Film
Bautista compared the sequel with Knives Out and opined that it was better than the first one regarding storyline and characters. 
The former professional wrestler gushed about the differences in an interview with People on August 2, 2021. Clarifying that he meant no offense, Bautista remarked Knives Out 2 would be good, if not better, than the first movie. 
Bautista reasoned his statement by saying that the characters in the sequel were more colorful, quirky, and different.
The 52-year-old also added that his co-stars did an inspiring thing by breathing life into the characters. So much so, they mesmerized him with their performances. 
In his own words, "everybody's cast so well." Bautista is optimistic that the audience would love the new whodunit. 
All About 'Knives Out 2'
The mystery film is director Rian Johnson's second take on the crime drama. The plotline for the movie hasn't been public knowledge yet, but it's expected to be an adventure for Det. Blanc, investigating a case with multiple questionable characters. 
Filming started on June 28, 2021, in Greece. Johnson updated his fans about the first shooting day through his Twitter, revealing that they filmed murder scenes on the shores. 
Then on July 30, 2021, he took to Twitter to announce that they wrapped up filming in Greece. The director also mentioned the movie was halfway through filming. 
Knives Out 2 is slated to air sometime in 2022, as a Netflix Original. The content production company gained full rights to the second and third installment, Knives Out 3, through a historically expensive $400M+ deal in March 2021.