Darius Morris' Ex-girlfriend Kristen Sues Him for Assault and Domestic Violence — Here's How The Scandal Unfolded
Darius Morris's ex-girlfriend demands default judgment.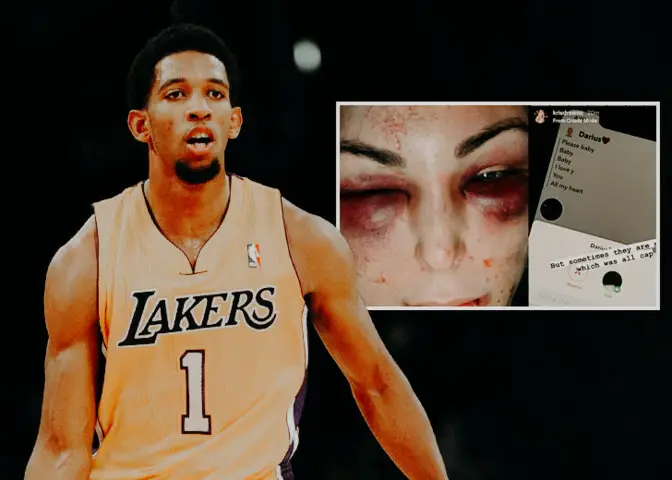 Former NBA player Darius Morris was sued by his ex-girlfriend Kristen Summers in Manhattan for alleged assault and battery. 
To understand how the situation went out of hand, we will have to go back to early 2020, when the professional basketball player first got embroiled in a domestic violence scandal.
The First Accusation and Withdrawal
On April 18, 2020, Morris's ex-girlfriend Kristen Evangeline claimed to be mauled by the former LA Laker guard during an altercation at a Manhattan-area home.
As per TMZ's article, the 34-year-old left the residence and asked Morris to go before she returned. But when she came back home, Morris was still there. 
To make the situation worse, he was angry and exploded on her. The statements given to the police department claimed Morris dragged her by her hair, punched her, and kicked her in the head repeatedly. 
As a result, Evangeline suffered bruises on her arms and back and swelling on her eyes, forehead, and ear. She also sustained a chipped tooth and was treated at a local hospital. 
Meanwhile, Morris was arrested on charges of strangulation and assault, although he was released after some time.
Then on April 30, 2020, the athlete was arrested again. This time for violating an order of protection. But the Los Angeles native was let go shortly, with both cases pending. 
TMZ tried to extract comments from Morris, but he and his representative declined. His accuser, on the other hand, gave a surprising statement, denying all the previous allegations.  
Evangeline claimed she made the whole thing up and didn't want to see the former Brooklyn Nets player being prosecuted. She said, "It's private, none of it's true."
Moreover, she clarified she would drop all charges against Morris. Evangeline's identity wasn't clear at the moment, but it became public once she narrated her side of the story through Instagram. 
Kristen Evangeline's Confession
Evangeline maintained silence until a year from the first allegation.
On April 5, 2021, she took to Instagram to look back on how she passed her most challenging moments alone. Of course, she was talking about April 18, 2020, when Morris allegedly beat her to near death.
A day later, she opened up about her side of the story through another Instagram post and clarified why she denied the allegations to TMZ.
In her own words, they were dating for over four years, and the player was allegedly abusive throughout their relationship.
The Instagram model hid the ugly facet of their dating life, even from her family members. But things went out of control when Morris almost killed her on April 18, 2020. 
That night, she had gone out to bring the liquor he had asked for. When she came home, he was allegedly high on coke and had left his phone unlocked. 
After going through his phone, she found he was cheating on her. In the light of his unforgivable behavior, Evangeline asked him to leave the house, but he got infuriated and started beating her. 
He forced her into an intimate relationship and got angry, saying she didn't cook for him. After the incident, Morris went to sleep. Meanwhile, Evangeline picked herself up and cleaned the blood.
The ordeal wasn't the first time Morris demonstrated his anger. As per the story, Morris beat her in London as well. He stomped on her head and strangled her with a garbage bag, leaving a shoe print on her face. 
After providing details about her abusive relationship, Evangeline shared she loved Morris truly and wanted him to get better. She reportedly lent him her savings and supported his games. 
Although he baselessly accused her of cheating and being intimate with all her male friends, she couldn't leave him. 
As per Evangeline, the only people who knew of the abuse were Morris's family. But instead of helping them, they would blame her and even purposely instigate fights between them.
Doubtful of herself, she lied to TMZ, saying she made everything up. She reasoned she wanted to save his career and get him help. Before the pandemic, Morris had been playing for a pro team in France.
She Defended Other Black Men
Evangeline's confession brought her bruised pictures and even a video from the brawl in the light.  
She also posted screenshots from her Snapchat on April 6, 2021. The pictures featured Morris's hate messages, where he stated how he regretted meeting her.   
Evangeline stressed the hate was the reason she didn't open up about the story. She also showed Morris's previous love-filled messages and claimed they were all lies.
As soon as the graphics and her story made it to the internet, many followers quickly judged and stated how black men were violent. But Evangeline was having none of it. 
She posted an Instagram story on the same day, clarifying that she would not tolerate racism on her page. She also mentioned how it was one person raised wrong and not all black men. 
Apology from Darius Morris
In the wake of the domestic violence scandal, Morris apologized to his former muse through an Instagram story on April 19, 2021. Posting a picture of him and Evangeline, he wrote, "I am sorry for not treating her right this my girl."
Other than that, the basketball star didn't comment on the situation. Instead, Morris made his Instagram private.
Kristen Wants Default Judgment 
In July 2021, New York Post reported that a woman named Kristen Summer, Evangeline's formal moniker, had asked the Manhattan court to enter a default judgment against Morris. 
She had sued the 30-year-old in April, citing assault and battery, intentional infliction of emotional distress, and gender-motivated violence. But because he and his team had not submitted their answers to her complaints, they demanded a default judgment.
However, Morris's criminal lawyer, Stacey Richman, defended Morris, saying he didn't know about the case. She admitted she knew of the lawsuit only after New York Post approached her for comments.
Richman clarified the defendants would seek a leave to enter and respond to the allegations.