DaBaby Calls the Cops on His Baby Mama DaniLeigh, Wants Her to Move Out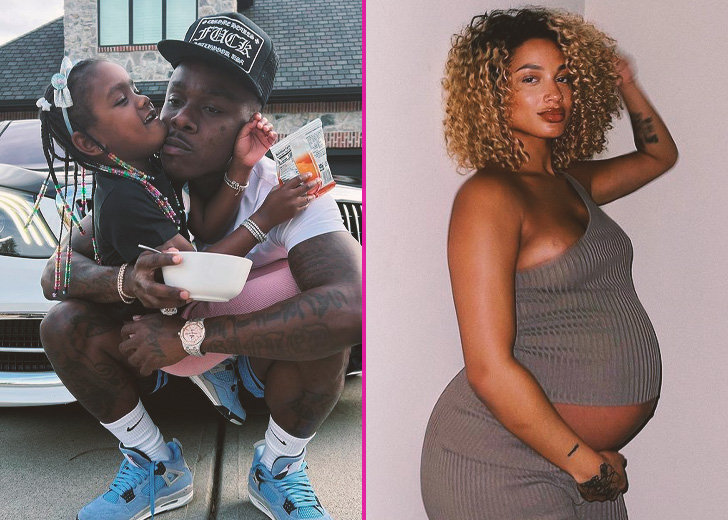 DaBaby and his baby mama DaniLeigh are embroiled in a serious beef. The professional rapper called the cops to move DaniLeigh and their daughter out of his house on November 14, 2021.
The news of their rift made it to the internet after the two displayed a heated argument on DeniLeigh's Instagram Live. In the video that lasted a few seconds, the 'Cravin' songstress could be seen lactating their daughter while arguing with DaBaby. Meanwhile, DaBaby referred to her as a "crazy girl" and asked her to move out. 
Moments after the live session ended abruptly, DaBaby took to Instagram stories to explain what was going on. "I would like to swiftly remove myself from any of the 'hostile' behavior put on display moments ago," he began his lengthy write-up.
Then he alleged that his baby mama had crashed out on her own, before mentioning that he deliberately took the video for his safety and reputation. The 29-year-old remarked he had been threatened to be staged in an internet scheme multiple times and stressed that DaniLeigh refused to let him go. 
DaBaby even added that he was beaten, yelled at, and chased around. And he clearly articulated that his team would be in contact with any or everybody who needed clarification. 
Following the details, DaBaby uttered he had called the cops, explaining he didn't want charges pressed or any legal actions. In his own words, he just wanted to remove her from his home peacefully. But he stressed they "need to hurry as we speak. I ain't even want that behavior on display."
Despite the scandal, DaBaby expressed that his focus was solely on his new project and tour, starting on November 26, 2021. 
DaBaby's Baby Mama Breaks the Silence
After DaBaby addressed the scandal, his baby mama also broke the silence on the matter, offering shocking allegations. 
At first, she held a live session on Instagram. At the beginning of the clip, the 26-year-old stated she didn't want to take the issue on the internet, knowing that people would fabricate the story and make it dramatic. But she remarked DaBaby's statement forced her to come forward and set the records straight. 
As per her accounts, she had been living with the rapper for the last three months since she gave birth to their daughter. She was moving back and forth in DaBaby's house and penthouse. 
But on the night of the ordeal, DaBaby came to her room and abruptly asked her to move out with their baby girl. DaniLeigh stated things escalated after DaBaby allegedly pretended to love the kid. 
"You haven't been here the whole time since I had this child," she spoke, slamming the Ohio native.
The mother-of-one also posted an Instagram story detailing the ordeal. She reiterated DaBaby called the police because he was mad at her and wanted to be with his other female partners.
She also accused him of being irresponsible and expressed she was sorry for her three-month-old baby daughter because her father kicked her out of the home without thinking of the consequences. 
DaBaby and DaniLeigh gave birth to their kid in August 2021, six months after they broke up. They publicly dated from December 2020 to February 2021.