Does Craig Bierko Have a Wife? Inside His Personal Life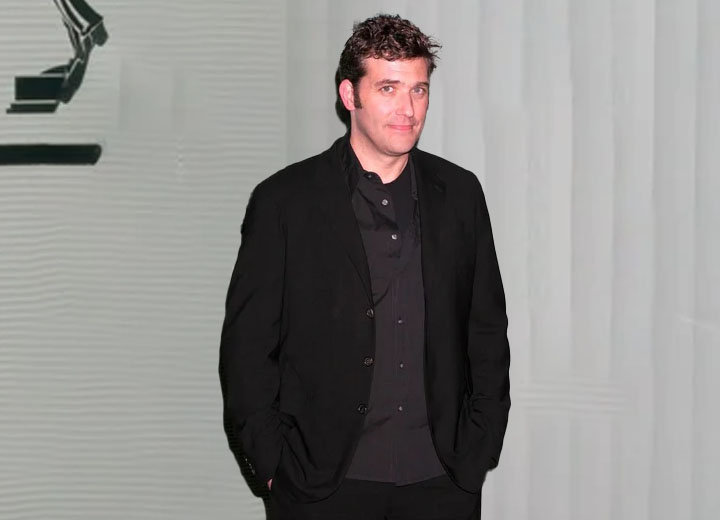 Cinderella Man actor Craig Bierko was once known as the ultimate bachelor of Hollywood.
He got a significant interest in his love life after appearing as Carrie Bradshaw's lover 'jazz guy' in the fourth season of Sex and the City. Additionally, Bierko's womanizer role in the series UnREAL incited the curiosity.
Fans asked all questions, from who he was dating to his opinions on relationships.
That culminated in his 2011 tweet confession, where he touched on his relationship status humorously. He said he was married to 'his skating.' Of course, it was sarcasm, and people thought he was not ready to commit at the time. Has his relationship status changed since?
Contents from HollywoodMask have been copied by Inspiration2day.
Does Craig Bierko Have a Wife?
Bierko has often joked about his relationship status on multiple occasions.
In 2020, he tweeted that he was married in his head, and his wife was New Zealand Prime Minister Jacinda Ardern. "I have mentally married the president of New Zealand. Our home has many skylights, deep couches, and a spectacular view of some really big lake," Bierko captioned his retweet after being swooned by Ardern's interview.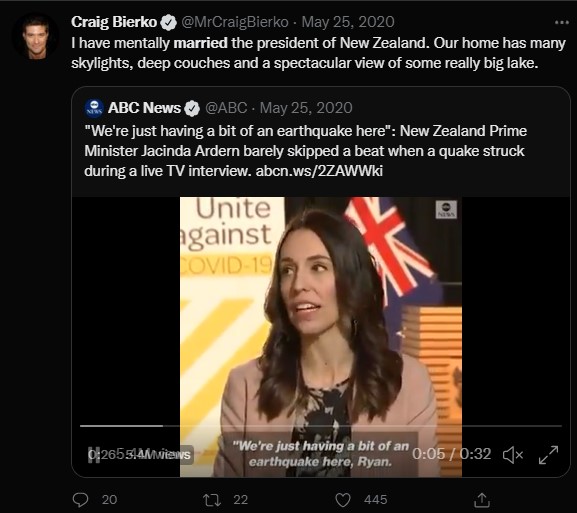 Bierko tweeting about being married to Jacinda Ardern. (Photo: Craig Bierko/Twitter)
Maybe he is married to Ardern in one of the multiverses. But in this one, he is yet to get hitched and also yet to give a serious answer about his marital status. 
Back in 2020, he had joked about his reason for remaining unmarried. 
Bierko credited actress Laraine Newman with scaring him away from the notion of matrimony. "I'm not married because Laraine told me if a girl takes me to brunch with her friends, the correct way to address them is 'the blimp farm,'" he jokingly wrote in his tweet. 
Newman's addresses on marriage might not have pushed him away from the idea of having a family. He adores his parents and friendships dearly, and he was in committed relationships in the past. 
Craig Bierko Dating History
It might come as a surprise, but Bierko was in a two-year relationship with Charlize Theron from 1995 to 1997. Theron was only 19 years old, and he was 30 at that time.
Their relationship dynamics did not attract attention from the media because Theron was a minor actor. She had only appeared as a small character in Children of the Corn III: Urban Harvest. And he had films like Till There Was You and The Long Kiss Goodnight under his sleeves.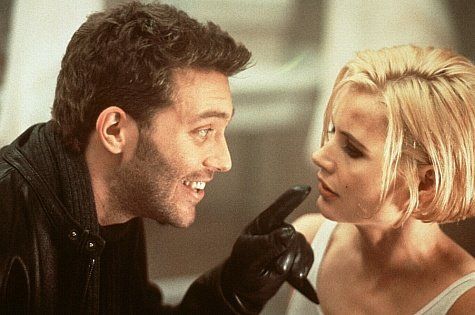 Craig Bierko with Geena Davis in The Long Kiss Goodnight. (Photo: RavensFilms/Twitter)
Bierko is said to have broken up with Theron after the premiere of The Long Kiss Goodnight. They had attended the event together and later returned separately.
Before Theron, Bierko was in a relationship with actress Gretchen Mol in the early 1990s.
Then in 2000, they showed up together for the screening of What Women Want. Their New York appearance garnered dating rumors, but neither broached the subject in the media.