Corey Fogelmanis and Sabrina Carpenter's Rumored Relationship Details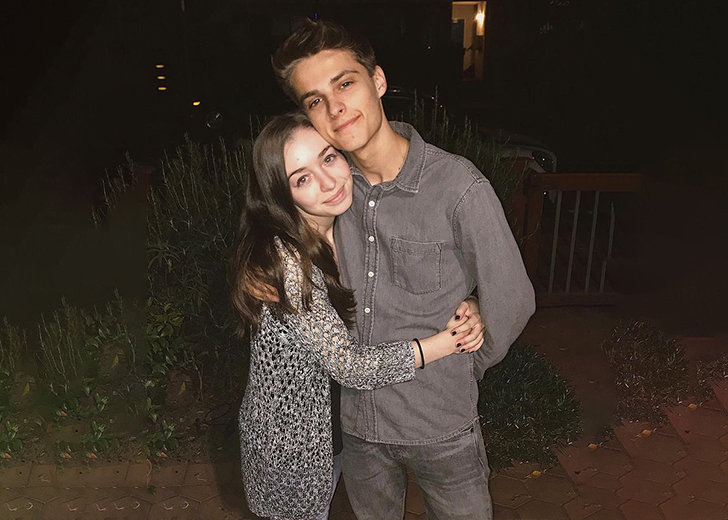 For Disney's Girl Meets World fans, Corey Fogelmanis and Sabrina Carpenter are not new names.
The two young actors skilfully portrayed their respective roles in the comedy television series. While Fogelmanis starred as Farkle Minkus, Carpenter played the role of Maya Hart.
During the three seasons of the show, they became close friends and were regularly spotted together on one another's social media and at various events.
No prizes for guessing that their close relationship has led to dating rumors for the last few years now.
Corey Fogelmanis and Sabrina Carpenter Dating Rumors
The dating rumors got fueled when the deleted scenes from the 22-year-old actress' 'On Purpose' music video became public in 2017.
In a YouTube video, revealing actions from behind the scenes, Fogelmanis and Carpenter are seen sharing some adorable moments.
"Oh my god I just want them to get together!" one commented in the video.
Another noted, "Corey is the one who film her music video."
Similarly, multiple Instagram photos shared by Fogelmanis also showed them sharing intimate moments together — and making fans gaze at the couple in awe.
For instance, the PrankMe star grammed a series of pictures of him and Carpenter back in September 2017.
The pictures captured by the actress' sister Sarah Elizabeth Carpenter saw the pair goofing around and holding hands.

Corey Fogelmanis and Sabrina Carpenter holding hands in public. (Photo: Instagram)
The post immediately received attention from fans and the pair's friends, most of whom exploded the comments section with the #Corbina hashtag.
"The way he looks at her tho..." a fan pointed, while someone also agreed, saying, "I love this photos so much."
Another fangirl commented, "Sabrina Carpenter + Corey = [heart emoji]."
"Wait are sabrina and cory dating?" someone asked, adding a shocking emoji.
Meanwhile, the pair's Girl Meets World co-star Danielle Fishel also chimed in, saying, "AHHH OH MY GOD ARE YOU GUYS DATING GJFNDBDJDNSNNS JK JK JK JK."
Sabrina Carpenter Denies Dating Corey Fogelmanis
Despite her PDA-filled moments with Fogelmanis, Carpenter denied the speculations of her dating her co-star and close friend multiple times in 2018.
First, while speaking with Seventeen for the August and September cover, she denied dating Fogelmanis, saying he was a great friend and a big supporter of her life.
She said, "He's so funny and smart," while explaining her relationship with him was never more than great friends.
"Oh, my God — I don't know how many times I've had to say that," she added.
Carpenter also noted him as a "great friend" in her August 2018 Instagram post. She shared a picture of them to wish him a happy birthday.
In the post, she additionally thanked him for being there for her as a friend "and not dating me."
That clarifies that their dating rumors were nothing but their fans wanting to see them as couples. That said, they never dated each other.
Even at present, Fogelmanis and Carpenter are still good friends and regularly appear on each other's social media posts.
Meanwhile, Carpenter had previously dated Bradley Steven Perry (2014-2015), Griffin Gluck (2019-2020), and Joshua Bassett (2020-2021).
On the other hand, Fogelmanis is sparking gay rumors with some cryptic Instagram posts.