Christina Ricci Married a Year after Divorce - Meet the Actor's New Husband Mark Hampton
Christina Ricci is married to Mark Hampton.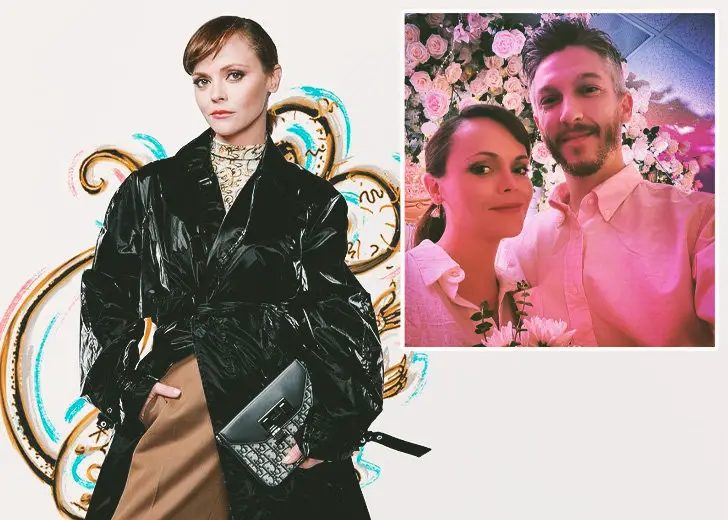 The Addams Family star Christina Ricci tied the knot with celebrity hairstylist Mark Hampton. Ricci took to Instagram to share the news while sharing a picture of her and her new husband during their big day.
She captioned the post, "Mr. and Mrs." and Hampton mirrored her post with the same picture but wrote "#justmarried" on the caption.
The news of Ricci and Hampton's marriage comes two months after the actress had revealed she was expecting her second child. She had shared the news of her pregnancy with her fans with a photo of an ultrasound image.
This will be Ricci and Hampton's first child together. She is already mother to a seven-year-old son Freddie whom she shares with her estranged husband James Heerdegen.
Speaking on motherhood previously, she shared it had changed her life and way of looking at things.
It's [having a child] made everything in my life actually important and matter. I now have to take things seriously, and I never did before. I want to succeed for him. My choices matter more.
Who Is Christina Ricci's Husband Mark Hampton?
Hampton is a London-based hairstylist who has worked with brands like Hugo Boss and Banana Republic. He has also worked with well-known names like Grimes and actress Carey Mulligan.
Hampton and Ricci have kept their relationship mostly private and the two have only taken to social media to mark milestones in their relationship or celebrate special occasions.
The actress previously made a post to wish Hampton a happy birthday.
Christina Ricci And Her Ex-Husband James Heerdegen
Ricci and her ex-husband, Heerdegen, met for the first time in 2011. They were both working on the set of Pan Am. They began dating shortly afterward and tied the knot on October 26, 2013.
The couple welcomed their son, Freddie, a year into their marriage. Ricci filed for divorce from Heerdegen in July 2020 and cited "irreconcilable differences" as the reason for their split.
According to People, the actress had obtained a domestic violence restraining order against Heerdegen in January 2021 after she accused him of physical abuse. The outlet reported Ricci claimed she was subjected to "severe physical and emotional abuse" by her estranged husband with many acts of abuse taking place in front of their son.
Heerdegen's attorney denied all the allegations of abuse in a statement, and their divorce remained contentious for quite some time. The two finally settled on custody arrangements for their son back in April 2021.
Freddie would travel with Ricci to Canada, where she was set to film a new project. Heerdegen could continue visiting their son through his "regular monitored visitation time." He was also given 15-minute FaceTime calls with Freddie three times per week.