Was Carter Reum's Wife Paris Hilton Aware of His Love Child?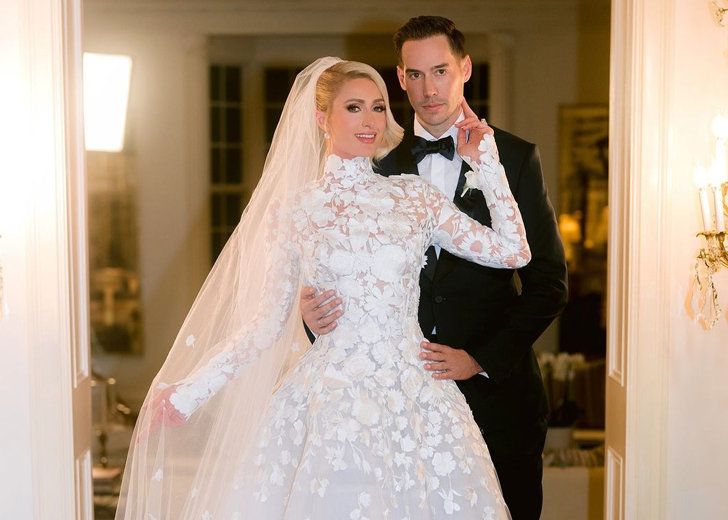 Carter Reum and his wife, Paris Hilton, got married in Los Angeles on November 11, 2021.
The venue for the ceremony was the former Bel Air estate owned by Hilton's grandfather Barron Hilton.
They started dating each other in December 2019, after reconnecting at a Thanksgiving get-together.
"From that night, I felt the spark, and the rest is history," Hilton told Vogue.
Carter Reum and Wife Hilton's Engagement
Friends for fifteen years, the couple got engaged on February 13, 2021, after Reum treated Hilton with a surprise joint birthday vacation at a private Island.
Initially, the model turned entertainment personality was asked to participate in a beach photoshoot. Instead, Hilton ended up getting proposed by Reum.
However, the surprise did not end there, as her family and friends flew out to the island for a pre-planned ceremony.
Hilton's husband proposed to her with an emerald-cut diamond ring designed by Jean Dousset, which was inspired by Art Nouveau aesthetics and the vaulted glass ceiling of the Grand Palais.
The celebrations continued after the couple organized a joint bachelor party in Las Vegas, followed by an Alice in Wonderland-themed bridal shower hosted by Hilton's mother, sister, and close friends.
Carter Reum and Wife Paris Hilton's Wedding
Reum's wedding with Hilton was planned by highly-rated wedding planner Mindy Weiss and her team.
Hilton wore a custom Oscar de la Renta gown for her nuptials while German singer Kim Petras sang the words of Elvis Presley's classic hit 'Can't Help Falling In Love' as she walked down the aisle.
Reflecting on her dress, Hilton expressed her happiness, saying she loved the gown, which turned out to be timeless, elegant, chic, and icon, just as she wanted it to be.
Her bridesmaids, Tessa Hilton, Halle Reum, Brooke Brinson, Whitney Davis, and Farrah Aldjufrie, gave her company wearing Alice + Olivia designed pink lace dresses.
Reum, on the other hand, fancied Ermenegildo Zenga's tailor-made navy silk single-breasted shawl-lapel tuxedo.

Carter Reum and his wife Paris Hilton posing for a photograph during their wedding ceremony. (Photo Credit: Instagram)
The wedding reception was organized in a specially made tent with Demi Lovato tasked with entertaining the guest singing Whitney Houston's classic 'I Will Always Love You.'
Likewise, Bruno Mars sang his evergreen hit 'Just the Way You Are' for the couple as they took on the dance floor.
The following day, Reum's spouse said she was proud of her love story with her husband, calling their marriage only the beginning of their journey ahead.
Carter Reum's Wife Knew About His Love Child
While the dust on their wedding was yet to settle, the pair made headlines for a purely different reason.
Multiple media reports suggested Hilton's husband Reum was a father to a nine-year-old child from a separate relationship.
However, according to Entertainment Tonight, Hilton already knew about her husband's private affair.
Reum's former partner was understood to be Laura Bellizzi, a popular reality television personality and businesswoman from California.
Later, in their report, Page Six mentioned Reum's child he shared with Bellizzi to be his daughter named Evie, whom Hilton's husband was looking after since her birth.
As of this writing, the couple is yet to address the matter in public, despite the sensation created by the news.