Bruno Mars Learnt about Music from His Dad — A Look into His Ethnic Background
Bruno Mars has always been a performer, he was simply born into the performing arts. His heritage is not so simple though.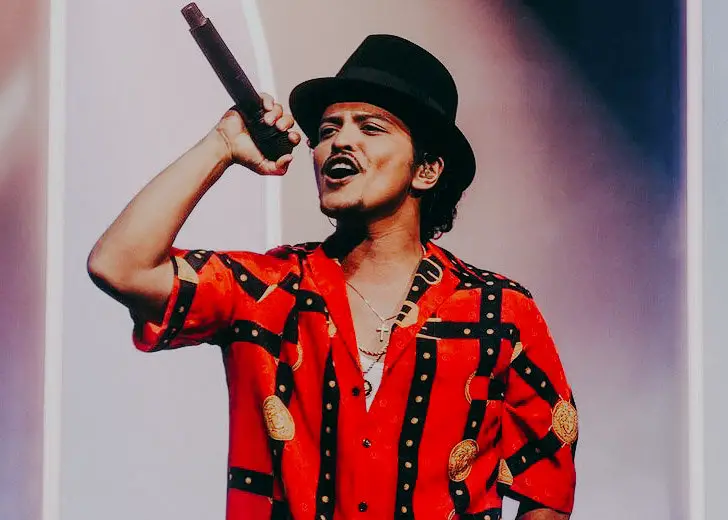 "My dad was the showman, my mom's the singer in the family," Bruno Mars once told CNN. Going by that statement alone, the 'Uptown Funk' singer was raised in a family of performers. 
Mars grew up in Hawaii, performing with his family for six days a week for as long as he could remember. However, his ancestry is a bit more complicated.
Mars' Ethnicity And Parents
In a 2017 article for HuffPost, genealogical expert Megan Smolenyak took the liberty of drawing the Leave the Door Open singer's family tree, and the findings were absolutely amazing. 
Upon first glance, Mars is a Hawaiian born to a father of Puerto Rican heritage and a mother from the Philippines. He was born Peter Hernandez IV to Pedro Hernandez and Bernadette Hernandez on October 8, 1985. 
His father is of half-Ashkenazi Jewish and half-Puerto Rican ancestry. Mars's mother was of Filipino and Spanish descent and immigrated from the Philippines to Hawaii.
If you happen to go a layer deeper, he also happens to be one-quarter Jewish from his Ukrainian and Hungarian lineage. 
Digging deeper, his gene pool consists of Ukrainian, American, Filipino, Hispanic, Jewish, Hawaiian, Puerto Rican, European, Hungarian, Asian, and Spanish ancestors.
Towards the end of her assessment, Smolenyak even humored that Mars might have had a few distant cousins cheering him during his world tour for the release of 'Unorthodox Jukebox.'
He Started Performing as a Toddler
Despite his melting pot heritage, he inherited a majority of his musical prowess from his birth parents. This is one of those nature versus nurture instances.
According to his father's website, Mars has been a performing artist since he was two and a half years old. He has explicitly said that his "whole sense of rhythm" came from his father. 
Being an Elvis super fan, Pedro ran an Elvis Presley museum and performed a 1950's Doo-Wop show since 1977. He is also a self-proclaimed founder of whole shows designed around impersonation acts.
So, in a way, Mars was born into the performing arts. Even at the age of barely three, Pedro claims that his son was a natural.
He Inherited His Swagger From His Dad
In a conversation with Latina Magazine, the iconic singer inferred that much of his sense of style and swag also stems from his father. He recalled how his father used to pick him and his sisters from school in a Cadillac wearing a silky suit. 
Since not many people on the island drove Cadillacs, his sisters were somewhat embarrassed by their father, but not Mars. Fast forward to today, and Mars, with his swagger, silk suits, and Cadillacs, is the spitting image of his father.
Also, in the interview, he addressed the running rumor that he had changed his name to "Bruno Mars" to hide his ethnicity. He explained that he considered such claims as insults to him and his family. 
His father gave him the name Bruno when he was still a toddler, and as a performer, he planned to go by just "Bruno." "Mars" was a joke that implied that he was "bigger than life" and stuck.