Carrie Underwood's Parents Did Not Expect Her to Win 'American Idol'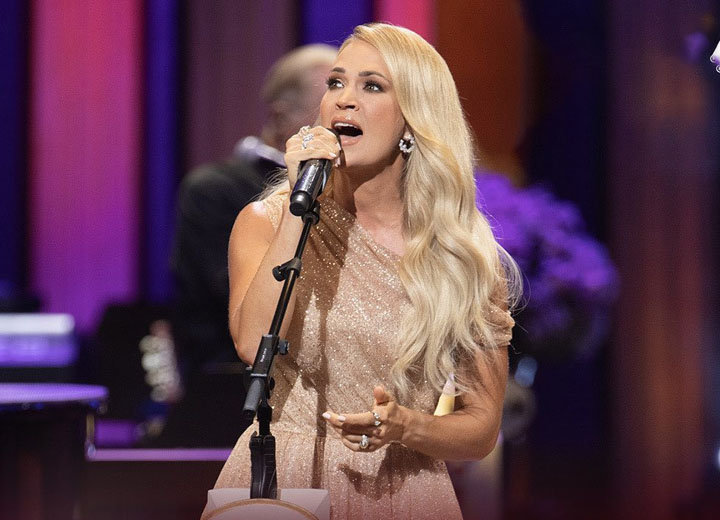 Country singer Carrie Underwood is one of the most successful American Idol alumni, thanks to the support of her family, especially her parents.
Carrie was born to parents Stephen Underwood and Carole Underwood, who knew about their daughter's "gift from god."
During an episode for Today's, Through Mom's Eyes, Carole detailed her daughter's journey from a shy kid at talent shows to a confident American Idol winner.
The mother-of-three shared she always knew her daughter could sing, but she was shy and hesitant about singing in local talent shows.
Carrie sometimes cried before getting up on stage because she was nervous about her friends seeing her. But she continued performing in local shows as she grew older, and her parents never thought it could become a career. After all, the country music star pursued a degree in mass communications. 

Carrie Underwood's mother talks about her daughter's American Idol journey. (Source: YouTube)
She was just a normal college student until she decided she wanted to take part in the singing competition. 
Carrie Underwood's Parents Did Not Think She Would Win 'American Idol'
The singer's parents accepted her decision, thinking it would be useful for the next step in her career. 
Carole and her husband thought their daughter could gain much-needed exposure for a job as an anchor in their local TV show in Tulsa. They never thought the country music star would win. 
"We never even considered that she could win it at all, but at least maybe she could have some face and name recognition, and she would get to be an anchor or something on one of our local TV shows in Tulsa," Carole said.

Carrie Underwood's parents, Carole and Steve Underwood. (Source: Instagram)
However, they always knew their daughter would make it to Hollywood with her talent. So they went to the nearest auditions in St. Louis, Missouri, where Carrie got a golden ticket at the auditions.
Carole recalled the time they had to send off their "baby" to Hollywood. At the airport, the songstress told her mom and dad she was nervous, and her father told her she could always return home if she were not up to it. 
But she was determined and noted she had to go on this journey for herself. It was the first she had gotten on a plane. And Carole and her husband watched on until the plane took off. 
Related: Carrie Underwood's Accident Sparked Plastic Surgery & Abuse Rumors
Carrie Underwood Performs with Her Mother
Today, Carrie is the most successful American Idol winner in the show's history, with eight Grammy Awards, millions of record sales worldwide, and 14 No. 1 songs on the Billboard Hot Country Songs chart.
Currently, she is on her Las Vegas Residency, which kicked off in December 2021. In fact, during one of the shows in March 2022, she surprised fans by bringing her mother on the stage with her. 
The mother-daughter duo sang Carrie's beloved hit 'All-American Girl' and looked like they were having a good time as they laughed while attempting to stay in tune with each other. 
After the show, the Grammy winner took to Instagram to reflect on the special moment she shared with her mother. 
Sharing photos from the event, she wrote that back in 2005, she had been trying to talk herself out of American Idol when her mother said to her, "if you wanna go, I'll take you." 
She added those words might be the most important words anyone had ever spoken to her.