Carmen and Corey Make New Instagram for Baby Cayden after Birth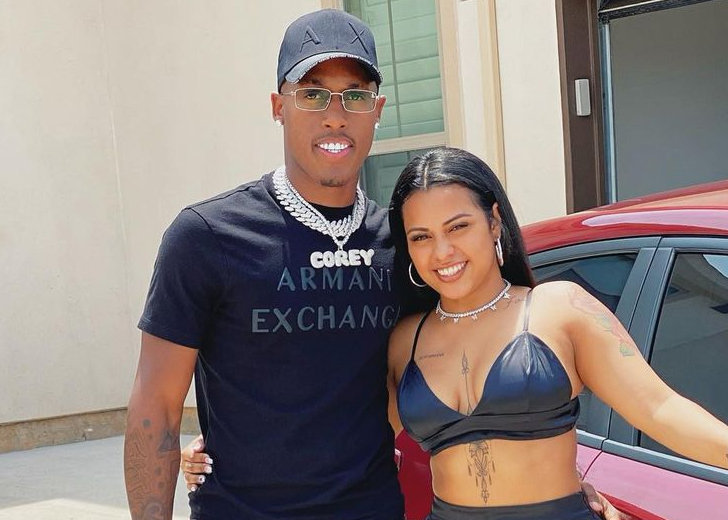 Family-focused YouTubers Carmen and Corey revealed they were 16 weeks pregnant on October 16, 2021.
The soon-to-be mother uploaded a photo of her cradling a baby bump covered in gold paint to make the announcement. 
In the caption, Carmen noted it was a perfect day for an ideal picture and revealed it was her birthday. 
After that, she often gave her baby bump update to her followers on Instagram. She would pose with her bump proudly showcased for her fans to see. 
Finally, on November 10, she revealed to her followers that she and her partner were expecting a second son. 
The YouTuber uploaded a carousel from her baby shower and was seen posing with her partner and her older son. 
Many of their loved ones joined them during the celebrations, including Corey's son Ayden from a previous relationship. 
A few months later, on February 10, she uploaded another baby bump photo noting she was 33 weeks pregnant. 
By March 14, she noted that she and Corey were ready to meet their second son. 
Carmen and Corey Announce the Birth of Their Baby
Carmen gave her last pregnancy update at 39 weeks, and on March 29, she finally got to meet her son. 
A few hours before Carmen announced the birth of their son, The Shade Room Teens uploaded a snippet of Corey's Instagram Live. 
His partner was undergoing labor, and he was apparently doing his best to support her and capture the moment. 

Carmen and Corey welcoming their second son Cayden. (Source: Instagram)
The mother uploaded a photo of her cradling her newborn son while her baby daddy kissed her forehead. 
According to the name tags, their son's name was Cayden Pritchett. 
Corey also took to Instagram and uploaded a video of his son sleeping in his cot. 
"Meet my little man. Look at Daddy's little man. Man, stop playing with Daddy little man. That little guy is gonna be a star," wrote the proud father. 
The new parents, who both have a large social media following, have already ensured that their son has the choice to follow in their footsteps. 
They have created their son's Instagram account, which has over 28,000 followers and three followings. 
The account does not have any posts yet.
Carmen Pritchett Has a Message for Her Husband
Before Carmen went through labor, she took to YouTube, opened up about her relationship with her husband, and thanked him for everything. 
The YouTuber iterated she was proud of her husband, who was active during her pregnancy. 
She noted she had no complaints about anything and wanted to let her subscribers know everything was going well in their marriage.
Carmen assured viewers that she and Corey were on the same page, regardless of what people said or what might happen. 
"If somebody asked me, 'how do you feel about Corey' I would say well, you know I'm proud of him. He made many mistakes that made people think that's who he is," said Carmen. 
She defended her man, saying that people knew nothing behind the scenes and noted he was an excellent partner and a father.