Carmen Pritchett Slams Negative People Commenting on Her Baby Bump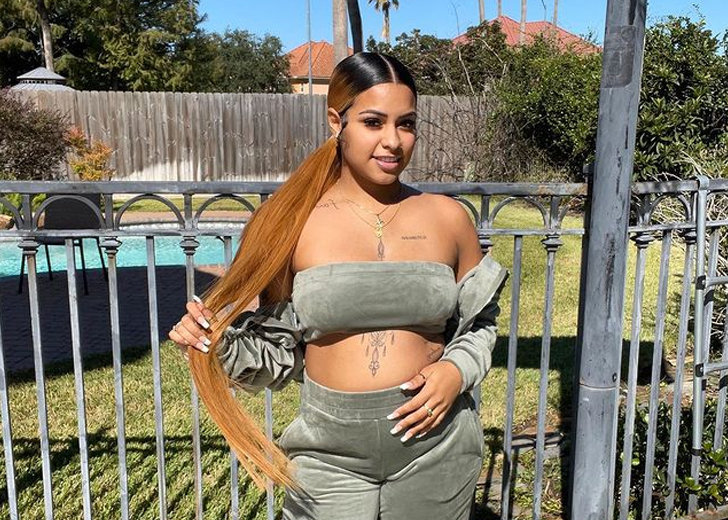 Carmen Pritchett isn't accepting negative comments regarding her baby bump.
The social media star took to Twitter to clap back at trolls hurling negativity on her pregnancy on December 29, 2021.
She posted a lengthy message, noting how people always find something negative to say. 
She exemplified the scenario by writing, "such as 'put your shirt down we know you pregnant.'" Pritchett then slammed the trolls, stating she was in love with her growing baby bump. 
The YouTube star explained she was embracing her growing body and showing off her baby pod because "I'm carrying another lil human inside of me."
She added being pregnant was amazing.

Carmen Pritchett flaunts her baby bump while posing for a Christmas picture with her husband and son in 2021. (Photo: Carmen Pritchett's Instagram)
As soon as she uploaded the message, her loyal fans stopped by the comment section and showered her with support.
One particular Twitter user suggested she not to be bothered by such people. The person explained that people won't stop talking "until you leave this earth."
Another person also reflected a similar sentiment, adding that mothers who flaunted their pregnancy bellies were "absolutely magnificent." 
"Your an amazing mother and human being," wrote the third commenter, "if they knew all that you went through just to carry another human being then they wouldn't have anything to say."
Well, Pritchett has been openly sharing her pregnancy journey through her socials.
It has been so since she announced she was expecting her second child with her husband Corey Pritchett on October 16, 2021. 
Carmen Pritchett Has a Baby Son with Husband
Pritchett and her husband, jointly known as Carmen and Corey, started dating in November 2016. It is safe to say their relationship has progressed smoothly.
By October 2017, the couple was engaged. They shortly married through a court wedding and welcomed their son, CJ, in October 2018. 
The pair also parent Corey's son Ayden from a previous relationship. Pritchett timely posts pictures of the kids on Instagram, implying she has a healthy bond with her stepson. 
Carmen Pritchett Suffered A Miscarriage
Pritchett was pregnant for the second time in early 2021.
She had announced the news on Valentine's Day through a YouTube video titled, 'FINDING OUT I'M PREGNANT!!'
"Everything happens for a reason and only God knows," she said in the video, sharing her happiness.
Shortly after, she posted another video revealing how she disclosed the pregnancy to her husband. As per her accounts, she told him only after confirming the news from the doctor. 
Following that, Carmen and Corey timely updated their fans about the pregnancy. But they ceased doing that in mid-March 2021. 
It turns out that the famed YouTuber had suffered a miscarriage.
"I've been miscarrying for two weeks. Didn't know..." Pritchett informed her fans through a YouTube video titled 'We Lost Our Baby' on April 7, 2021.
The mother-of-one explained the pregnancy differed completely from her first one. In her own words, she had no energy and wanted to lay down in bed all the time. 
Despite that, she shared that the miscarriage was "out of nowhere" and "unexpected." 
At the end of the clip, Pritchett mentioned she and her husband were going to expand their family at some point but weren't going to put pressure on themselves.