C. Thomas Howell Calls Ex Wife Rae Dawn Chong His Teenage Mistake
"We raised three beautiful children together," Howell said, referring to his second wife.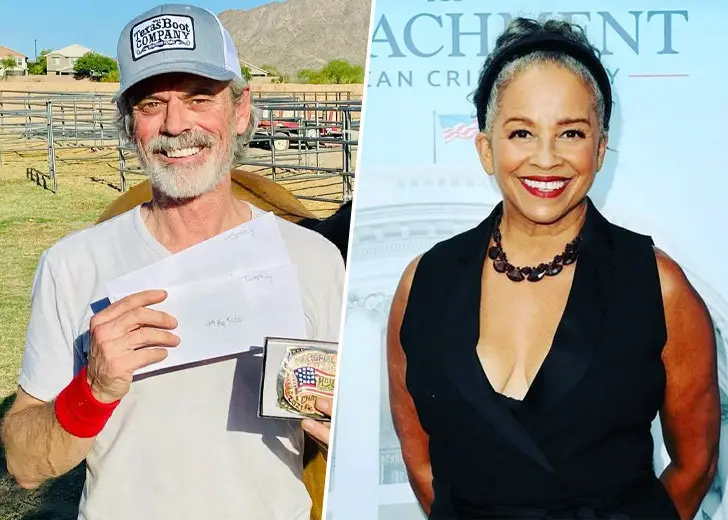 Christopher Thomas Howell, famously known as C. Thomas Howell, is a popular actor and director who has acted in notable films such as Soul Man, The Outsiders, Justice League: The Flashpoint Paradox, The Amazing Spider-Man, and Suicide Squad: Hell to Pay.
Speaking of his personal life, the 54-year-old actor had several relationships over the years, a couple of which even turned into marriages. Howell's first experience of marriage was with actress Rae Dawn Chong, whom he got married to in 1989. Some years later, he married his second wife, Sylvie Anderson, in 1992.
But due to some reasons, none of his relationships or marriage lasted forever, making him allegedly single at present.
C. Thomas Howell's Marriage with Ex-Wife Rae Dawn Chong
Howell and his first wife's relationship started after their initial meeting during the 1986 film Soul Man. The two reportedly fell in love with each other during the production of the film.
Over three years after that, Howell and Chong tied the knot and shared good chemistry afterward, too.
"It's interesting working with him. Tom and I have been together for about five years, and married for almost a year," Chong told Orlando Sentinel in 1990, talking about her relationship with Howell.
She further added, "When we first worked together on Soul Man, we were falling in love. Now we are married, so there is this different dynamic between the two of us and our work. It's great."
But the marriage was short-lived as the couple divorced after less than a year of their marriage in 1990. 
In 1996, he was asked his most irrational act during an interview with the Chicago Tribune, his reply was "Getting married [to his first wife] when I was 19." He explained that he later felt he got married in a hurry which he realized eight months later.
Chong is an actress best known for her roles in Quest for Fire, Beat Street, The Color Purple, and Time Runner. She is also renowned as the daughter of Tommy Chong, half of the famous comedy team Cheech and Chong.
C. Thomas Howell and Sylvie Anderson Divorced after 24 Years
While the actor's first marriage lasted for less than a year, his second marriage with his second wife, Anderson, went on for 24 years. Their long marital relationship also saw them welcoming three kids.
For most of the part in their marriage, the couple kept their personal lives away from the spotlight, because of which the names of their children aren't known yet.
The relationship made the headlines in March 2016 when Anderson filed for divorce from Howell after more than two decades of marriage. She had filed the papers in Los Angeles Superior Court in February, citing irreconcilable differences.
The actor's second wife also sought spousal support and joint physical custody of one of the children, who was a minor at the time.
"We raised three beautiful children together. I will always wish her the best and look forward to what the future holds for both of us," Howell said in a statement at the time of divorce.
Relationship with Kyle Richards
In addition to his two marriages, Howell's relationship with actress Kyle Richards was also a notable moment in his life. The two dated for five years in the 1980s, before the actor dated and married his first wife, Chong.
In fact, he was Richards' first boyfriend, and while speaking to Andy Cohen on his SiriusXM channel Radio Andy Monday in 2015, she admitted that she had her first kiss and even lost her virginity to the actor.