Brooke Shields Met Husband Chris Henchy Thanks to Her American Bulldog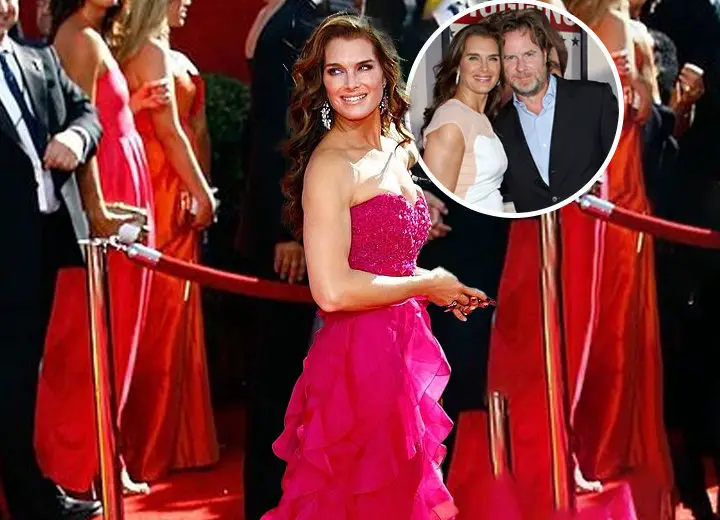 Call it fate or divine intervention, but Brooke Shields and her husband, Chris Henchy, met each other not with the help of their friends or family but with her American bulldog, Darla. 
In an excerpt from her book, Down Came the Rain: My Journey Through Postpartum Depression, she shared she met her husband while looking for Darla. 
The young pup strayed from the Warner Bros. lot where the actress was shooting Suddenly Susan. Her husband, who was also on the set, found her pet and brought it back to her. 
The duo hit it off immediately, and their connection deepened when Shields hosted a show in Washington, D.C. that Henchy wrote. Shields was impressed by how thoughtful and funny the writer was, but he pursued nothing as the actress had been recently divorced.
But when she could no longer ignore that there was something between them, they started dating.
Brooke Shields and Her Husband Had a Secret Wedding
Shields and her husband dated for two years before the latter popped the question with an antique, cushion-cut diamond ring in Mexico in July 2020. And less than a year later, the couple walked down the aisle in a romantic ceremony. 
Initially, it was reported that the duo had an intimate wedding celebration in April 2001 on the beach at Catalina Island, surrounded by a small group of friends and family. 
A source told the New York Post, "the wedding was an exquisite and tasteful affair" and added no one knew what the couple had planned for their honeymoon. 

Brooke Shields and her husband with their daughters. (Source: Instagram)
But according to ABC News, Hollywood gossip columnist Liz Smith revealed the news about their April nuptials on Catalina Island was false. The false information was part of the couple's ruse to throw off the paparazzi and Shields' long-time stalker. 
According to Smith, the couple had a Roman Catholic ceremony at a luxurious Palm Beach estate a month later. After the wedding, the couple wanted to start a family, but it was easier said than done. 
Shields' Pregnancy Struggles Had a Happy Ending
Shields could not get pregnant because her cervix had been scarred from an operation to remove precancerous cells. 
So the couple tried artificial insemination but to no avail. Nevertheless, they supported each other throughout the ordeal and moved on to in-vitro fertilization (IVF) treatments. 
Fortunately for the couple, it worked, and on May 15, 2003, the Blue Lagoon actress welcomed their daughter, Rowan Francis Henchy. The middle name Francis was chosen in honor of Shields' father, who passed away from prostate cancer three weeks before her birth.
Three years later, on April 18, 2006, the couple welcomed their second daughter, Grier Hammond Henchy, in Los Angeles. Unlike her first daughter, Grier was conceived naturally, which shocked everyone. 
"No. I didn't have IVF. I went in to start IVF and found out I was already pregnant. All our jaws dropped," Shields told People. 
According to the outlet, Shields was relieved her daughters would have each other when she and Henchy wouldn't be around.