Brooke Monk's Boyfriend Posts Her Rare Pictures without Makeup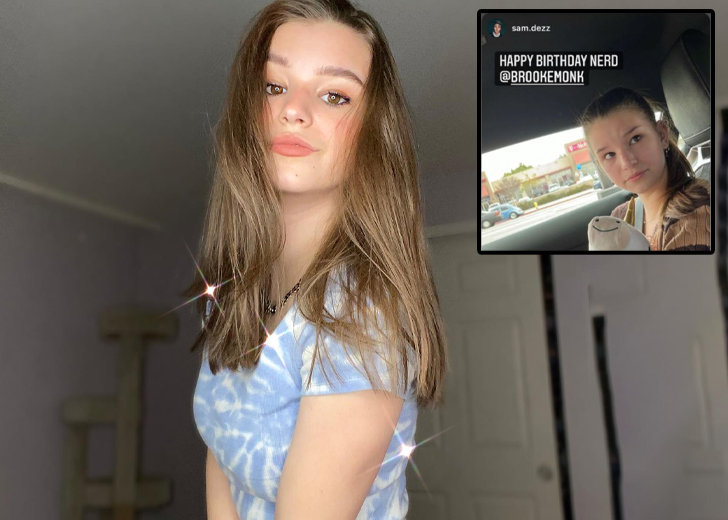 Brooke Monk is pretty both with and without makeup. She skyrocketed to fame at a young age, and she is proud of every aspect of it.
She is most popular in TikTok for lip-syncing and dancing videos. However, in her every video, she is asked about the makeup and hair products she uses. 
Similarly, her eyelashes and the lashes she uses have also made headlines in the past. Soon enough, fans and followers started taking inspiration from her makeup styles and methods.
However, she has sometimes flaunted her no-makeup looks as well. While she has received backlash for her looks without makeup and lashes, Monk has clapped back at her haters.
Regardless, many others have appreciated Monk baring it all. Perhaps her number one fan is none other than her boyfriend, Sam Dezz.

Brooke Monk posing with her boyfriend, Sam Dezz. (Source: Instagram)
Brooke Monk Without Makeup and Lashes
As said before, Monk proudly flaunts her natural look on her TikTok and Instagram. She has uploaded many videos and photos as such. 
However, on January 31, 2022, a second person posted her without makeup for the first time. That day, her boyfriend took to Instagram stories to wish his girlfriend on her 19th birthday.
To do this, he posted pictures of Mon without makeup and false eyelashes, showing off her natural beauty. Altogether, he uploaded three photos of her with her no-makeup look. 
The first picture he posted was of Monk holding a soft toy and looking at her boyfriend. She had worn no-makeup and eyelashes and had pulled her hair back.

Brooke Monk reposted her boyfriend's IG story of her without makeup and fake eyelashes to hers. (Source: Instagram)
Regardless, she looked fresh and pretty as ever. Dezz wrote "Happy Birthday Nerd," and tagged his girlfriend. 
Monk reposted the story to her own Instagram stories and wrote, "not the morning rat face" with crying emoji. The second photo was a selfie of hers, smiling wide and wearing minimal makeup.
She wore a little eye makeup, lashes, and freckles. Dezz adorned the picture with three red hearts.
The third photo was a video call where Monk's face was close to the camera and smiling widely at her boyfriend. Dezz wrote "last one loser" while smiling at her from the other side. 

Sam Dezz's birthday stories of his girlfriend without makeup and fake lashes. (Source: Instagram)
Brooke Monk and Sam Dezz's Relationship
Monk and Dezz are definitely among the "it couple" among the influencers' circle. But, unlike the stereotype of boys approaching girls, in the couple's case, Monk approached Dezz first.
They started as friends when Monk slid into his Snapchat DMs in 2020 and talked to Dezz. They chatted for months until the TikToker told him she would visit LA soon.
She asked if Dezz would hang out with her, to which the latter agreed. So they spent time together, and soon, their friendship turned into something else.
After hanging out together, Monk returned home, and a week later, they made their relationship official. Since then, the duo has constantly created content for their social media.