Brooke Monk Responds to Hate Comments for Her No Makeup Look
Brooke Monk gracefully clapped back at haters who criticized her no-makeup look.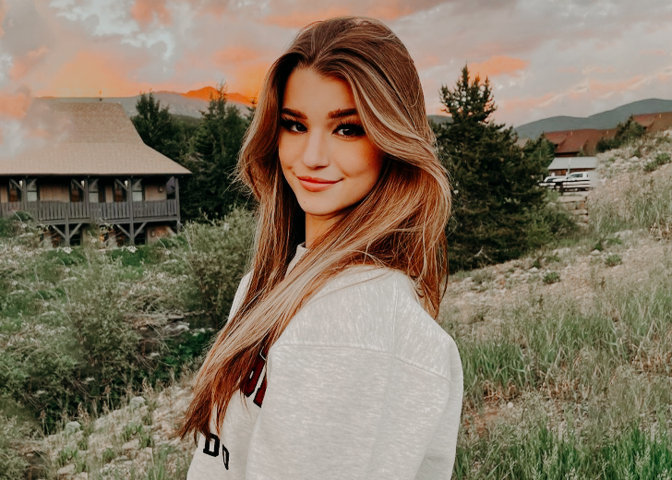 Being a celebrity comes with its benefits and drawbacks — and, at just 18, Brooke Monk knows it all too well. She started using TikTok in October 2019 and quickly skyrocketed to stardom. 
As of this time of writing, she boasts 16M followers in TikTok alone. In addition, her eponymous Instagram account has 1.6M followers while her YouTube has over 724K subscribers. 
Monk earned recognition for her relatable content and her flawless beauty. That being said, she has also weathered a fair share of criticisms, mostly regarding her no makeup looks.
Brooke Monk Responded to Hate Comments
From a very young age, the internet sensation was passionate about makeup, though she had to wait until her 15 to put on full-face cosmetics. She flaunted her passion wholeheartedly on her socials. 
The majority of Monk's content features her make-up-clad looks — including her viral foxy-eyes makeup with long lashes and dark eye shadows. Her makeup is praised and imitated by many of her TikTok followers.
But she didn't receive the same amount of appraisal when she debuted her no-makeup looks through a TikTok video on May 13, 2021, a day after she gave glimpses of her face without makeup in a tutorial video.
In the 30-second clip, Monk revealed she couldn't put on makeup because she had a stye on her eyes. 
As soon as she uploaded the video, her followers grouped into supporters and adversaries. People pointed out how she was nothing without her makeup.
One commentator wrote, "She is overrated." "Have you seen her without makeup," another added.
As hate rained down on the video's comment section, the teenager made another clip, confronting the criticisms.
Monk first showcased her face without makeup and wrote about how pretty she felt without it. Then she displayed the hate comments and clapped back at haters, telling them it was all lie. 
Her well-wishers were quick to support her in the comment section. "You're stunning. Don't listen to jealous haters," said one. Another wrote, "Be yourself whatever it is you are naturally beautiful." 
Fellow TikTok star Leenda Dong commented, "with or without you still look like Disney princess Mah frand." Monk thanked the social media influencer for her supportive words. 
Brooke Monk Is Dating Sam Zigg
Monk is turning heads with her fabulous looks and her relationship with TikTok star and model Sam Dezz. The duo is the ultimate 'it' couple of the social media realm. 
Dezz talked about their rapport in an interview with Celeb Secrets TV on March 7, 2021, and stated that their romance was a "classic 2020 relationship."
They started chatting on Snapchat in 2020 after Monk slipped into his DM and befriended him.
They would go on to chat every night for months. Then, one day, Monk suddenly informed him she was coming to LA and asked if he would hang out with her. 
The budding model approved, and the pair spent quality time together before returning home. They went official with their relationship a week later.
Since then, the lovebirds have enjoyed their relationship while making content together and melting hearts with their adorable chemistry.