Saweetie's Fans Think Her No Makeup Look Makes Her Pretty Basic
Saweetie is regarded as one of the most beautiful female rappers in the rap game.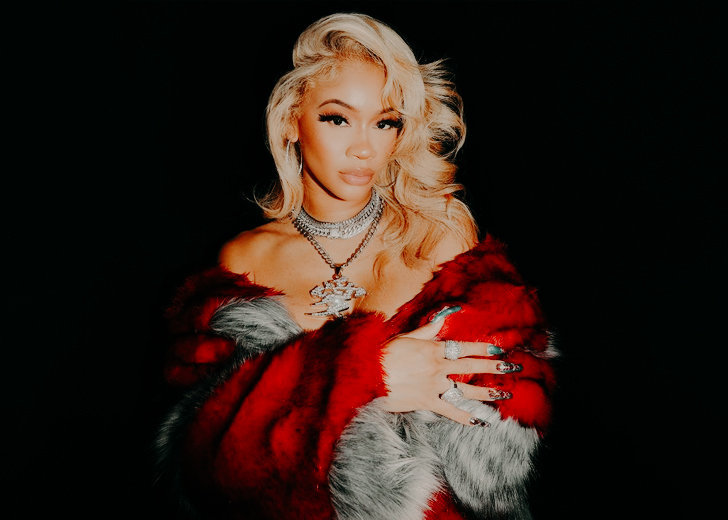 California-born rapper Diamonté Quiava Valentin Harper, known professionally as Saweetie burst onto the rap scene with 'Icy Grl' and took over the music industry by storm. It quickly became one of that summer's biggest anthems and put her at the front of the rap game.
But Saweetie is more than just a musician. She's a social media content connoisseur, a fashionista, and a beauty guru. She's widely believed to be one of the most beautiful female rappers in history. Naturally, she has a finely tuned sartorial and beauty routine in place.
She is hardly ever seen without her long acrylic nails, and killer makeup looks. Fans want to be like her, but when photos of her without makeup surfaced last year during the pandemic, she went viral on social media. 
Her beauty seemed much more "Dimed" with no makeup, and fans were shocked, calling her "Basic" all over Twitter. 
Her Love of Makeup
The negative comments did not get to the beauty guru, and she continued releasing creative and innovative content, earning her the title Queen of Quarantine. Her hilarious Birkin bag skits and fashion collaborations kept fans entertained. 
She served her bold, unapologetic makeup looks on Instagram and even collaborated with Morphe, one of the largest beauty brands, to create a festival-inspired makeup line to lift her fans' spirits for missing out on music festivals. 
Saweetie shared the inspiration behind her collaboration with Billboard, stating that she wanted to establish herself as more than just a rapper and have her hand in different industries. In the interview, she revealed the importance of makeup for her. 
The women who I aspire to be have their hands in different industries. So when I'm doing my due diligence in fashion, beauty, and music and working towards my goal of being a multi-faceted brand.
Her Viral Music Career
The Morphe collaboration is just another addition to her ever-growing CV. As a songwriter and rapper, music will always be at the forefront of her career. 
Saweetie always had a passion for songwriting and rapping. After graduating from the University of Southern California, she focused on her rap career and started posting freestyle videos on Instagram.
Her song as 'Icy Grl' went viral overnight. It was such a hit, and she had to film a music video for it. A few months after the release of her music video, she was featured in Rihanna's Fenty Beauty ad for the Superbowl in 2018. 
In the same month, she was signed to acclaimed music label Warner Bros. From there, Saweetie dropped another viral track, 'My Type,' and an accompanying music video that established her position as a bona fide celebrity. 
The single gave Saweetie her first Billboard Hot 100 placement and peaked at No. 21. 
The viral music sensation went onto drop 'Tap In,' the lead single for her upcoming debut album 'Pretty [expletive] Music.' Her next single, 'Back to the Streets' featuring Jhene Aiko, racked up over 30 million views, and her third single, 'Best Friend' with Doja Cat, has over 130 million views to date. 
Saweetie has created some of the most viral moments in Hip-Hop history, and her ability to do it is fascinating.