Blake Shelton's Fun Bond with Gwen Stefani's Kids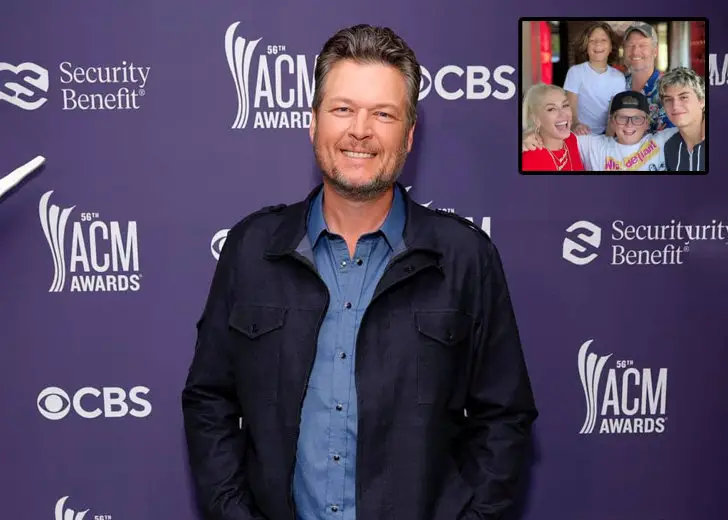 Blake Shelton and Gwen Stefani started dating in 2015 after both of them got out of their previous relationships.
Three years into their relationship, Shelton admitted that both he and Stefani thought they were only having a "rebound" fling and that their relationship wouldn't progress much.
"I think if Gwen and I were being honest… I think in the back of our minds we both kind of thought, 'This is a rebound deal because we're both coming out of a pretty low spots in our lives,'" he said.
"We're kind of clinging to each other to get through this."
However, after five years together, Shelton and Stefani announced their engagement on October 27, 2020. They tied the knot a year later on July 3, 2021, at his Oklahoma ranch.
It has been over seven years since the two got together and their relationship is only getting stronger. Aside from Shelton and Stefani being extremely close, he also has an amazing relationship with her three kids.
Blake Shelton & Gwen Stefani's Kids
Shelton shares a great relationship with Stefani's three children from her previous marriage with Bush lead singer and guitarist Gavin Rossdale — Kingston, Zuma, and Apollo.
Back in 2020, InTouch reported that a source revealed Stefani's kids were "well-adjusted" to her relationship with Shelton.
"They [Stefani's kids] feel like they have two dads," the source said. "So far, there are no huge issues."
The outlet also reported that while Shelton and Rossdale were not "buddies," they interacted with each other in a friendly way.
"They [Shelton and Rossdale] say hello if they're in the same room when kids are being dropped off or picked up… Gavin and Blake will usually do the usual guy thing, a head nod and a 'What's up?' That's it."


Gwen Stefani's ex-husband Gavin Rossdale with their kids (Source: Instagram)
Shelton has also spoken about how much he appreciates Stefani's sons. He shared he realized he missed out on a lot by not being a dad. 
The singer also noted that he had already put out having kids of his own but was having a great time with Kingston, Zuma, and Apollo.
Gwen Stefani and Gavin Rossdale
Stefani first met Rossdale in 1995 when his band performed at a holiday concert for radio station KROQ.
Seven years after their initial meeting, the two tied the knot on September 14, 2002, in St Paul's, Covent Garden, London. The couple held a second wedding two weeks later in Los Angeles.
Stefani and Rossdale became parents for the first time in May 2006, when she gave birth to Kingston.
They welcomed two more sons — Zuma and Apollo in August 2008 and February 2014, respectively.
Unfortunately, a year after Apollo's birth, Stefani filed for divorce from Rossdale, citing "irreconcilable differences" on August 3, 2015. The divorce was completed on April 8, 2016.
It was later revealed that the reason for their split was Rossdale's three-year relationship with the family's longtime nanny, Mindy Mann.
Reportedly, Rossdale initially insisted there was nothing going on between himself and Mann but confessed later on.