13 Black LGBTQ Movies to Add to Your Watch List Right Now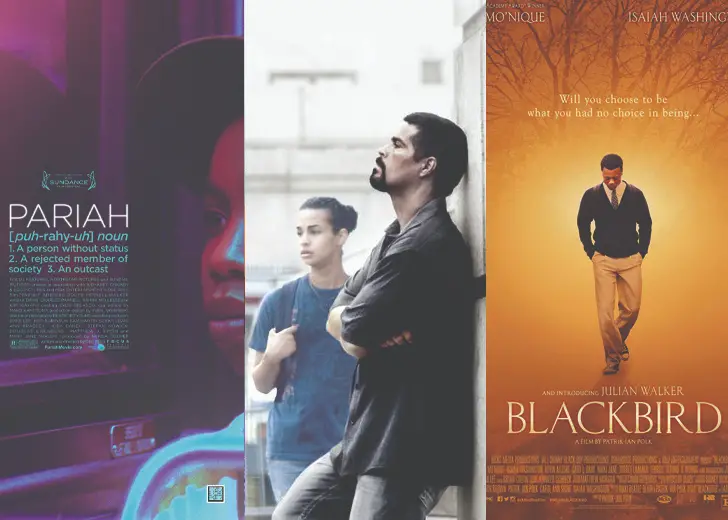 In recent years, dozens of Black LGBTQ+ stories have found their place in the entertainment industry, with many exploring the struggles and biases that members of the LGBTQ+ community face in their day-to-day life.
Be it biopics, movies, documentaries, or any other form of storytelling, hundreds of works chronicling the Black LGBTQ+ experience have found a spot among some of the most noted works throughout the years.
Here's a list of 13 movies and documentaries that you might want to watch if you're looking for films that tell Black LGBTQ+ stories.
Moonlight
For the first entry of the list, let's get the obvious name out of the way. Moonlight became one of the most popular movies of 2016 overnight after winning the 89th Academy Awards.
The dramatic film revolves around Chiron, a young African-American man grappling with his identity and sexuality in three different phases of his life — childhood, adolescence, and adulthood.
Moonlight is based on an unpublished play titled In Moonlight Black Boys Look Blue by Tarell Alvin McCraney. It received rave reviews and solidified Barry Jenkins, the director and writer of the movie, as a masterful moviemaker.
Paris Is Burning
Though released in 1990, Paris Is Burning remains one of the most popular and relevant works related to drag in film history.
One thing that has kept it a hot topic to this day is RuPaul's Drag Race. It's said that RuPaul requires all his contestants to watch the documentary before the filming for his show begins.
On top of it, there are multiple references to Paris Is Burning throughout the show.
Paris Is Burning chronicles New York City's drag scene in the 1980s, focusing on how many African-American and Latinx gay individuals had made a safe space for themselves in the ball scene.
Tangerine
When Tangerine came out in 2015, it created a lot of buzz for being shot entirely on an iPhone. But aside from its unique take on low-budget movie production, it also attracted a lot of attention for its plot.
Tangerine follows Sin-Dee Rella, a trans woman working as a hooker, and her friend Alexandra as they tear through the streets of Los Angeles to track down Chester, their absentee pimp.
Blackbird
Blackbird is a 2014 movie centered on Randy, a fervently religious young man who is struggling with his sexuality while growing up in a small Southern Baptist community.

Julain J. Walker plays Randy, a young singer struggling with his sexuality in 'Blackbird.' (Source: YouTube)
It's based on a novel titled Blackbird by Larry Duplechan.
Patrik-Ian Polk, the director of the movie, previously shared that the book had changed his life, and he always wanted to make it into a movie because he had never read anything that was told from a gay black perspective.
Pariah
Pariah follows Alike, a Brooklyn teenager, as she comes to grip with her identity as a lesbian, all while dealing with her mother's religious objections among other family issues.
Gun Hill Road
Gun Hill Road is a 2011 film that provides a unique take on a father-son drama. It follows Enrique, a macho ex-inmate who returns home after serving a three-year sentence in prison.

Enrique's son Michael is transitioning into Venessa, a woman. (Source: YouTube)
Returning to his family, he learns that his son Michael is transitioning into Venessa, a woman.
Faced with the unusual situation, Enrique finds the already fragile bond of his family put to the test as he ignores Michael's gender transformation and tries to force his son to be a "man" like himself.
Brother to Brother
Brother to Brother is a 2004 movie that chronicles some challenges faced by Black gay people during the Harlem Renaissance and juxtaposes them to the challenges in early 21st century.
The movie revolves around Perry, a Black art student who is thrown out by his parents for his homosexuality. The story progresses further when he meets an elderly homeless man named Bruce Nugent, who turns out to be a published author of the Harlem Renaissance.
Holiday Heart
Holiday Heart follows Holiday, a gay African American man who performs as a popular drag queen, and the events that transpire after he befriends a drug-addicted woman and her daughter following his boyfriend's passing.
After several turns of events, he takes in a drug addict and her daughter, hoping to become a father figure for the daughter and provide a stable environment for her growth.
A Secret Love
A Secret Love is a documentary that tells the story of baseball star Terry Donahue and her lover of over 60 years, Pat Henschel.
Chris Bolan, the director of A Secret Love, chronicles the 62 years when Donahue and Henschel lived as spouses while hiding their relationship from everyone except a few friends in the LGBTQ community.

Terry Donahue and Pat Henschel kept their relationship a secret for 62 years. (Source: YouTube)
The documentary also explores much of their life together, as well as their journey in overcoming prejudice.
The Watermelon Woman
The Watermelon Woman sees a Black lesbian filmmaker and video store employee confronting her own identity.
The movie shows her experiences of racial and sexual oppression while trying to uncover the identity of an actress who is only known by her alias of "The Watermelon Woman."
Mississippi Damned
Mississippi Damned is a drama film written and directed by Tin Mabry. It's based on her life growing up in Tupelo, Mississippi.
In this 2009 movie, Mabry weaves tales of black poverty, alcoholism, teen pregnancy, unemployment, and many other issues to paint a picture of kids having to bear the consequences of their family's cycle of abuse, addiction, and violence.
While not entirely focused on matters related to the LGBTQ community, Mississippi Damned focuses on Chastity Hammite, a teenage girl who faces much hardship because of her homosexuality.
The Skinny
The Skinny is another film by Patrik-Ian Polk, the director of Blackbird. Polk is known for his films and theater works that explore the experiences of African-American LGBT people.
The Skinny tells the story of five friends — four gay men and one lesbian woman — and their reunion in New York City for a Gay Pride weekend.
The Death and Life of Marsha P. Johnson
The Death and Life of Marsha P. Johnson follows Victoria Cruz, a trans activist, as she investigates the mysterious 1992 death of black gay rights activist and Stonewall veteran, Marsha P. Johnson.
The film joins old footage with Johnson and new interviews with Johnson's friends, family, and fellow activists to paint a picture of the life that Johnson lived, as well as the influence her activism had on the world.