How Ben Platt and Boyfriend Noah Galvin's Love Story Went from Zero to 60 during the Pandemic
The duo has been friends for more than half a decade and started dating just before the pandemic hit.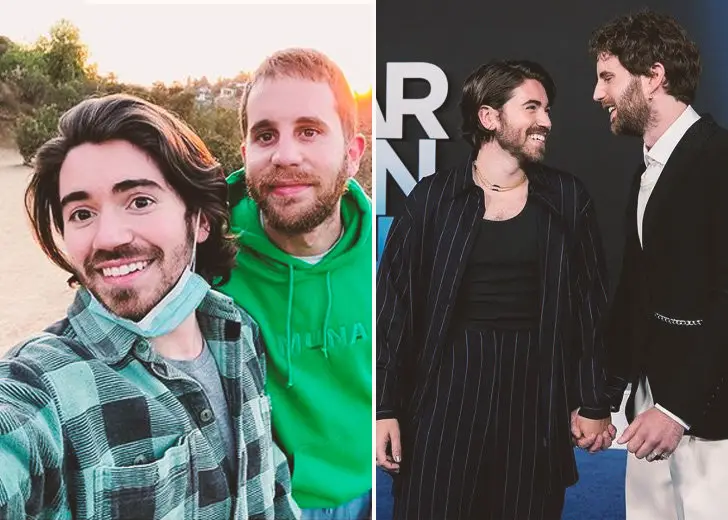 Benjamin Schiff Platt, popularly known as Ben Platt, rose to prominence for his performance in the Broadway coming-of-age musical Dear Evan Hansen (2015–2017).
Platt was spotted with his boyfriend and co-actor Noah Galvin at the premiere of the 2021 film adaptation of the musical under the same name. 
Galvin acted as the replacement for the title role in Dear Evan Hansen after the departure of Platt on November 21, 2017, and played his final performance on February 4, 2018.
The duo started dating during the pandemic, and their relationship has been celebrated by fans all over the world. 
Ben Platt and Noah Galvin Made Their First Red Carpet Debut after a Year of Dating
The Dear Evan Hansen star, 27, stepped out on the red carpet with his boyfriend, Galvin, for the movie premiere in Los Angeles, after dating for an entire year.
"It's the first time we've been able to take pictures together because of the pandemic and all that noise, but it's been a beautiful first time together," Platt told Entertainment Tonight. "It means everything and more."
Galvin, 27, who took over the role of Evan Hansen in the Broadway production from his lover Platt, took to his social media to share several photos of them at the premiere. 
Platt expressed his gratitude towards his boyfriend Galvin, crediting him for making everything "much, much more handle-able" and iterated how he felt very lucky to have Galvin by his side during the event. 
He also went on to reveal how Galvin helped him overcome "fear and apprehension" he felt about reprising his role as Evan Hansen in his upcoming film after playing the character on Broadway in 2016. 
Platt said his boyfriend had "a really unique ability to help me to be present where I am and to make the life that's happening day to day too wonderful to not want to be on the ground for it."
Ben Platt and Noah Galvin Have Been Friends for Half a Decade
The Pitch Perfect star made his relationship with Galvin public on The Kelly Clarkson Show in July, telling the host that he had entered into a relationship with Galvin and they had been together for a year-and-a-half now.
He went on to reveal that they had been friends for five years and, just before the pandemic hit in 2020, they finally decided to give their relationship a shot. They reported living in the same house since then and spending "some beautiful time" together.
Platt told Clarkson that when he quarantined during COVID-19 with Galvin, the relationship went from "zero to 60", explaining, "Being inside, being in the same room for like a year… He made it feel really magical and special."
Actor Platt came out as gay when he was in middle school. He told his family when he was thirteen years old, and publicly came out in 2019, before the release of his song "Ease My Mind"