Bailee Madison and Maia Mitchell: Are They Related?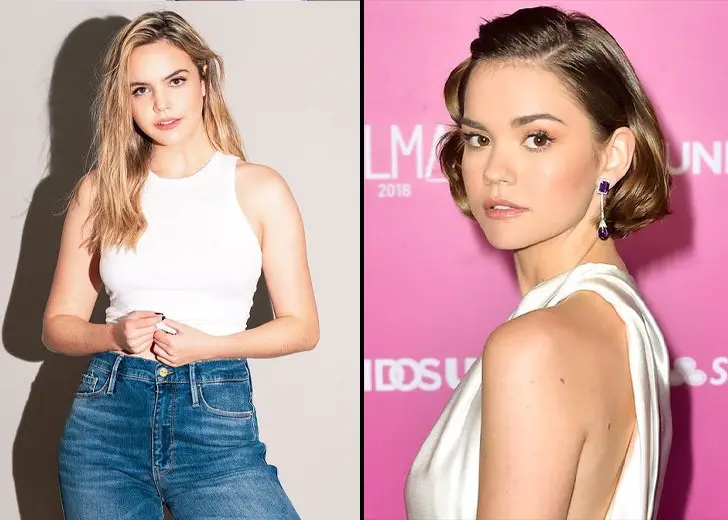 Bailee Madison and Maia Mitchell are the perfect doppelgangers of each other.
Many believe that there are around six people who look like you. But what are the odds of meeting one's doppelganger while filming a series?
Madison and Mitchell worked on The Fosters together. The family drama revolves around a lesbian couple, Stef Foster and Lena Adams, who have four adopted kids and a biological son. 
It aired from June 3, 2013, to June 6, 2018, on ABC Family and was critically acclaimed.
While the show is interesting in its own right, Bailee Madison and Maia Mitchell made it more interesting for the viewers. 
This was because of the uncanny resemblance between the two, making everyone believe the two were sisters. That brings us to the question — are they related?
Are Bailee Madison and Maia Mitchell Related?
Bailee Madison and Maia Mitchell play the role of Sophia and Callie, respectively.
They are half-sisters on the show, but fans could not help but think they were sisters in real life since they look alike. 
Moreover, both are Disney stars, which made it difficult for fans to distinguish between them. 
Even though the two have been frequently mistaken for one another and people have difficulty telling them apart, the two are not related.
Funnily, they became friends because of the comparison between them. 
Before they met each other, Bailee Madison and Maia Mitchell used to post pictures of each other, which confused the people more.
They started admiring each other and eventually became friends. Their relationship was solidified after they starred in The Fosters together.  

Bailee Madison and Maia Mitchell in NYC. (Source: Instagram)
Since fans started calling them sisters, both actresses jumped on the bandwagon and started referring to each other as such. They tweet and share pictures calling each other twins or sisters. 
Similarly, the official accounts for The Fosters have also done the same. In April 2015, they tweeted photos of the pair, wishing them on the occasion of National Lookalike Day. 
Bailee Madison and Maia Mitchell's First Meet
In January 2018, Maddison released her first novel, Losing Brave. While discussing her book in Barnes & Noble, she talked about her resemblance to Mitchell. 
She confessed people mistake her a lot with Mitchell. When they approached her and learned she was not Mitchell, they got disappointed. 
Since Madison could not take the fans' disappointment, she started saying that she was Mitchell. This was before she even met her on-screen half-sister. 
Later, she learned Mitchell was also doing the same thing when people mistook her for Madison. Therefore, even before the two met, they had a meeting of the mind. 
Eventually, Madison got a call from Mitchell, and the two met at an event. Madison said she got to be Mitchell's long-lost sister and wished they were related in real life. 
It is evident from their social media and interviews that the two appreciate and love each other a lot. In a 2014 interview with Shine On Media, Mitchell gushed about working with Madison. 
She said that she grew up watching Madison's movies and series. Mitchell further said that even though she was older, she wanted her life.
She called her "ridiculous talented and sweetest" and said it was fun to work with her on The Fosters.