Inside Axl Rose's Tumultuous Relationship with Ex-wife Erin Everly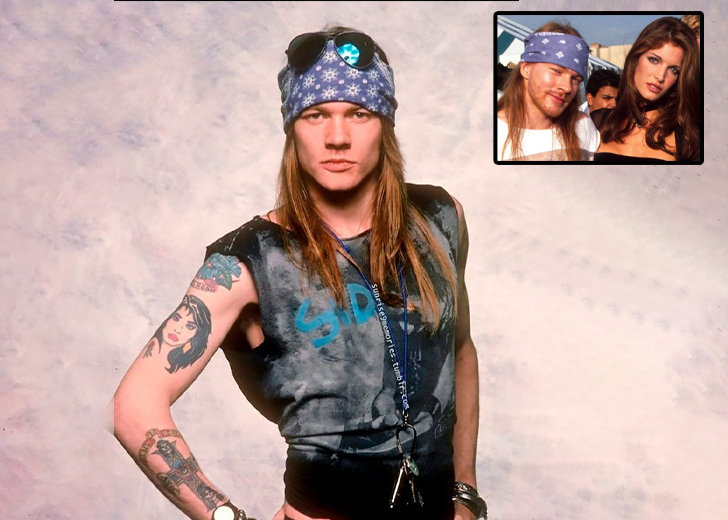 Axl Rose and ex wife Erin Everly's relationship was a big talking point among Guns N' Roses fans in the past.
Their marriage made many headlines, and for all the wrong reasons.
Everly, who was the subject of a few big hits of the band, accused the frontman of physical and emotional abuse during their tumultuous marriage.
Axl Rose and Ex Wife Erin Everly's Disturbing Relationship
Rose and Everly first met each other at a party in LA in 1986. She was chasing a career in modeling in New York at the time, but moved back to California, her home state, to be with him.
The musician was Everly's first boyfriend when she was looking for someone to be a wife to and have children with.
They both had had their share of terrible life — he was sexually abused by his father at 2, and his stepfather was physically abusive; she had a difficult childhood with father's health, drug problems, and financial instability. In a way, they had found each other.
After moving in together that same year, most of her life comprised two things — making money to pay rent through modeling and taking care of Rose.

Axl Rose with his ex wife Erin Everly in the '90s. (Photo: Instagram)
According to Everly, he had a bad temper, and he brought all his anger back home right from the onset of their relationship. Then the physical abuse started.
This also took a toll on her career. She had to stop doing modeling because of his tantrums.
But, she tolerated everything at the beginning. She even lied to the police about what happened in one instance in 1986.
Rose even harmed his ex wife in front of crowds. He had no qualms about doing so. However, she still stayed with him.
She felt as though she could help him get over his childhood trauma. "I felt sorry for him," she told People in 1994.
Then came their wedding, also through coercion. On April 27, 1990, Rose showed up at her door asking her to marry him. And if she didn't, he threatened to kill himself.
Rose made promises about never harming her again or divorcing her. And so she married him, 24 hours later, at the Cupid Wedding Chapel in Las Vegas.
Those promises never materialized, though. Rose threatened his former wife with a divorce just a month from their wedding.
And two months after the threats of divorce, he beat her so badly she was hospitalized.
According to Everly's recollections, he never helped her financially during her stint at the hospital. But he acted like he wanted to repair their relationship.
However, it was just an act. His abuse continued, even after she got pregnant.
In September 1990, Everly learned she was pregnant. This had been her dream — to have children.
On the other hand, Rose threatened to take even this away from her. And when she had a miscarriage in her third month, she covered all the medical costs herself, selling her belongings.
She had had enough of the abuse. Everly walked away from the relationship that November after a final beating and their marriage was annulled in January 1991.
Axl Rose's Ex Wife Testified against Him
"I want you to look at me because you're never going to see me again."
These were the last words she spoke to him before she broke up. He kept trying to contact her; she kept evading him.
Rose, in 1991, got into a relationship with Stephanie Seymour. They got engaged as well, but Seymour, too, faced the same abuse Everly did.
However, contrary to Everly, she pressed charges. And only when Seymour's lawyers subpoenaed Everly to testify against Rose did she realize she was a victim in all of this.
She was not willing to let another woman become a victim. She took her case public and testified against Rose.
Everly has since moved on. She removed everything related to him from her life and home, including photos, handwritten song lyrics, and notes to her, all of which she auctioned off in 2013.
The most valuable items were their marriage certificate and the wedding video.
Is Axl Rose Married?
Since his relationship with ex wife, Everly, and ex-fiancee, Seymour, Rose has married no one else. News of his relationships is also hard to come by.
The last big dating rumor about him came in 2012. In April that year, he sparked relationship speculations with reported girlfriend Lana Del Rey.
The alleged couple, who had a 25-year age difference, was spotted in West Hollywood. She was a fan of his music, and they had reportedly hit it off quickly.
Nevertheless, nothing came of this rumor.