How Many Siblings Does Atiana De La Hoya Have?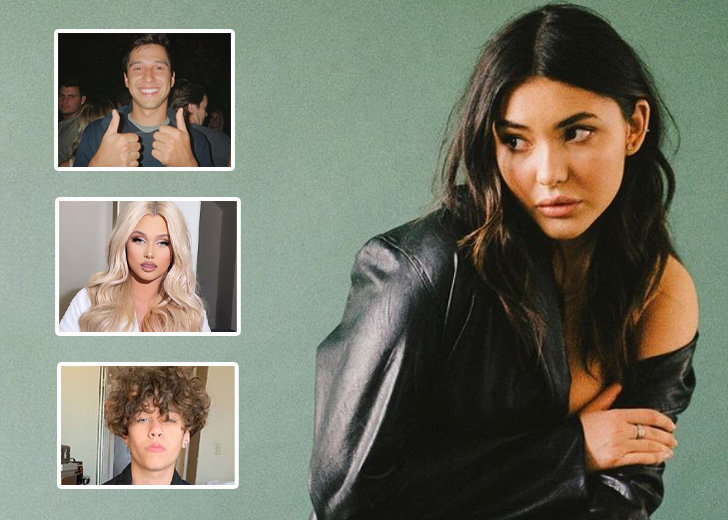 In 2005, Travis Barker and his former wife Shanna Moakler starred together on a reality TV show called Meet The Barkers.
For most of the reality series, the ex-couple's son, Landon Barker, and Moakler's daughter from a previous marriage, Atiana De La Hoya, were featured in the show. 
Atiana was born to her beauty pageant-winning mother and famed boxer and father, Oscar De La Hoya, in March 1999. 
Her parents were engaged from 1998 to late 2000, and after their split, they moved on with their lives. 
Atiana was the couple's only child; hence, she does not have siblings. However, she has several half siblings. 
Atiana De La Hoya's Half Siblings
Before Atiana was born, her father had two sons, Jacob Jacob De La Hoya and Devon De La Hoya. 
Jacob was born on February 18, 1998, to Oscar and his former partner Toni Alvarado.
It is unconfirmed what he does for a living, unlike his half-brother Devon who followed their father's footsteps to become a boxer. 
Devon was born on November 30, 1998, to Oscar and his ex-wife, Angelicque McQueen.
Atiana appears to be close to her stepbrothers. 
On February 19, 2021, she took to Instagram and posted a tribute from her brother Jacob in honor of his birthday. 
In the caption, she wrote he was "in a tie for 1st place for being the best big brother."
Similarly, she took to Instagram on Devon's birthday to wish Devon a happy birthday and thanked him for being an amazing, wonderful older brother. 

Atiana De La Hoya and her half-sibling, Jacob De La Hoya (Source: Atiana De La Hoya/Instagram)
After Oscar split with Atiana's mother, he married Puerto Rican singer and actress Millie Corretjer in October 2001. 
This marriage resulted in Atiana having three more step siblings.
Her brother Oscar Gabriel De La Hoya was born in 2005, while her two sisters Lauren Nenitte De La Hoya and Victoria Lauren Rose De La Hoya, were born in 2007 and 2014.
Atiana's Step Siblings from Her Mother's Side
Meanwhile, her mother and her stepfather had two children. 
One of them is her brother Landon, and the other is her sister Alabama Luella Barker.
Landon was born on October 8, 2003, while Alabama was born on December 24, 2005, during the final season of Meet The Barkers.
As a result, Alabama only appeared in the show's final episode.
Like her other step siblings, Atiana is also close to Landon and Alabama.
In December 2018, Atiana wished her sister a Merry Christmas Eve and Happy Thirteenth Birthday on Instagram and noted she was blessed to have her in her life in the caption.
She also had a dedicated post for her brother Landon on his 17th birthday. 
Atiana said he was "the most kind, talented, loving, actual coolest person," she knew. 
Part of the reason she appears to be close with the Barker siblings because she was raised by Barker, too, which her father acknowledged. 
In December 2021, Atiana's birth father opened up about his thoughts on her stepfather during a Q&A session on his Instagram. 
When asked how the renowned boxing promoter felt about the Blink 182 drummer claiming he raised his daughter, he shared that he had nothing but respect for him.