Travis Barker Says Surviving Plane Crash Was a Wake up Call
Cheating death definitely turned Travis Barker's life around.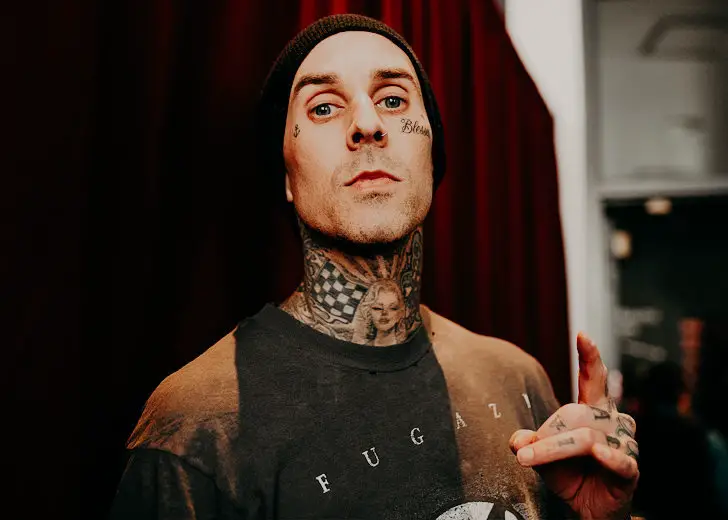 Travis Barker promises to conquer his fear and get on a plane again someday. 
In a new interview with Mens Health, the former Blink 182 rocker got candid about his struggles since surviving a near-fatal plane crash. He opened up about his experience with PTSD and survivor's guilt after being the last survivor of a deadly plane accident in September 2008.
Barker and his friend, Adam "DJ AM" Goldstein, returning home after playing a South Carolina show when their plane's tires blew up during takeoff. The fiery crash killed the two pilots, assistant Chris Baker and security guard Charles Still. 
Although Barker escaped with Goldstein, he suffered from third-degree burns over much of his body, forcing him to undergo 26 surgeries and multiple skin grafts. Almost a year after the accident, Goldstein died of an accidental drug overdose. 
On Dealing with PTSD
The musician revealed that the near-fatal crash had haunted him for a long time and explained that he barely slept for weeks after returning from the hospital. He sought therapy for months and confessed that he couldn't walk down a street because whenever he saw a plane he felt like it would crash. 
For a long time, especially on tour-bus trips, he felt like he was awaiting the next catastrophe. He admitted that with time and therapy, those feelings finally waned. These days the talented drummer has days where he wakes up without that traumatic day on his mind. 
I felt closer to the experience of trying to escape, [to] being in an accident and being burned, trying to grab my friends from a burning plane. That haunted me for a long time.
Barker shared that when Goldstein was still alive, they were each other's therapists because they understood each other's trauma. But when Goldstein passed, he realized he had to deal with it alone. He also had to learn how to walk, run and play the drums again, even though he was told he could never. 
A Wake-up Call
The experience of cheating death was a wake-up call for Barker. It motivated him to live healthier and quit abusing prescription drugs. He revealed that while he was never a big drinker, he smoked "an excessive amount of weed" before the crash. 
He became a vegan after the crash and regularly runs three to four miles a day while working out with a boxing trainer. He also drums every day because it serves as both a full-body workout and a necessary mental reset. 
The drummer also added lifestyle entrepreneur to his resume when he launched Barker Wellness, a new line of cannabinoid-infused products designed to help users find a little rest and relaxation.
The musician's grueling schedule led him to examine cruelty-free and vegan cannabis edibles for nurturing one's body and mind. 
He iterated that he would no longer use hard drugs and instead rely on his company's CBD ointments and tinctures to manage residual pain and help him sleep.