Asian Doll Done with Jackboy Moves on to Antonio Brown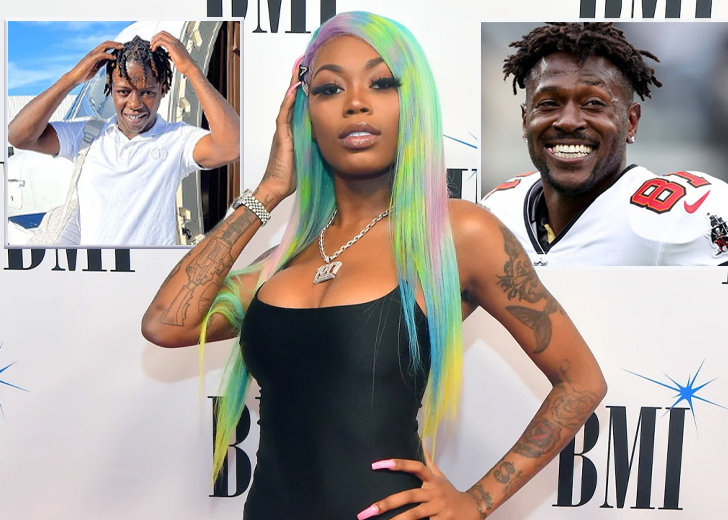 It looks like Asian Doll is done with Jackboy and shooting her shot with former Tampa Bay Buccaneers wide receiver Antonio Brown. 
The NFL player had recently made headlines after quitting the game with New York Jets mid-way.  
And because of his antics, Brown was fired as well. But while some dissed the player for his attitude, people like Asian Doll paid no heed. 

Asian Doll after her breakup with Jackboy (Source: Asian Doll/Twitter)
On January 5, 2022, the rapper tweeted, "Wassup, Antonio Brown, take me out to dinner." As usual, her tweet sparked all kinds of reactions from her fans. 
Some asked her to focus on her career, while others criticized her for chasing clout.
A few warned her, noting that the wide receiver had too many kids and mental health issues. 
So far, Brown has not responded, but her former beau had something to say. 
Jackboy Responds to Asian Doll's Tweet
After the 'Poppin' artist' tweet went live, Jackboy threw major heat at his ex on Twitter. 
The rapper, who wasn't having it, subliminally responded to him on Twitter, writing, "Pass me back? Boy, who coming back to you? [laughing emojis]."
For the last several months of 2021, the two artists had been dating. The two were initially spotted, on multiple occasions, flirting on Instagram. 
Although they were relatively private about the ins and outs of their romance, in early November, the female rapper suggested she was ready to marry her boyfriend. 
She took to Twitter and shared that she did not want to wait any longer to marry Jackboy, move in and start a family. 
Two days later, she somewhat proposed to him, asking him to tie the knot with her. 
However, by December 11, she announced on the platform about being single again. 
"SINGLE [celebration emojis] It's time to live it up a lil mo," she wrote. 
Asian Doll and King Von
Fans questioned the newly single rapper for the reasons for their break up, but she kept mum.
But this did not stop them from formulating their own speculations. Many believed that Asian Doll was not over her former late boyfriend, King Von. 
She had been dating the late rapper on and off for years before he was murdered following a shoot-out in November 2020. 
The rapper had been public about her loss during the grieving process. She often aired her emotions on social media and reminisced about their shared times.
In one of her heartbreaking tweets, she claimed she would do anything for a hug and one final conversation with him.
At one point, she even expressed that she felt like dying from the grief. 
Referring to herself as Queen Von, she also got multiple tattoos of Von as a tribute. 
After almost a year of mourning, she moved on to Jackboy, but people were unkind to the rapper. 
They criticized her for moving on too fast, but she didn't give a hoot and continued her love affair.
However, the recent tweets between the two suggest they are no longer cordial.