Inside Asher Angel and His Girlfriend Caroline Gregory's 'Indescribable' Romance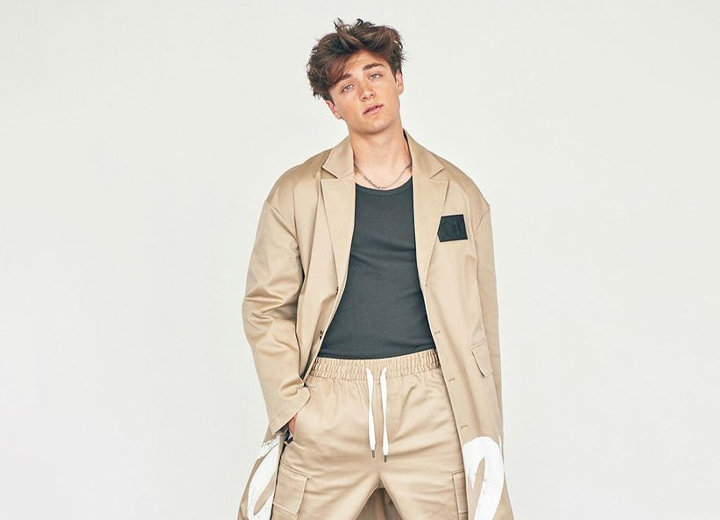 Asher Angel and his girlfriend, Caroline Gregory, have been going together for almost two years now. And their romance has been a great thing for the two youngsters.
Angel has even termed his time with his girlfriend as "indescribable," crediting her for his groundedness. Their activities on social media and elsewhere make the couple one of the cutest things on the internet.
Here is a rundown on their relationship and how it has progressed over the years, at least in public.
Asher Angel and Girlfriend Caroline Gregory Approaching 2nd Anniversary
Let's start at the beginning, shall we? 
Looking back at the two lovebirds' social media activity, it seems like the two started dating shortly before December 2020. On December 24, they first liked each other's posts on social media and appeared together on her TikTok.
Just days later, on December 31, 2020, they made their romance Instagram official with a picture of their time together at an ice skate park. "hi asher," she captioned the cute post.

Asher Angel with his girlfriend, Caroline Gregory, in July 2022. (Photo: Caroline Gregory/Instagram)
After that, it has been romantic posts galore on both their Instagram accounts. "mine" and "favorite human" are only a few of the countless possessive adjectives they have used to describe each other on their uploads.
Apart from random posts showing each other off, they also wish each other on their birthdays and other special occasions like Valentines's Day and vacations together.
While fans initially thought they started dating on December 31, that turned out to be incorrect. They had made things official between themselves on December 29, as evident from her first-anniversary post in 2021.
"1 year with my boy i love you," Gregory wrote in her anniversary post, followed by a red heart. Alongside was a picture from one of their skiing trips in Park City, Utah.
The two, even though less famous compared to other celebrity couples, have had their moments of drama on the internet. Something unusual happened in March 2021.
Stranger Things star Noah Schnapp commented "Uh hi" on one of her TikToks, apparently making his intentions clear. However, Angel was having none of it, and neither was his girlfriend.
He swiftly came in and shut Schnapp's approach down with a comment of his own, and Gregory liked her boyfriend's comment.
Since this, there has been nothing but sweet moments between the two on the web. In November 2021, during a red carpet interview with Entertainment Tonight, he even called their relationship "indescribable."
When asked how his girlfriend had changed his life, he said she had continually kept him grounded and present in the moment. He even implied that she was fully supportive of his acting career and even was his biggest fan.
And now, we come to the most recent thing.
The aforementioned "favorite human" praise came on his birthday on September 6, 2022, when she made a sweet IG post for him. "happy birthday to my favourite human," Gregory wrote. "I love everything about you."
In response, Angel left a comment saying, "I love u beyond words thank u angel."
They are clearly cruising on their way to their second anniversary, which is right around the corner. Expect nothing but more adorable moments from the two until then.
Who Is Caroline Gregory?
Gregory is not unfamiliar with fame herself, although she might not be as big a celebrity as her boyfriend. The social media personality has her own fanbase on TikTok and Instagram.
She was born on May 18, 2004, in Atlanta, Georgia. Even though details of her parents are yet unknown, what we know is that she has two brothers — Carsten and Carter.
The TikTok creator attended Perimeter School, a covenant Christian educational community, until grade eight. Then, she transferred to Providence Christian Academy in Murfreesboro, Tennessee. She was a part of the cheerleader team there.
After school, she has been focusing on growing her brand and internet presence. The creator, who started making videos on TikTok in May 2018 (going by her first post on the platform), now has over 3.4 million followers there.
As for her Instagram presence, she has over 375 thousand followers on the platform. She uses these two media mostly for brand advertisements and sharing personal updates.
Other than these, she, who has heterochromia and incredible eyes, is also taking acting classes now, which means Angel might have some serious competition right beside him soon.