ASAP Rocky Admits Travis Scott Stole His Whole Style on 'Drink Champs' Podcast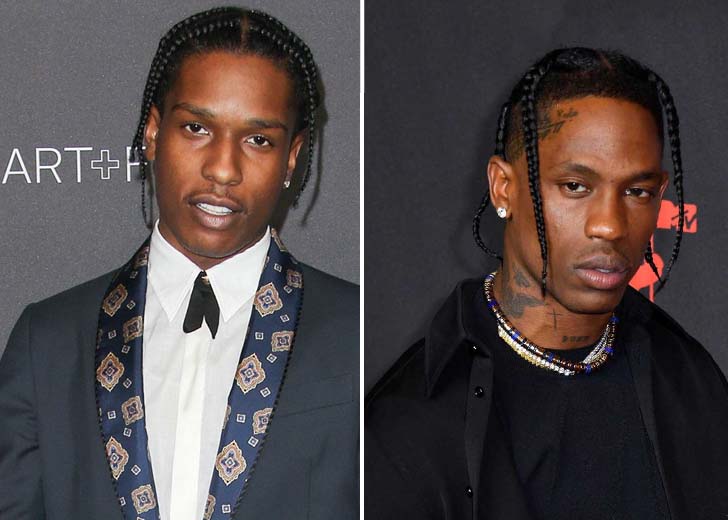 ASAP Rocky and Travis Scott have a history between them. The two had a beef going on for a while, from as early as 2014, but Rocky announced it had ended in 2019.
One reason there was tension between the two was their looks and style. They have always had similar appearances, and they have often been mistaken for each other in public.
Scott has been accused of copying Rocky's style since at least 2016, and the same thing has come up once again. In 2016, Rocky played it cool about the steal, but now he is accusing Scott himself.
Travis Scott Stole ASAP Rocky's Style
On May 9, 2022, N.O.R.E uploaded a clip from their upcoming Drink Champs podcast with ASAP Rocky on Twitter. The clip provided a taste of the conversations ASAP Rocky had about Kanye West, his soon-to-begin parenthood with his wife-to-be, and his connection with Rihanna.

ASAP Rocky accuses Travis Scott of stealing his style. (Photo: ASAP Rocky/Instagram)
Among the subjects asked and answered, there was one about Scott and how he stole Rocky's style.
"Travis Scott stole his whole style from ASAP Rocky?" the interviewer asked, to which Rocky responded with a confident, almost smug, "yes."
The rapper also had a straight face while answering the question, which might mean he was serious about the accusation he was making, whether he realized it at the moment or not.
This clip got picked up by many other accounts on Twitter, and discussions about who was the first adopter of the style ensued beneath many of these posts.
A majority agreed Rocky was the first person to adopt the style he has now and that Scott was the one who copied him. A few also opined that even though Rocky had a Houston influence in his rap style and fashion, it was limited to only his early days and not so much now.
Additionally, many also compared the two artists' looks and pointed out how they are lookalikes in many ways, even admitting they thought Rocky and Scott were the same people many times.
However, elsewhere on Instagram, people disagreed Scott had stolen Rocky's style, whether musically or fashion-wise. Instead, people were accusing Rocky of being delusional and that he was just trying to drum up another feud.
ASAP Rocky and Travis Scott's Feud about Stealing Style
The first time the discussion about similarities in style between Rocky and Scott became big was in January 2016. Then, ASAP Nast, a member of the ASAP Mob, made accusations that Scott was "biting" their style.
At the time, Rocky responded in a non-accusatory way. He simply commented that imitation was the highest form of flattery.
Further, he disagreed with his group member and said Scott was only "doing his thing." He did not feel threatened about Scott stealing their style as he wanted Scott's music to do the talking instead.
Then, in April 2018, rap legend Funk Flex made comments about how a "Bunch of rappers stole Asap Rocky's swag" on Twitter, riling up both artists' fanbases two years after the initial comments.
On October 15, 2019, after years of apparent feuding with Scott, Rocky had enough of the beef and tweeted out, "THAT ME N TRAVIS BEEF [expletive] SO PLAYED OUT , LET IT GO."
All this time, it appeared as if Rocky had risen above the noise. But with his latest comments, it seems like he is up for another bout with Scott.