Everything about Antonio Brown's Children and Baby Mamas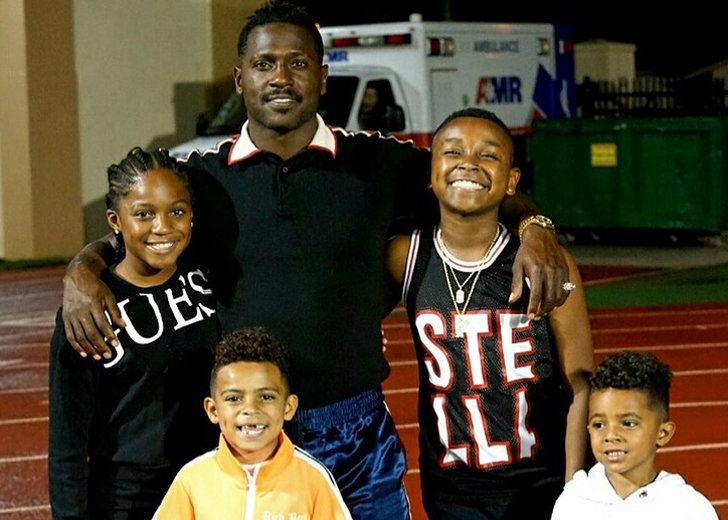 Antonio Brown is a well-known American football wide receiver and a free agent who first burst onto the scene while playing college football at Central Michigan University.
There, he earned All-American honors in 2008 and 2009 as a punt returner.
He soon became the sixth-round pick in the 2010 NFL Draft by the Pittsburgh Steelers, and subsequently left his mark in the league.
Coming to his personal life, Brown has a big family. The Miami native is reportedly father to six children (four sons and two daughters), whom he welcomed with as many as three women.

Antonio Brown poses with his children and Chelsie Kyriss after an NFL match. (Photo: Instagram)
While some might feel having six children — and raising them — must be tough, the NFL star is actually a proud dad and does not seem to be much bothered by the thought of how to raise his kids.
In fact, speaking with ESPN's Morty Ain in 2016, he bragged about having many children, saying, "I've got a lot of kids, so my sperm count is good."
Meet Antonio Brown's Children and Baby Mamas
Brown reportedly became a father for the first time when he and his former girlfriend, Shameika Brailsford, gave birth to Antonio Brown Jr. in 2007.
According to Familytron, the football player's family and friends call Brown Jr. by his nickname, "Lil AB."
However, in 2012, Brown and Brailsford separated, only to start a legal battle for their son. The judge eventually ordered Brown to pay her $5,000 monthly for the upbringing of the child.
Meanwhile, he had already welcomed his second child and oldest daughter, Antanyiah Brown, with his other former girlfriend, Wiltrice Jackson.
The former girlfriend gave birth to their first child together in March 2008. But they eventually broke up, too.
They have, therefore, maintained a civil relationship for their daughter's sake over the last decade.
Four Children with Former Girlfriend Chelsie Kyriss
After moving on from his former girlfriends Brailsford and Jackson, Brown found love in girlfriend Chelsie Kyriss, a former teacher and customer service representative.
With her, he first welcomed his third [the couple's first] child, son Autonomy Brown, in April 2014.
Speaking of Autonomy, the baby mama once confessed via Instagram that the boy "deserves to have such a name."
In August 2019, Autonomy celebrated his first day in kindergarten. He also has an Instagram handle, managed by his mother, with over 106,000 followers.
Brown's fourth and the couple's second baby, Ali Brown, was subsequently born in March 2015, followed by their third child, Apollo Brown, in August 2017.
On July 23, 2020, the two secretly welcomed their fourth child together, daughter Allure Brown.
At the time, the football wide receiver announced the news, sharing a picture of him with Kyriss and the little bundle of joy in a since-deleted Instagram post.
Antonio Brown Reportedly Broke up with Chelsie Kyriss
Even though Brown and Kyriss had four children together, they usually had disagreements in their relationship.
Due to that, they separated sometime after having their fourth [Brown's sixth] baby.
According to The Sun, Brown is dating Cydney Moreau, a professional model and Instagram influencer, at present. But the relationship has not been officially confirmed by the rumored couple.