Did Anthony Ramos and Jasmine Cephas Jones Split before Their Wedding?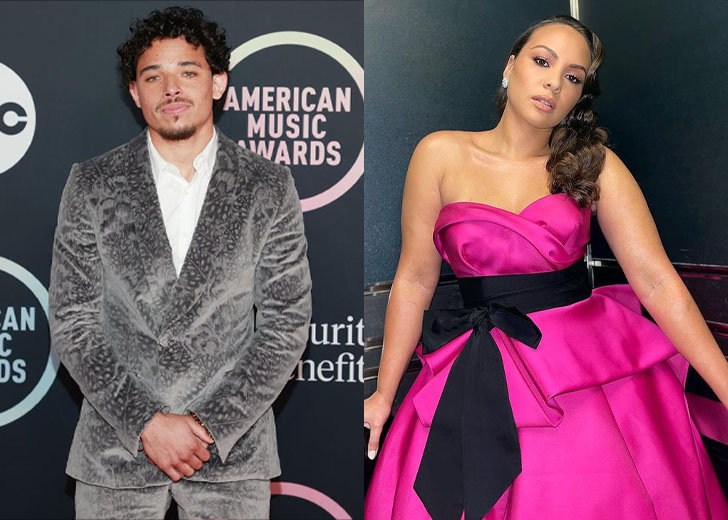 Anthony Ramos and Jasmine Cephas Jones met on the set of Hamilton in 2014.
The two started dating in 2015 and got engaged in December 2018. Since then, both Ramos and Cephas had expressed their desire to have a wedding and spend the rest of their lives together. 
However, the pair split in November 2021 before ever holding a wedding.
Here's a look at Ramos and Cephas Jones's relationship throughout the years.
Anthony Ramos and Jasmine Cephas Jones Met On The Set Of 'Hamilton'
Ramos and Cephas Jones met for the first time during rehearsals of Lin-Manuel Miranda's musical Hamilton in 2014. While the actors never revealed more about their time in Hamilton, Miranda revealed a little about the two.
In a tweet, Miranda made later January 2019, in the wake of the two actors' engagement announcement, the playwright and film director shared Ramos kept stealing glances at Cephas Jones during the first table read.
First table read, Hamilton, 2015, Off-Broadway:
*Anthony keeps sneaking glances at our newest cast member, Jasmine*
Me: Ruh-roh.
2019: 💍
Me: 😭 pic.twitter.com/W4aAvjXV7Q — Lin-Manuel Miranda (@Lin_Manuel) January 12, 2019
After getting to know each other, Ramos and Cephas Jones also celebrated New Year's Eve together in 2014. She shared a picture of them celebrating on Instagram.
Anthony Ramos Started Dating Jasmine Cephas Jones In February 2015
In an Instagram post Ramos made in February 2017, he revealed he had been dating Cephas Jones for two years.
Posting a Skype photo of his girlfriend, he wrote about how happy he was.
She's incredible. Blessed to be able to see that smile almost everyday and watch all of the different phases of your hair.
Ramos and Cephas Jones attended various events, including the 2016 Tony Awards and 2020 Oscars.
Anthony Ramos and Jasmine Cephas Jones on Working Together
Ramos and Cephas Jones worked together once more in the 2018 drama film Monsters and Men. Like in real life, the pair played a couple in the movie and he shared it was a dream to be working with her once again.
"Working with Jasmine, being able to work with my other half, that's the dream. We worked together in Hamilton and that's how we met." Ramos also added that working in the movie made him want to start a family of his own with Cephas Jones.
Anthony Ramos And Jasmine Cephas Jones Get Engaged
Ramos and Cephas Jones got engaged in December 2018. The pair took to their respective social media accounts to share the joyful news in January 2019.
Cephas Jones uploaded a picture of herself and Ramos in front of Arundel Castle and revealed he had popped the question there on Christmas Eve.
She also shared how excited she was about their future and working together once more.
Ramos also broke the same news by posting a picture of himself and his fiancée in front of the Eiffel Tower.  
Anthony Ramos and Jasmine Cephas Jones' Split
Towards the end of November 2021, news of Ramos and Cephas Jones going their separate ways broke out. According to ICYMI, Slate's podcast, the news was leaked through TikTok by a woman.
Reportedly, she posted a video of him allegedly going into a strip club with a woman who was not Cephas Jones.
Their breakup was covered later by other sources such as E! and People.
The reason for their split has not yet been officially disclosed.