The Life of 'Hamilton' Creator Lin-Manuel Miranda off the Stage with Wife Vanessa Nadal and Kids
Lin-Manuel Miranda was too shy to talk to his wife Vanessa Nadal when they were in high school.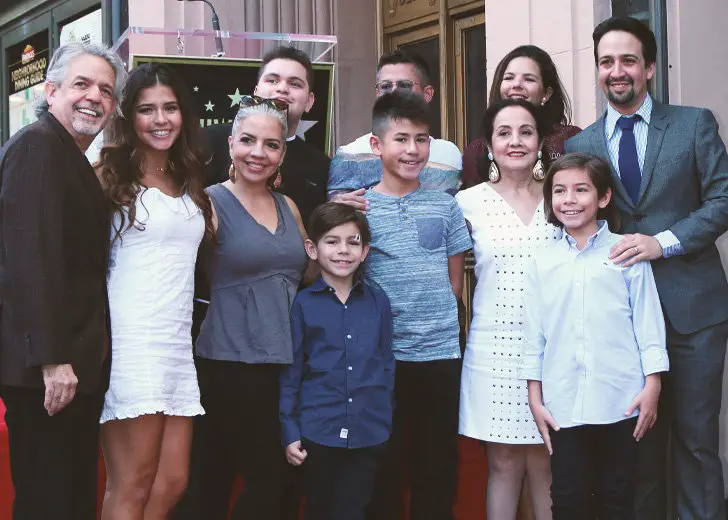 Lin-Manuel Miranda is perhaps best known for hip-hop-infused musical Hamilton. The playwright, composer, lyricist, and actor is the brains behind the musical, which won 11 Tony Awards in 2016 and the Pulitzer Prize in Drama in 2016.
The musical chronicled the journey of founding father Alexander Hamilton.
It was such a hit that the movie version of the musical was initially intended for theatrical release, but as the pandemic shut down theaters worldwide, the film ended up on Disney Plus. 
Miranda also received a nod for Best Performance by an Actor in a Motion Picture–Musical or Comedy. So naturally, fans of the musical are also curious about the Oscar-winning composer's wife and kids. 
Here's everything you need to know about Miranda's wife, Vanessa Nadal.
Lin-Manuel Miranda and His Wife
Miranda has been happily married for a decade to Nadal, with whom he went to high school. 
Miranda was a senior while Nadal was a sophomore, and even though the actor claimed he was one of the "cool kids," he was terrible at talking with women. 
He never dared to approach his future wife, whom he found gorgeous and admired. 
Eventually, they parted ways, and Miranda headed to Wesleyan University while Nadal pursued chemical engineering at MIT. 
In 2005, they crossed paths again when Miranda found Nadal's Facebook profile. 
He noticed from her profile that's she was interested in hip hop and salsa, and using that as an excuse, he invited her to his Freestyle Love Supreme show. 
But seeing as I was alone & miles away from the love of MY life, the verses came pretty easy:
"And the world will soon adore you
as I learn to live without you;
every melody is for you, every song I write about you."
That's just for @VAMNit. pic.twitter.com/zk3wHA7svm — Lin-Manuel Miranda (@Lin_Manuel) August 13, 2021
She attended the show but thought Miranda was not interested in her as he did not talk to her the whole night.
But little did she know Miranda was just shy, and because of his shyness, he had to ask his friends to get Nadal's number for him so that he could invite her to his show again. 
Weeks after his first show, Miranda invited Nadal to another one, and it was at that performance, Nadal realized she was falling for Miranda.
After the show, Miranda finally made his move and invited her over to his house "to play Grand Theft Auto and watch the Jay-Z movie and listen to Marc Anthony."
Soon the two started dating, and not long after, they exchanged keys to their apartments.
On September 5, 2010, the duo tied the knot in Staatsburg, and they have been together ever since. 
Lin-Manuel Miranda and His Kids
A few years after their marriage, the actor and his wife welcomed their first son, Sebastian, in November 2014. 
Almost welcoming Sebastian, on February 2, 2018, Nadal gave birth to their second son.
The couple is pretty private and does not share their life on social media, but Miranda gives a glimpse of his family on Twitter every once in a while.
In fact, in 2019, Miranda expressed his gratitude to his fans for helping him maintain his kids' privacy on Twitter.
He tweeted that when someone uploaded photos of his kids, they swarmed to protect them. He added that he had also gotten DMs when videos of his kids surfaced. 
He commended his fans and being so incredible and understanding.