Annie Murphy's Tattoo Story — The Man behind the Inspiration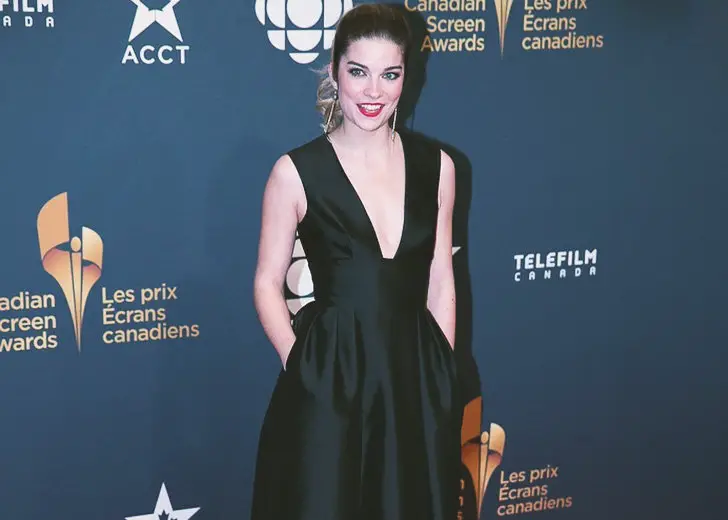 AMC's genre-bending Kevin Can F**k Himself, which stars Annie Murphy, was recently renewed for a second season. 
The series portrays Murphy as a working-class housewife frustrated by her financial and domestic life, who seeks new adventures.   
But Murphy is probably best known for her critically acclaimed role as Alexis Rose in the CBC sitcom Schitt's Creek. 
She starred as the spoiled socialite daughter of Johnny and Moira Rose in all six seasons, earning her an Emmy award as an Outstanding Supporting Actress In A Comedy Series 2020.
Before landing her famous role, she was about to give up acting, but fortunately, she got cast for the CBS sitcom. And not only did she get cast, but she also got to star alongside her idols, Eugene Levy and Catherine O'Hara. 
But no idol could compare to her favourite Hollywood icon, Jimmy Stewart, whom she even got a tattoo of.
Annie Murphy's Tattoo
Murphy has a tattoo of a man's silhouette on her right arm, who she confirmed is the late actor Jimmy Stewart. The actress has also opened up about the inspiration for the tattoo in past interviews.
At first glance it looks like an ordinary tattoo of a man and people might not know that it is the It's A Wonderful Life actor. However, in a CBC Arts studio interview, Murphy confirmed that the tattoo was an homage to Stewart in the movie Harvey.
The actress explained that Stewart radiated kindness and love in Harvey, and it was one of his sweetest and heartbreaking performances that inspired her.  
He has one of the most beautiful, kind, expressive faces I have ever laid eyes on—a beautiful comedian to a very, very dramatic actor. 
Murphy added that ideally, she would love to slay both comedy and drama like Stewart, but she had a problem with crying. But for someone who claimed to have such a problem, she got a little teary-eyed as she talked about her icon. 
She then joked that maybe all she had to do was think about Stewart if she had to cry. 
Who is Jimmy Stewart
For those not aware, Stewart has appeared in dozens of Hollywood films like It's a Wonderful Life, Vertigo, and Harvey and often portrays modest but morally unwavering characters.
He made his film debut in 1935 with The Murder Man alongside Spencer Tracy. And although his distinctive drawl and sharp features made him challenging to typecast, he was loved by the public, and because of that, he landed roles in You Can't Take It with You and Mr. Smith Goes to Washington. 
The two movies were pivotal for his career, with the latter earning him his first Academy Award nomination. 
In the movie Harvey, the one that Murphy loved, Stewart starred as a man with alcoholism who frequently dreamed of his imaginary best friend, a 6-foot-tall rabbit named Harvey. It became one of the actor's signature roles. 
At 89, the actor passed away from cardiac arrest, but his work continued touching lives, including Murphy's.