Noah Reid's Role as Gay Lead Patrick Brewer in 'Schitt's Creek' Was So Good, Fans Think He Is Actually Gay
Noah Reid had no qualms about playing a gay character and it definitely made fans question his preferences.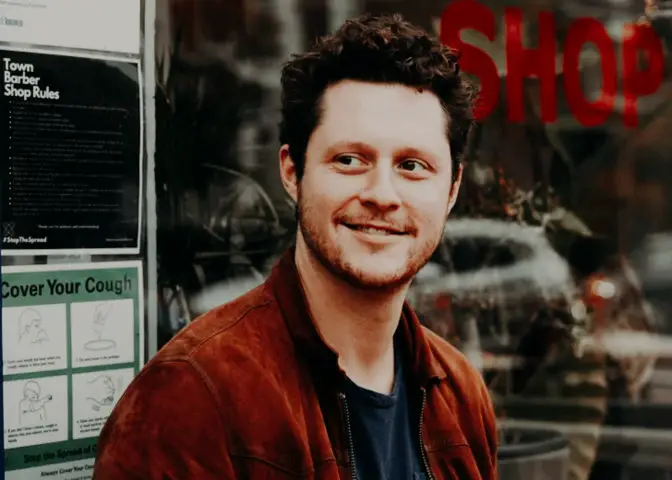 SPOILER WARNING: Plot details for Schitt's Creek

 follow
When Canadian comedy series Schitt's Creek was released, it wasn't garnering views, but slowly it caught on and now is a pop culture phenomenon. 
The show follows a once filthy-rich Rose family whose property and belongings are seized after an embezzlement scandal. They are forced to move into the roadside motel in Schitt's Creek, a tiny, working-class town that's a far cry from the luxuries the Rose family is used to.
So, they embrace all the eccentricity and warmth the town offers.
The stellar comedic and emotional performances garnered massive views, but the relationship between David Rose (played by Dan Levy) and Patrick Brewer (played by Reid) is why fans tuned in episode after episode. 
Reid melted the hearts of queer people across the world with his portrayal of a loved-up gay man. But is Noah Reid gay?
Noah Reid's Marriage
Unfortunately for fans wishing Reid was gay, he is not. In 2019, Reid rang in the New Year romantically by getting down on one knee. The 'Honesty' singer confirmed his engagement to his partner Clare Stone with a playful Instagram post with the captions "Roommates for life."
A little over a year later, the lovebirds tied the knot with his fiancée in a small wedding ceremony on Lake Huron, Ontario, Canada. The COVID-19 restrictions meant that the couple could only invite a handful of people. 
But the small size of the wedding did not detract from the occasion as the couple looked immensely happy. The ceremony took place on the sand, and the couple exchanged their vows under a gorgeous, whimsically decorated altar. 
The entire ceremony looked beautiful, and Reid took to Instagram to share the photos from their big day. 
The couple received well-wishes from their famous friends, including Grey's Anatomy star Giacomo Gianniotti. "Absolutely amazing! Beautiful couple! Congrats and to many more!" the actor commented.
Noah Reid's Portrayal of a Gay Man
So there you have it, folks. Reid is definitely not gay, but who could blame anyone for thinking that given his excellent portrayal of a gay man so believable and genuine in Schitt's Creek. 
Schitt's Creek was brilliant for its LGBTQ+ representation, which touched the hearts of viewers. Speaking to EVOKE about it, Reid enthused that the creators ensured that the show had no place for homophobia and that all the storylines were treated with respect. 
The actor revealed that he could relate to Patrick in the series because he found himself very much in the same position as his character.
Patrick had never had feelings for a man before or allowed himself to have feelings for a man before, so in that regard, I felt like I was in that position too. So that character had feelings for David Rose's character, and it just sort of went from them.
Reid added that being gay is a spectrum, and that he had no qualms about playing a gay character.