CNN Addresses Andy Cohen's NYE 2021 Drunken Rant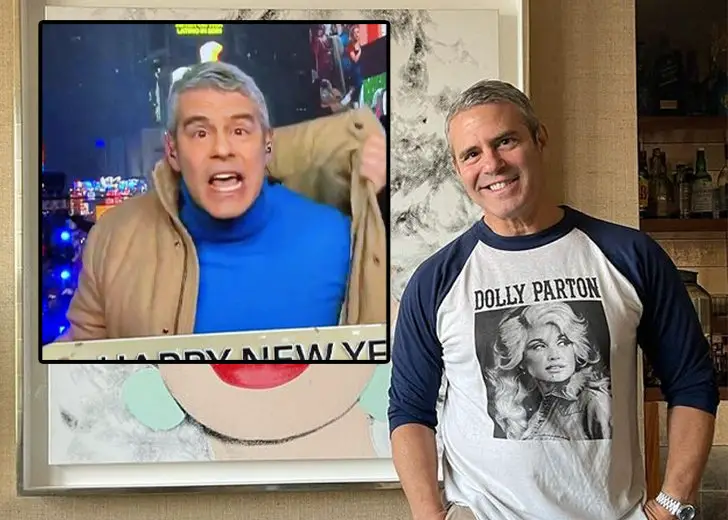 Andy Cohen had an interesting start to 2022.
Cohen and Anderson Cooper have been hosting CNN's New Year's Eve show since 2017. 
A large part of the CNN show involves the duo enjoying themselves and downing an abundance of shots throughout the night. And as usual, the duo was back to bid 2021 goodbye. 
Minutes after the ball dropped in Times Square, the Watch What Happens Live host went on a drunken rant and stole the show. 
Andy Cohen's Drunken Rant on CNN
The intoxicated host was happy about Bill de Blasio, former New York City Mayor's departure from office. 
He mocked the mayor's "victory lap dance after four years of the crappiest term as the mayor of New York."
Meanwhile, Anderson tried his hardest to stop him, advising him not to go on the drunken rant and warning him not to start his New Year on the wrong foot. 
Unfortunately, Cohen continued claiming that Democrats and Republicans could agree that de Blasio was a horrible mayor. 
So sayonara sucker! 2022! It's a new year because guess what? I have a feeling I'm going to be standing right here next year, and you know who I will not be looking at, dancing as the city comes apart? You!
And that wasn't all. Cohen also had conspiracy theories against the Facebook founder, Mark Zuckerberg, claiming he was "messing with all of us." 

Andy Cohen and Anderson Cooper on the New Year's Eve show before Cohen's drunken rant (Source: Andy Cohen/ Instagram)
Andy Cohen's Regret 
After Cohen recovered from his drunken rant, the host expressed he had just one regret, shading Ryan Seacrest. 
The host appeared on SiriusXM show Radio Andy on January 3 and admitted that he should not have slammed the ABC broadcast and its host.
He claimed he liked Seacrest and explained he said those things in a drunken stupor. 
During the New Year Eve show, Cohen shaded the American Idol host who hosted Dick Clark's New Year's Rockin' Eve for ABC from elsewhere in Times Square. 
"If you look behind me, you'll see Ryan Seacrest's group of losers performing," said the drunken host and added that their competitor's show had nothing to offer. 
The media personality also noted that the reaction to his commentary was blown out of proportion and hoped Seacrest heard his radio clip. 
Andy Cohen Is Not Fired
While many viewers found Cohen's drunken rant hilarious, others slammed CNN for allowing the duo them to drink on live television and for letting Cohen speak disrespectfully about Blasio.
After the incident went down, many thought Cohen would be fired. Radar reported that the media personality would not "be invited back" to host the New Year's Eve special.
The outlet claimed that senior CNN staffers were "embarrassed" to work with the news network and happy that Cohen would not return. 
But a spokeswoman for CNN debunked the reports. She acknowledged to People that the host said something he shouldn't have on live tv.
But they have since addressed it and were looking forward to having him back again next year.
It appears Cohen was not fired.