Ana Gasteyer Admits She Has Been Mistaken For Kathryn Hahn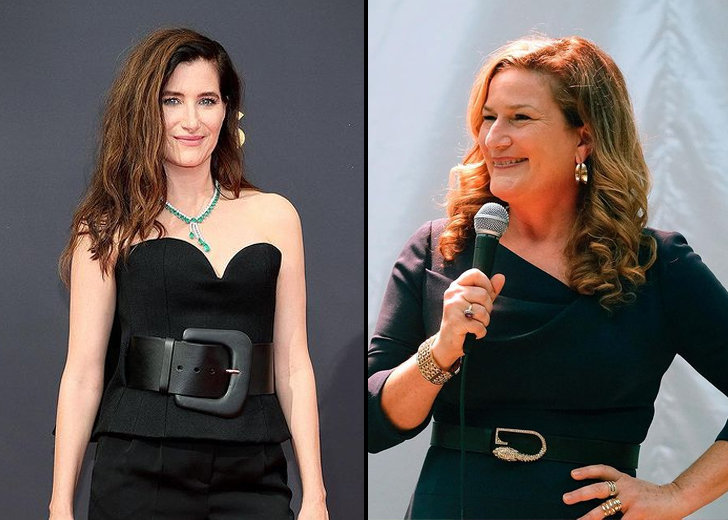 Many celebrities look alike, but sometimes two stars look so similar that fans, paparazzi, and even other Hollywood stars cannot tell them apart. Two such actors are Ana Gasteyer and Kathryn Hahn.
During her appearance on People Now, Gasteyer opened up about wanting to work with Hahn.
She explained that she and Hahn are mistaken for each other "every single day" and that their dream was to play as sisters. 
Every single day I probably get a compliment for her, and every single she gets a compliment for me. 
The two stars are so frequently mistaken for each other that Gasteyer says thank you when she got mistaken for Hanh.
Once Gasteyer met the famous saxophonist Kenny G backstage at a game show, and upon seeing her, he went, "Bad Moms, I met you there."
Hanh starred in the comedy Bad Moms, and Kenny G presumably met the actress at one of the movie's events.
Gasteyer, who didn't have the heart to tell the saxophonist she wasn't Hanh, just said, "Thank you, it was super fun working with you."
She added she didn't want to make people feel bad for being excited. 
Ana Gasteyer Tweets About Kathryn Hahn
Gasteyer has also tweeted about her similarities in the past with Hanh, which resulted in reactions from fans. She joked she had a bunch of compliments for Hanh for her appearance on The Dictator. 
The tweet resulted in responses from fans who shared that they were confused by Gasteyer and her doppelganger.
If anyone sees Kathryn Hahn, pls tell her I have a bunch of her compliments for her turn in the Dictator. Can send or keep em at my place. — Ana Gasteyer (@AnaGasteyer) May 22, 2012
A user wrote, "just argued with my wife that it was you in WandaVision. Which is extra confusing because I saw you once on Broadway late night and now I'm wondering if that was you now," 
Meanwhile, another wrote, "I found out you both went to the same college and had other similarities. I would like to be a fly on the wall if you hung out." Some even joked that they loved her on WandaVision, as Hahn appeared in the MCU series. 
Besides, Twitter fans have also taken to Reddit to discuss their similarities.
Users shared that they often got confused between the two actresses, and when they saw Hanh in WandaVision, they thought it was Gasteyer from Saturday Night Live. 
Ana Gasteyer and Kathryn Hahn Career Achievements
As much as the two actresses look alike, they are not related. 

Kathryn Hahn, Ana Gasteyer's look-alike in WandaVision (Source: WandaVision Instagram)
Although the actresses once shared the spotlight with co-star Will Ferrell, the two have had a very different journey in Hollywood.
Gasteyer tickled our funny bones when she was a member on Saturday Night Live from 1996 to 2002. 
She skyrocketed to fame with her spot-on impressions of Martha Stewart and Celine Dion and her portrayal of high school music teacher Bobbi Mohan-Culp alongside Will Ferrell.
After SNL, Gasteyer starred in several Broadway productions and TV and movies.
The newer generation may recognize her as Lindsay Lohan's mother in Mean Girls. 
As for Hahn, she is not a newcomer in Hollywood.
She has been in the industry for years as she wowed audiences with her comedic chops with Will Ferrell in Stepbrothers and Anchorman before taking on a more serious role in Revolutionary Road. 
But it's her portrayal as the nosy neighbor Agnes in WandaVision that earned her a new generation of fans.