5 Terrifying Real Serial Killers That Inspired Ryan Murphy's 'American Horror Story'
Know the real-life version of the most notorious characters in 'American Horror Story.'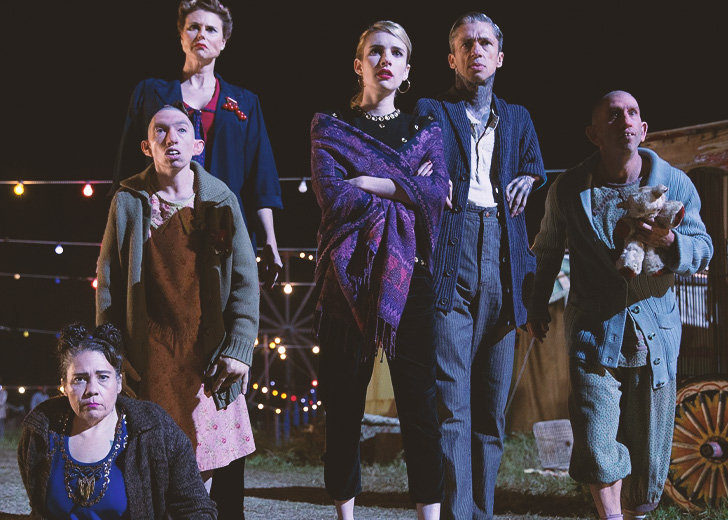 Reading and watching actual crime content, especially serial killers, is interesting no matter how heinous it is. Mainly because one can't believe that such people exist in real life. 
Many cases feel straight out of horror movies. But, from horrifying murder cases like Black Dahlia and JonBenét Ramsey to serial killers like the Zodiac Killer, Jack the Ripper, Golden State Killer, and Axe Man — all happened in real life. 
True stories like these have been incorporated into many films and TV series. One such series is American Horror Story (AHS). 
Ryan Murphy and Brad Falchuk created the anthology horror television series AHS for the cable network FX. Each season is designed as a self-contained miniseries, featuring a separate cast of characters and locales. 
And, of course, each season's story components are primarily based on actual occurrences. It's one thing to believe it's all just a show, but knowing those stories are based on real-life serial killers makes it more terrifying.
Here are five serial killers that inspired various characters in different seasons of AHS. 
Jeffrey Dahmer
Jeffrey Dahmer is perhaps the worst criminal of all times. Cannibal and serial killer Dahmer was commonly known as the Milwaukee Cannibal. His murder spree happened between 1978 and 1991. 
He not only murdered his victims but also raped and dismembered them. Some people were also the victim of necrophilia and cannibalism. He was found guilty of the 15 murders out of 16 he committed in Wisconsin. 
As a result, he was sentenced to 15 life sentences. However, he got 16 life sentences after admitting to an extra killing in Ohio in 1978. 
Dahmer died a brutal death at the Columbia Correctional Institution after being beaten to death by a fellow inmate, Christopher Scarver, on November 28, 1994.
Dahmer appears in the AHS: Hotel in its fourth episode called 'Devil's Night.' He is portrayed by Seth Gabel. 
John Wayne Gacy
John Wayne Gacy, often known as the Killer Clown, was a suburban Chicago serial killer who assaulted and murdered at least 33 young men and boys. Gacy used to act as "Pogo the Clown" or "Patches the Clown" in children's hospitals and philanthropic events.
He murdered his first victim in 1972 and at least 30 more by the end of 1976. Gacy was apprehended on December 21, 1978, after an inquiry into the disappearance of Des Plaines' adolescent Robert Piest.
Gacy was sentenced to death on March 13, 1980, and was executed at Stateville Correctional Center on May 10, 1994, by lethal injection. Gacy's clown avatar inspired Twisty the Clown in the AHS universe. 
Twisty was played by John Carroll and had the exact characteristics of Gacy. The clown appears in three seasons of AHS — Freak Show, Hotel, and Cult. 
Aileen Wuornos
The case of Aileen Wuornos is very famous in the legal history of America. Wuornos is one of the most well-known serial murderers in history, owing to her status as one of the first female serial murderers.
She was an escort who shot seven men in the head at point-blank range in Florida in 1989 and 1990. Wuornos claimed her assailants raped or attempted to rape her and that all the killings were done in self-defense.
She was found guilty of six murders and was put to death by lethal injection on October 9, 2002. Wuornos is portrayed by Lily Rabe in AHS: Hotel.
Madame Delphine LaLaurie
Madame Delphine LaLaurie was a well-known New Orleans socialite who was subsequently revealed to be a ruthless serial killer. She tortured and murdered her black slaves.
LaLaurie married several men in Louisiana during the Spanish colonial period and was thrice widowed. She remained a prominent figure in New Orleans society until a fire at her Royal Street house on April 10, 1834. 
When rescuers arrived, they discovered a torture chamber where she tied slaves in her attic. They had been subjected to extended periods of brutal treatment.
An enraged crowd later ransacked LaLaurie's home, but LaLaurie had fled to France with her family. 
Kathy Bates plays her in AHS: Coven. Bates even earned a Primetime Emmy Award for Outstanding Supporting Actress in a Limited Series or Movie for the portrayal of LaLaurie.
Richard Ramirez
Ricardo "Richard" Ramirez, also known as the Valley Intruder and the Night Stalker, was a serial murderer, rapist, kidnapper, child abuser, and burglar in the United States. He was highly motivated by Satanism and the Occult from a young age. 
Ramirez was found guilty of 13 charges of murder, five counts of attempted murder, eleven counts of molestation, and fourteen counts of burglary. He got nineteen death sentences for his heinous crimes.
The judge who upheld his sentence said his behavior was vicious beyond any human understanding. Furthermore, Ramirez never expressed remorse for his actions, which shows how brutal and psychotic he was.
He died of complications from B-cell lymphoma on June 7, 2013, while on death row in California. Ramirez appears in two different seasons of AHS.
He is portrayed by Anthony Ruivivar in AHS: Hotel and Zach Villa in AHS: 1984.