Alison Hammond's Mortifying 'Chair-Break' Interview with Matt Damon Led to Her Gastric Band
"It was a horrible, shameful moment," Hammond says.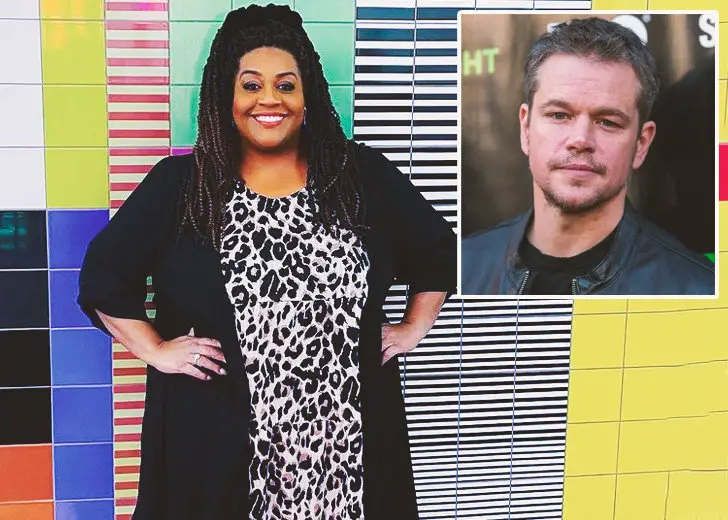 English television personality Alison Hammond's new book You've Got To Laugh: Stories from a Life Lived to the Full will be out on October 14, 2021, revealing some unheard stories about her life.
Speaking of one, reported by The Sun UK, Hammond recalled an embarrassing yet funny moment of her life in the book when she broke a chair during an interview with The Martian actor Matt Damon in 2007.
"My size and weight went against me and suddenly the side of the chair broke," she shared.
"It was a horrible, shameful moment. My girth had broken the chair while I was interviewing Matt Damon, one of my idols! I was mortified. I wanted the world to swallow me," she added.
Matt Damon Was Very Nice to Alison Hammond
After the fall, while Hammond felt horrible and embarrassed, Damon was courteous towards her. He immediately asked her if she was okay and offered her a new chair. 
The famed presenter and reporter on ITV's This Morning jokingly added that she went bright red in the face even though she was "a black woman."
She later shared how she made him laugh and continued with the interview, saying,
I ripped the arm off the chair and flung it on to the floor. That made him laugh and, instead of bursting into tears, which would have been the natural thing to do, I started laughing as well and we carried on with the interview.
Alison Hammond Got a Gastric Band for Weight Loss
In the book, Hammond also shared that she no longer wanted to be "fat" after the incident, which led her to get a gastric band and surgery for weight loss.
She stated the weight loss surgery worked physically for her, as it created a pouch at the top of her stomach that filled so quickly that she couldn't eat much.
But mentally, she said she wasn't ready for the drastic change.
Eating little and feeling hungry quickly made Hammond feel like she was going through torture.
"Then something started going wrong physically: I was sick a lot. I couldn't keep anything down," she added.
That said, she continued with her gastric band for two long years, and when she eventually felt it was not working for her, with no signs of weight loss at all, she visited her surgeon to get it removed.
Alison Hammond's Weight Loss Status Now
In the same book, Hammond shared that she went to see a doctor who specialized in weight loss issues after developing overeating habits during the lockdown.
Following that, she was examined thoroughly, and the doctor told her that it was not her fault she couldn't lose weight. 
Instead, her metabolism was different from other people's, stopping her body from losing weight.
After acquiring that knowledge, she stated that she was at that point in her life where she had been considering going through a weight loss surgery.
But she is also looking at different other options so that she can move in the best direction.
Her biggest motto now is to add longevity and good health to her good life. Hopefully, she will achieve that very soon!