5 Things to Know about Alan Ritchson's Wife Catherine Ritchson
Catherine Ritchson is a producer and writer, and together with her husband, they run their own production company, AllyCat Entertainment.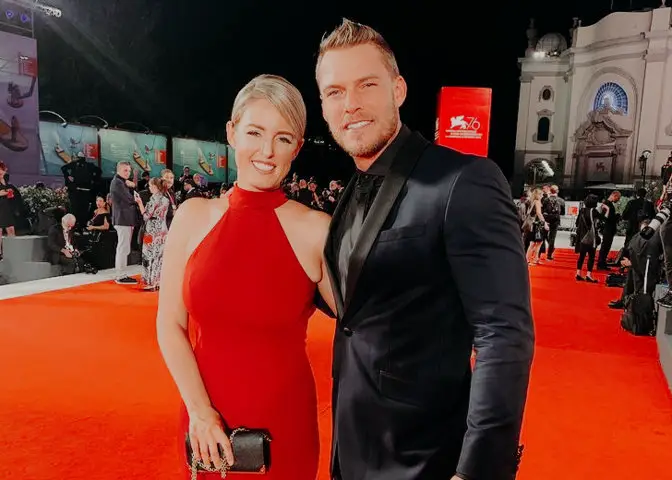 Catherine Ritchson, whose full name is Catherine Campbell Ritchson, is the wife of renowned American actor Alan Ritchson. 
In 2004, Alan auditioned for American Idol, and although he made it to Hollywood, he didn't make it any further.
However, it seems Alan always had a hunger to make it to Hollywood because, after his failed attempt at the singing competition, he starred in CW's drama Smallville as Arthur Curry. 
From then on, he regularly appeared in movies and television. Today his credits include Spike TV's comedy series Blue Mountain State, Syfy's Blood Drive, The Hunger Games: Catching Fire, and Teenage Mutant Ninja Turtles. 
He is also a regular on DC Universe/HBO Max's Titans. In addition, the actor recently bagged the coveted role of Jack Reacher in Amazon's high-profile TV series of the same name. 
But unlike Alan, his wife Catherine prefers to be behind the screens. She is a producer and writer, and together the couple has their own production company called AllyCat Entertainment. Here are five facts about Catherine. 
1. Mother of 3 kids
Catherine and Alan have 3 sons. Their first son, Calem Ritchson, was born in 2012, and the second, Edan Ritchson, was born in early 2014. A year later, on December 6, the duo welcomed their 3rd child, son Amory Tristan. 
The couple regularly posts about their kids on Instagram, and when their third son entered the world, the proud parents took to Instagram to share that their son's name meant "brave and powerful."
2. Married for 15 years
The duo got married in 2006, and on May 13 this year, Alan wrote a long and heartfelt tribute to Catherine on his Instagram post in honor of their 15th wedding anniversary. 
In the caption, the Hunger Games actor recounted their past and everything, from the highs to the lows they went through as a couple, and noted they would continue to be by each other's side as they go through life. 
3. Giving Up Alcohol
One of the lows Alan was referring to was probably Catherine's battle with sobriety. Catherine has never shied away from talking about her struggle with alcohol on Instagram.
On September 29, 2019, the producer uploaded a post on Instagram and recounted her journey to becoming sober for a year. In the lengthy caption, she even advised others who were considering going alcohol-free not to be caught up with cultural expectations and go for it. 
4. Fitness Fanatic 
Besides giving up alcohol, Catherine and her husband are keen on staying healthy and always in great shape. The couple works out together, evidenced by his and her dumbbells that Catherine uploaded on her Instagram. 
Alan, who has an enviable physique, revealed in an Instagram post that putting in the hard work was the key to getting fit. 
5. Serving the Community 
Catherina and Alan are also great role models. The duo serves as members of the Heart and Armor organization. 
According to the organization's website, they "aim to protect the health of veterans and to connect civilians to the experience of military service."