Aitch Hints Getting Married to Amelia Dimoldenberg after Confirming Dating Speculations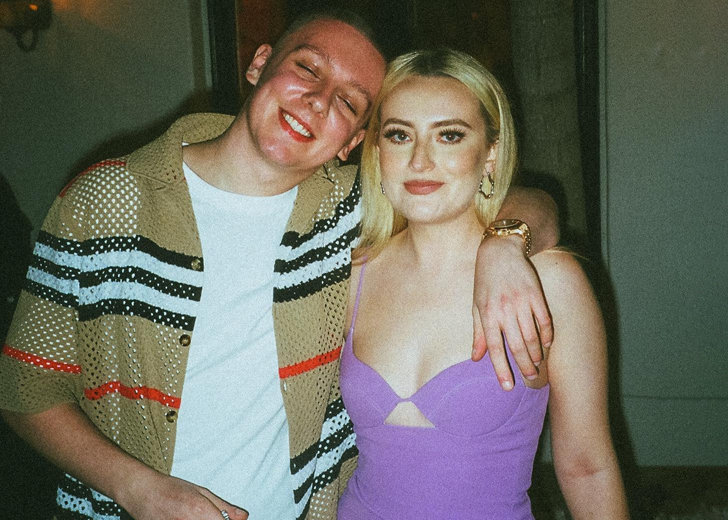 There are many good things presently going on around Aitch's love life.
On March 11, 2022, the British rapper took to social media to confirm he was dating girlfriend Amelia Dimoldenberg, a journalist and television presenter, sharing a couple of their adorable pictures together.
But that wasn't all!
His post also hinted at their engagement — and the possibility of them getting married soon — as Aitch, whose real name is Harrison James Armstrong, referred to Dimoldenberg as "Amelia Armstrong" in the caption.
Doing that, he added a ring emoji and a heart eye emoji, making his fans discuss if he had already secretly become engaged to his girlfriend.
"Is this real though?" a fan asked in Instagram's comment section.
Discussions around Possible Engagement and Getting Married
As soon as the post was dropped on his social media, fans and media started discussing if the rapper was engaged or got married to his girlfriend.
The wedding speculations got fueled when the Hear Her Voice podcast's host, Laura Whitmore, commented on the post.
She said she was surprised not to get an invitation to the couple's wedding, writing, "Can't believe I wasn't invited to the wedding!"
A fangirl also tweeted, "Aitch and Amelia are the only good thing to come out of this year so far."
In the wake of engagement rumors and questions about when the two would get married, the rapper's beloved Dimoldenberg later took to Instagram and wrote a comment on Aitch's post.

Amelia Dimoldenberg posted a picture of herself and Aitch on her story. (Photo: Instagram)
She asked her boyfriend to calm down his excitement, especially referring to the caption, where he mentioned her name using his surname.
"Steady on with that caption Harrison," she wrote.
All in all, the engagement or wedding has not been confirmed yet — but who knows if another big announcement is inching near.
Music Video, PR, and Other Speculations
The supposed relationship announcement post was made right in the middle of the rapper's new music video release. He released his new single 'Baby' on March 11.
Interestingly, the romantic music video features both Aitch and Dimoldenberg, alongside singer-songwriter Ashanti.
In the video, the Chicken Shop Date host, who appears in the latter part, is revealed as the rapper's secret girlfriend.
Because of that, some fans also claim that the post is actually a promotional stunt for the song.
"Can't figure out if this is for publicity or not," one commented, while another similarly asked, "Is this real though?"
Someone even wrote, "I swear to god this cannot be a publicity stunt... I'll quit Instagram if it is."
But various media houses confirm the two are really dating each other, and the confirmation had come amid the dating rumors.
As per Pop Sugar, Dimoldenberg even confirmed they are dating during a live radio interview with Kiss FM UK presenter Tyler West.
"We're hanging out," she coyly explained. "I like him, a lot."
She later shared that she loved that Aitch also loved her so much. "It's nice when somebody pays attention and is interested in you and stuff, right?"
There you go, another confirmation on them actually dating each other!