Cymphonique Miller; Father's Gigantic Net Worth To Siblings, Height & Facts
American actress Cymphonique Miller was born into a wealthy family with a combined fortune of about half-a-billion...Miller with a height of...is standing tall through her philanthropic...Cymphonique has made a fortune for...she has a long way to go before she can dream of toppling her family members on the wealthiest...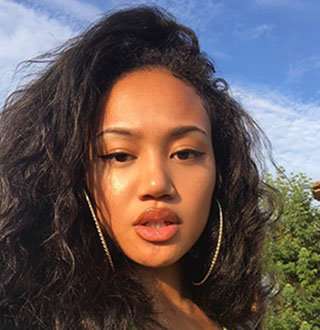 American actress Cymphonique Miller was born into a wealthy family with a combined fortune of about half-a-billion dollars. That, however, has not stopped the aspiring singer to create a niche for herself and also earned a fortune for herself at a young age of 22.
The LA native is an American singer/songwriter and actress who is best known for her role as Kacey Simons in Nickelodeon sitcom How To Rock. As a singer/songwriter she has released two albums Passion (2013) and No Days Off (2018).
Singer/Songwriter: Cymphonique Miller's music video for a song from her album No Days Off (Published on 5 May 2017)
Following her career as an actress she has appeared in several films and series such as Scarecrow Joe, Internet Dating, Master P's Family Empire, just to name a few. Moreover, she also worked as a voice actor for Phineas and Ferb as Holly and for Winx Club as Nova & Krystal.
Discover: Montana Jordan, Age 15 Details: From Parents, Family To Height & Net Worth
As a singer, she has either toured or opened the tours for famous Disney stars like Raven-Symoné, Ashley Tisdale and Demi Lovato.
Cymphonique Miller Followed On Her Siblings Suit Of Following Her Father
Cymphonique Miller was destined for greatness and career in showbiz from her birth.
She graced into this world on 1 August 1996 at Los Angeles, California as the daughter of father Percy Robert Miller--one of the best R&B singers of all time and known more famously as Master P and mother named Sonya C. Miller.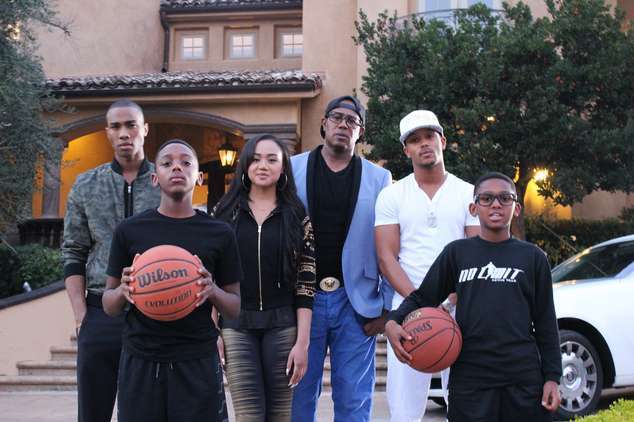 Millers: Cymphonique Miller poses with her father and brothers (Photo: 680 News)
She grew up in a big family with seven other siblings which include popular rapper Romeo Miller, Veno Miller, Tytyana Miller, Itali Miller, Young V, Hercy Miller, and Inty Miller. Her parents separated in 2014 after her mother filed for a divorce, the reasons for which have not been disclosed to date. 
See Also: Young Star Olivia Rodrigo's Age, Height, Family Detailed! Who Is She After All?
She grew up in the huge home of her celebrity father--an American rap mogul, entrepreneur, and film producer. He runs the No Limit Records company which pioneered the Southern Rap sound and has sold over 80 million records worldwide. 
Besides her father, her family also consists of more celebrities. Having been born to such a talented father, the genes seem to have transferred to his kids too as evinced by her siblings. Of her siblings, her brother Romeo Miller aka Lil Romeo is an established rapper, entrepreneur, actor, and model.
Moreover, her brother Veno Miller is also an actor who is best known for starring in movies like The Malibu Tapes (2018), Victorious (2010) and LaLa Land (2011).
Cymphonique Miller Featured On Her Father's Song in 2016
Apart from her siblings, she was also blessed with the genes from her father.
She made her debut as an actress at a young age of 12 in an episode of the Nickelodeon sitcom, Just Jordan. After that, her acting career took off, and she landed herself a role on Nickelodeon's How To Rock as Kacey Simon which skyrocketed her popularity. After marking herself as an actress since; she starred in several movies and series.
However, of late she has also been trying to copy her father in singing, Belonging to a family with a strong musical background she also gave a go at a career in singing and released her debut album Passion through her father's record label No Limit Forever.
As a singer, her career highlight came when she collaborated with Big Time Rush and got featured in their song I Know You Know. Also, she had a chance to get featured on her father's 2016 song "You Need Me And I Need You."
Another Young Age Rapper: MATT OX Bio: From Age, Nationality To New Songs & Net Worth
These days she is more of a singer than an actor and recently released her new album No Days Off which contains 15 of her new songs in 2018.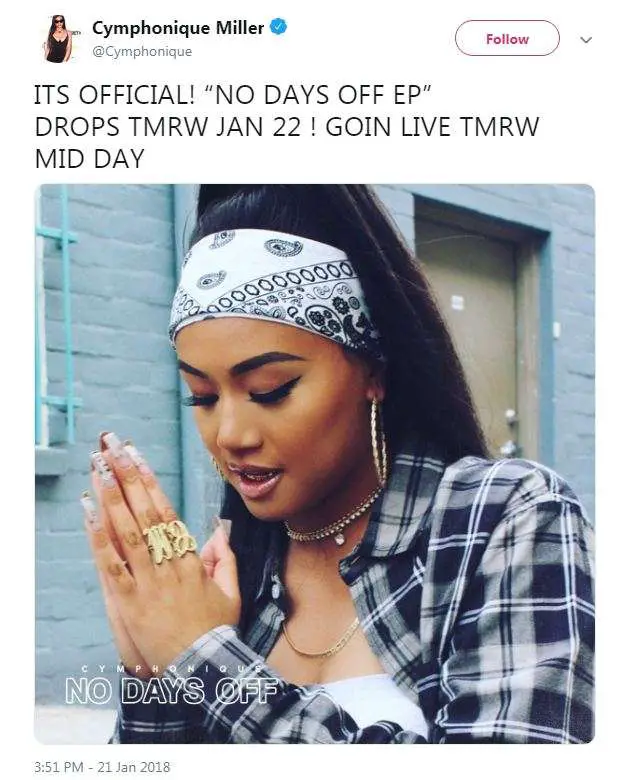 New Songs Out Now: Cymphonique Miller's tweets about her new album No Days Off and it's promotional tour scheduled for January 2018 (Photo: Cymphonique Miller's Twitter)
She has also reality show credits as she and her siblings along with her father were featured in reality show Master P's Family which gave viewers the inside glimpse of his home and answered how he balanced his career with family life.
Cymphonique's Not Stereotypical Rich Kid & Is Into Philanthropy  
Having been born to a famous father with a gigantic net worth, and a lavish lifestyle, one could be forgiven for stereotyping the singer as one of the spoiled brats as depicted in Rich Kids Of Beverly Hills.
Similar: Rebecca Judd Husband Condemns Second Wedding, Mother Of Twins Spills
However, the truth could not be far from it. Away from the spotlight, Miller with a height of 5 feet and 5 inches is standing tall through her philanthropic works. She is the creator of the books series Fabulous Girls and also the founder of Fabulous Girls Charity which helps to bring awareness to kids with cancer.  
She is also the founder and President of Fabulous Girls Clothing as well as the spokesperson for BYOU, an organization specializing in girl empowerment and anti-bullying. She founded a performing arts school in collaboration with Let The Kids Grow Foundation.
Miller became one of the youngest teens ever to receive a key to the City of Memphis, because of her relentless works in giving something back to the community.
What Is Cymphonique Miller's Net Worth In 2018?
Having carved herself an established career, Miller has the riches to show for it. 
In spite of her young age, Cymphonique has made a fortune for herself. She has two best selling songs to her name and having had a long career in acting; she boasts a net worth in millions. However, she has a long way to go before she can dream of toppling her family members on the wealthiest list.
Her father, thanks to his works as record producer and rapper, has a net worth of 200 million dollars. Her brother Romeo Miller is also not far behind, and being one of the highest paid rappers his net worth of 75 million dollars comes as no surprise.
Find Out: Avengers' Ty Simpkins Massive Net Worth At Young Age; Family Details
Her net worth might just be in a few million now, but she has time in her side. Still only 22, she could be at the forefront of the rich list, once this article gets reviewed in a few years time.