A Look Into Kandi Burruss's Life — Career, Net Worth, Relationship and More
Kandi Burruss is a businesswoman, singer, songwriter, and reality TV star. Here's all we know about her.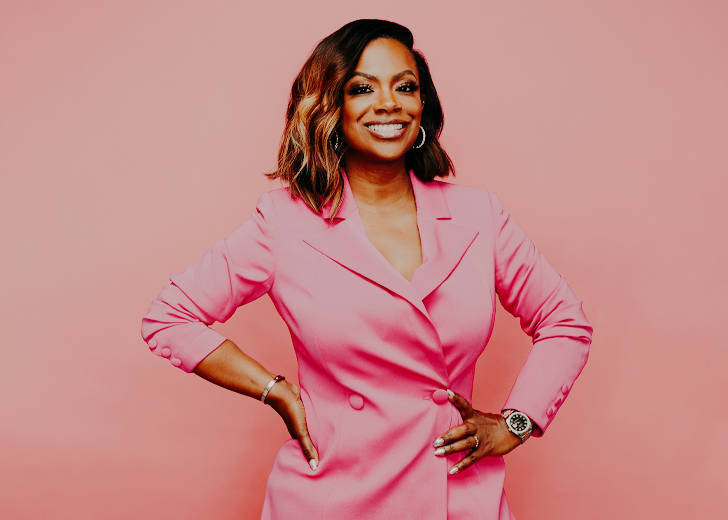 Kandi Burruss first rose to fame as one of the lead vocalists in the hugely popular 1990s female R&B vocal group, Xscape. Following the group's disbandment in 1998, she began her songwriting career, for which she is still touted as a genius.
The greatest hit she wrote is the 1999 massive hit, 'No Scrub' by TLC. Burruss has also penned songs for artists like P!nk, Mariah Carey, Whitney Houston, Alicia keys, and Destiny's Child.
Aside from singing and songwriting, Burruss is also an accomplished businesswoman, restaurateur,  and reality TV star. She joined Bravo's The Real Housewives of Atlanta during the show's second season run in 2009 and is still with RHOA.
Xscape
Kandi Burruss was born to Titus Burruss Jr. and Joyce Jones on May 17, 1976, in College Park, Georgia. She began her singing career at the young age of 14 when she joined the R&B vocal quartet Xscape in 1992. The group consisted of Burruss, Tameka "Tiny" Cottle, LaTocha Scott, and Tamika Scott.
Burruss outlined her journey with Xscape, "We started our group when I was in the ninth grade. We got our record deal when I was in the 11th-grade. Our first single dropped the summer before my 12th-grade year and we immediately had a hit."
Xscape released three studio albums: 'Hummin' Comin' at 'Cha (1993),' 'Off the Hook (1995),' and 'Traces of My Lipstick (1998).' All three of their albums were certified platinum.
Despite the success that the group enjoyed, Xscape decided to disband after one of the group members wanted to start their solo career. Burruss decided to pursue other avenues after that.
One of the group members decided to go solo. I felt like it was the end of the world… At that point, I had to figure out what I was going to do. I bought my first house at 19-years old. That's when I found out that one of the group members was going to have a solo career. I had to figure out how I was going to continue to take care of myself because I didn't have anybody who could afford my bills at that point.
After the group disbanded, Burruss teamed up with Tameka "Tiny" Cottle to continue making music.
'No Scrubs' & Burruss's Songwriting Career
Burruss and Cottle started by demoing songs to record labels. They eventually met Kevin "She'kspere" Briggs, a record producer with whom they made 'No Scrubs' with.
He [Ske'kspere] was the one that Tiny and I ended up doing No Scrubs with. When we met She'kspere he played us this track. We asked if we could take the track and rewrite the song for it. We recorded the song and played it for L.A. Reid. 
TLC's 'No Scrubs' won the 2000 Grammy Award for Best R&B Song.
While 'No Scrubs' is Burruss's biggest song, it's not the only one that established her as a songwriting genius. Some of the other hit songs that have been penned by her are 'There You Go' by P!nk and 'Bills, Bills, Bills' by Destiny's Child.
Burruss has also written songs for artists such as Mariah Carey, Whitney Houston, Alicia Keys, and NSYNC among many others.
'Real Housewives of Atlanta' & Acting Career
Burruss had a very successful career as a singer and songwriter but later decided to transition to TV. She joined Bravo TV's Real Housewives of Atlanta in 2009 during the reality TV show's second season.
She also started acting and has made appearances in movies and TV series like  Are We There Yet? (2011), Second Chance Christmas (2014), and Insecure (2020). Most recently, the 'No Scrubs' songwriter played the part of Roselyn Perry in The Chi (2020).
The Masked Singer Champion
Burruss participated in FOX's top-secret celebrity singing competition, The Masked Singer in the show's 3rd season. She participated as Night Angel and competed against other well-known names like Lil Wayne, Chaka Khan, Bella Thorne, Dionne Warwick, Jojo Siwa, and Jesse McCartney.
The Real Housewives of Atlanta star was crowned champion of The Masked Singer on May 20, 2020, making her the first woman in the celebrity singing competition's history to take home the Golden Mask Trophy.
Jesse McCartney, who was disguised as Turtle became the runner-up.
In an interview with EW, the former Xscape member revealed that her time in the show was full of self-doubt, especially during the beginning of the season. 
Burruss said that winning The Masked Singer helped her get back her confidence.
For a long time, I really stopped singing by myself, because, you know, you get negative feedback, and it messes with your head. So I had really stopped, and I just really appreciate you guys for helping me build my confidence back up.
Following her win at The Masked Singer, Burruss released a new single 'Used to Love Me' featuring Todrick Hall and Precious.
Burruss As A Businesswoman
The Masked Singer champion is also an entrepreneur and restaurateur. She entered the business world with her first company Bedroom Kandi in 2011
The company sells bath & body products, beauty & personal care products, Kandi Koated luxury cosmetics, and intimate toys & bedroom accessories.
Burruss also has her own southern-style restaurant, Old Lady Gang, an eatery that pays homage to her mother Joyce Jones and her aunts Bertha Jones & Nora Wilcox whom she refers to as Old Lady Gang (OLG).
The restaurant now has three locations and was named on Taste of Soul Atlanta 25 Best Soul Food Restaurants. It also won the Open Table 2018 Diner's Choice Award.
The singer/songwriter also has her own baby line, a clothing boutique, and her own cosmetics line.
According to Celebrity Net Worth, Burruss has a net worth of $30 million, making her the richest 'housewife'.
Legal Life of Kandi
As someone who started as a singer and expanded her career horizons in multiple directions, Burruss has influenced fields other than the TV and entertainment industry.
Georgia State University offered a course on her career in 2020 as part of their Entertainment, Sports, and Media Law Initiative.
In the fall of 2019, the university had provided a similar course: The Legal Life of Ludacris.
The course was taught by professor Mo Ivory who explained his decision behind choosing Burruss.
"I chose Kandi because she has an amazing career, which spans every aspect of the entertainment industry. I wanted to study a woman this time around and having worked with Kandi in the past, I knew she was the perfect choice."
The former Xscape vocalist also shared her excitement at the course. 
Married To Todd Tucker
Burruss is married to Todd Tucker. The two met during a casting trip to South Africa, where Tucker was one of the RHOA producers.
They tied the knot on April 4, 2014, and have welcomed two kids together, son Ace Wells Tucker (born January 6, 2016) and daughter Blaze Tucker (born November 22, 2019).
The couple is also parents to daughter Riley Burruss (born August 22, 2002), Burruss's daughter from her previous relationship with Russell Spencer, and step-daughter Kaela Tucker.
Blaze Tucker Was Born Via Surrogate
Burruss's youngest child, Blaze Tucker was brought into the world by enlisting the help of a surrogate, Shadina.
She opened up about her decision in Parent's magazine's We Are Family Podcast, revealing that it was initially a tough decision.
We were just trying to figure out like, okay, should we do this? How can you trust somebody with your most precious possession, your most precious gift… somebody that you barely know? But now that it's all said and done, I wouldn't change a thing. It was the best decision that we could have made.
The Real Housewives of Atlanta star decided to enlist the help of a surrogate because she had a serious surgery related to uterine fibroids that left scar tissues, inhibiting her ability to carry another baby.