Nayyera Haq Age 37 Background Insight | Husband, Married, Ethnicity & Facts
Nayyera was born to Pakistani parents. At a young age, they moved to...Nayyera grew up in a humble family background...The renowned policy commentator is a married woman...They celebrated their wedding anniversary on...The married couple is blessed with a son and is focusing on raising their child properly

Born to Pakistani parents, Nayyera Haq dreamt of understanding and relishing the American dream which she achieved through her talent and hard work. She has made a significant mark in US politics as a motivated and diverse political and communication strategist. 
The New York-native is a renowned talk show host on SiriusXM. She's also a policy commentator who has participated in various USA based campaigns related to global challenges like climate change.
In 2018, Nayyera serves as the chief executive officer of a non-profit organization, Avicenna Strategy, which aids other foundations to maintain a connection focused on cultural diversity.  
Countering Global Challenges: Nayyera Haq talks about issues of climate change and its diverse effects on 'Real Time' (Published on Aug 27, 2017)
Haq also served in the White House as a Senior Director assisting in the implementation of Presidential agendas on security and global economy.
Nayyera Haq's Career: Media Advisor, Radio Host, Senior Director
Nayyera began her glittering career as a Media Advisor to an American politician, Nancy Pelosi before being named National Spokesperson for the Children's Defence Fund in the year 2006.
She worked under the US government from 2008 under various designation before being given the post of Senior Director of Cabinet Affairs in the White House.
See More: Ali Velshi Amazing Between Family Work & Love For Wife; Background Insight Of NBC Journalist
Her most significant contribution includes working as a Senior Spokesperson for the State Department. Her job included aiding the US government in generating global interest in third-world, crisis-hit regions like South Asia and the Middle East.
Nayyera Haq Bio(Age) And Family Background 
On 1 October 1981, Nayyera was born to Pakistani parents. At a young age, they moved to New York, and she was raised in Staten Island.
Her parents come from a very humble background working as a physician and a public school teacher. Coming from a humble family background, Nayyera generated a sense of passion for public service and aiding the people. She sought out to understand the roots of how the American Dream worked in real life, making it her motivation, which brought her here today.
Haq attended Georgetown University Law Center, receiving a Masters degree with flying colors. Furthermore, she also studied history at the University of Michigan.
She holds an American nationality and possesses Pakistani ethnicity derived from her Pakistani parents.
At Age 35, Nayyera Haq & Her Husband Are Blessed With Baby Boy!
The renowned policy commentator is a married woman. Nayyera has managed to keep her wedding and the identity of her husband hidden from the media, but she does post pictures of her with her husband on her social media accounts. 
Also Read: Insta Star Victoria Waldrip Age 18 Brags Off Net Worth At Hand Amid Parents Background Conflict
Haq and her husband are blessed with a son. At the age of 35, she gave birth to her little angel in November 2016.
Upon the birth of her baby child, she wrote an article entitled, Birthing My Half-Black, Half-Pakistani, Full-Muslim Son in the Era of Trump. She wrote:
I went into labor 30 minutes after Donald Trump's election night speech. I have the worries that any new mother would have about raising a child in the era of Trump, where ugliness is out in the open and civility no longer exists.
Putting aside the fear and irrationality the 'Trump era' brings, Nayyera and her husband are focusing on raising their child properly.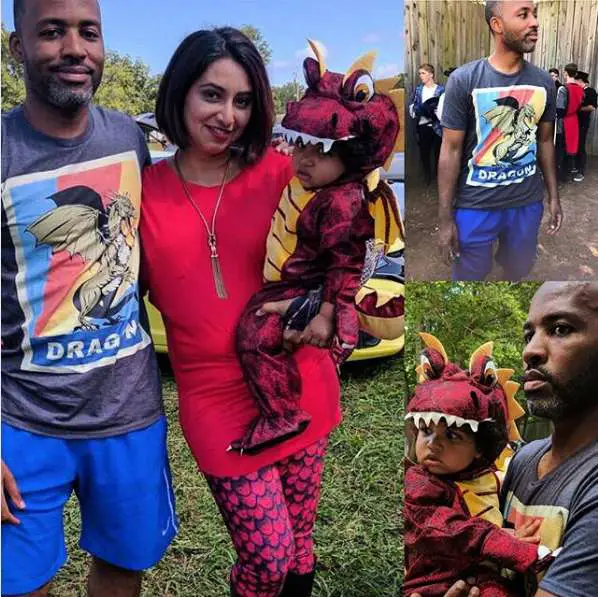 Nayyera Haq & Her Family: Nayyera Haq poses alongside her husband and their baby boy (Photo: Nayyera's Instagram | 18 September 2017)
The duo is living a cheerful life with each other and their baby son.
Nayyera Haq Celebrates Her Wedding Anniversary
Perhaps there are better and more romantic ways to celebrate a wedding anniversary than going to a Laotian restaurant, but the couple did just that proving all one needs is love for a beautiful celebration.
Interesting: Sheldon Bream Exclusive Bio: From Age, Occupation To Wife Shannon Bream
On 29 April 2018, Nayyera celebrated her wedding anniversary with her husband.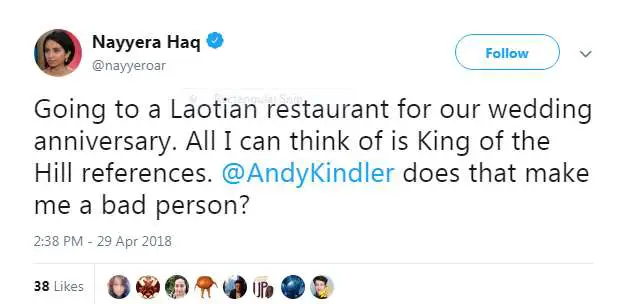 Nayyera Haq Tweeting:  Nayyera tweets about going to Laotian restaurant in her anniversary (Photo: Nayerra's Twitter | 29 April 2018 )
Well then, here's to hoping many more of such blissful days to come for the married duo and their family!