How Much Is Lou Dobbs' Net Worth after Fox Business Canceled His Show?
Dobbs' net worth and salary got affected after Fox News cancelled his program, Lou Dobbs Tonight.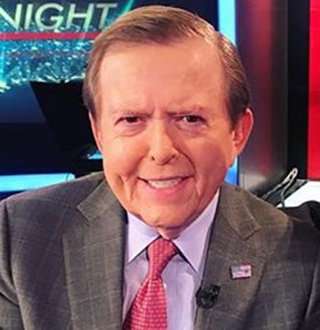 Quick Information
Date of Birth

Sep 24, 1945

Age

78 Years, 0 Months

Nationality American
Birth Place

Childress County, Texas, United States

Profession

Journalist

Relationship Status

Married

Wife/Spouse

Debi Segura (M. 1982)

Ex-Wife

Kathy Wheeler (M. 1867-1981)

Net Worth

$16 Million

Father

Frank Dobbs

Mother

Lydia Mae

High School

Minico High School

College

Harvard University

Height/ How Tall?

6 Feet and 2 Inches

Hair Color

Brown

Eye Color

Brown

Salary

$5 Million

Awards

ACE Awards For Extended News or Public Affairs Coverage

Nominees

CableACE Award For Business or Consumer Programming Special or Series

Son/s

Chance Dobbs, Jason Dobbs

Daughter/s

Hillary Dobbs, Michelle Dobbs, Heather Dobbs, Buffie Dobbs

Children/Kids

6
In February 2021, Fox Business Network cancelled Lou Dobbs' famous self-titled program, Lou Dobbs Tonight.
The cancelation was an unexpected action as Dobbs had ended his last episode of the show with his everyday appeal "Join us here tomorrow" and "See you then." The said 'tomorrow' never came as Fox News media called off the show on February 5, 2021.
The news shocked everyone, including Dobbs' followers and other media houses, as he was one of the highest-rated hosts in the television media and his program had been running smoothly since 1980. However, the network provided no significant reason for the action except repeating that the cancelation was part of its post-election programming changes.
While the network stepped back from details, many suspected that the cancelation had to do something with his entanglement in a $2.7-billion defamation lawsuit. Just a day prior to his show's dismissal, a voting software company Smartmatic had filed a defamation case against Fox News and its three hosts: Maria Bartiromo, Jeanine Pirro and Lou Dobbs.
The company accused the network and Dobbs, a supporter of Donald Trump, of spreading disinformation about its roles in the election. But Fox News didn't comment if it was the ultimate reason behind the abrupt cancelation. 
Despite the dismissal of the show, Dobbs remains under contract at Fox News. However, the Harvard graduate is likely to make no appearances on the network.
He presented his dissatisfaction with the show's decision by retweeting posts from his followers that opposed or criticized Fox and its recent changes. 
Dobbs' net worth and salary, undeniably, got affected after Fox News cancelled his famous program.
Another Journalist Fired From Fox News: Chris Stirewalt's Whereabouts after Being Fired From Fox News
Career Also Includes CNN 
Born on September 24, 1945, Dobbs has dedicated over four decades in journalism.
The conservative pundit started his career as a reporter and anchor for various radio news networks, including KBLU and KING-TV.
In 1979, Ted Turner contacted him during CNN's formation year and made him a part of the growing media company. By 1980, he would become the chief economics correspondent. In 2001, he took the role of a host in the business news program, Moneyline.
He later left CNN to start an astronomical news site Space.com but soon returned and anchored the news program Lou Dobbs Tonight. However, in 2009 Dobb's viewers were left stunned with the news of his sudden resignation from CNN.
His departure was rumored to be because of his clashes with the management team. After CNN, he returned to the radio and hosted his nationally syndicated program for three years — 2009 to 2012.
Discover: Fox News' Abby Huntsman Career Details: Net Worth, Salary And More
Meanwhile, having left CNN in bitter terms, it did not take him long to join a rival TV station. Just a year after leaving CNN, he made his comeback in the newsroom as the anchor for Lou Dobbs Tonight on Fox News Network in 2010.
Lou Dobbs' Net Worth
His career in prestigious news networks like CNN and Fox News gained him not only popularity but also a huge salary to add up to his net worth.
As per Celebrity Net Worth, he has a net worth of $20 million and had a salary of $5 million.
He owns a 300-acre horse farm and a home worth $1.2 million on Eagle Terrace in the Ibis Golf & Country Club in West Palm Beach, Florida. He lives on his farm with his wife, Debi Segura. 
Besides, he is an author of 11 books, including "The Next Business Frontier," "Upheaval," "Putin's Gambit: a Novel," among others.
The political commentator has earned George Foster Peabody Award and Emmy Award for Lifetime Achievement from National Academy of Television Arts and Sciences.