Kirk Minihane Age 43 Bio: Loving Family With Wife, Net Worth & Parents Details
A married man, he and his wife enjoy blissful family life alongside their little...Kirk had his wife by his side when he lost his parents to tragic death...several wiki sites have listed his net worth to be...WEEI has paid him well with the salary amounting to...In January 2018, the anchor tweeted of taking a year-long break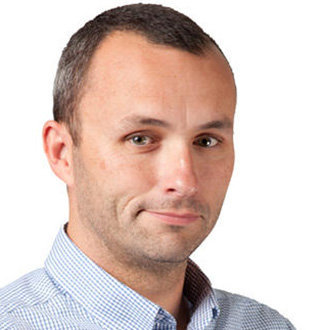 Sometimes we think that we've overcome our greatest tragedies. We even try and make a happy face and walk our daily walks pretending that nothing has ever happened. But there comes a time when we begin breaking down because of the suppressed sentiments looking for a way to get released. Maybe the time has come for WEEI's Kirk & Callahan's co-host Kirk Minihane to let out his blight! 
American radio personality Kirk Minihane is known for his sarcastic approach which can be listened in weekly interviews in one of the top-rated sports talk station, WEEI FM's popular show, Kirk & Callahan. The show consists of Kirk as one of the hosts alongside Gerry Callahan and another rotating host.
Made A Kid's Day: Kirk & Callahan visit Jimmy Fund clinic that looks after cancer victims in advance of 17th annual Radio-Telethon- a gesture of charity. (Published: 23 May 2018)
Prior to getting a seat as a regular host in the show, he joined worked with John Dennis and Gerry Callahan as the third man and filled-in for various programs.
Interesting: Justin Siegel Wiki: Divorced With Wife At Age 28, Dating Girlfriend At 37? 
Kirk Minihane Bio (Age): Family & Parents
The Boston native was born on 31 October 1974 in a Caucasian family. He shared his parents Peter Minihane and Patricia M. Minihane with two brothers, Adam and Ryan. His parents raised him in Christian beliefs.
Kirk was dearly close to his parents. He would have entertained the idea of growing old amidst them but a misfortune struck him in 2017 when he lost both parents to cancer. His father died in died in May due to Multiple Myeloma and his mother a month later in June due to pancreatic cancer, leaving the family in the gloom.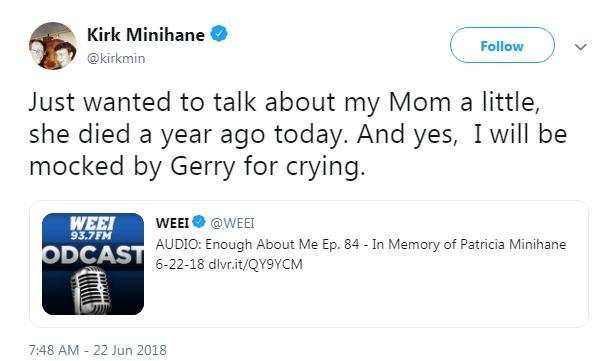 Loved My Momma: Kirk Minihane looked back to his mother's death via a twitter post on 22 June 2018. (Photo: Kiri Minihane's Twitter)
It was a difficult period for Kirk and his siblings. The fact that they are all grown up and have attained maturity did little to soften the loss(What possibly can?).  
Having lost the family superiors to death, the talk show host seemed to have moved on with his family of wife and children. And perhaps his professional part could have helped him keep occupied.
Kirk Minihane's Salary & Net Worth
The radio host hasn't relished an elite career. He's jumped his bumps in struggling to get a hold of a stable career.
His initial professional years were spent working on the Red Sox or Patriots beat. He later tried his luck as a screenwriter in Hollywood only to encounter another failure.
Don't Miss: Ben Mulroney & Wife Wedding Talks; Children & Net Worth At Age 42
He then headed for a new endeavor as a writer for WEEI.com during 2008. His career was about to take a somersault when he got the chance to join as the third man for WEEI's John Dennis and Gerry Callahan in 2012. He aced the role of a fill-in and got to co-host his own show Kirk & Callahan years later.
WEEI has paid him well with the salary amounting to $55,000 per annum, not a big amount considering what people in radio receive but a huge sum for Kirk, who has seen worse. The exact figures behind his net worth have not been revealed yet but several wiki sites have listed his net worth to be $400,000, a figure that has not been commented on by Kirk.
Know More About Kirk Minihane's Family: Wife & Children
Away from the mike, Kirk has a whole world to savor with his family. A married man, he and his wife Christine enjoy blissful family life alongside their little packets of joy.
They've extended their family with the addition of two children, a daughter Cate and son Harry. He occasionally mentions about wife and children in his social sites.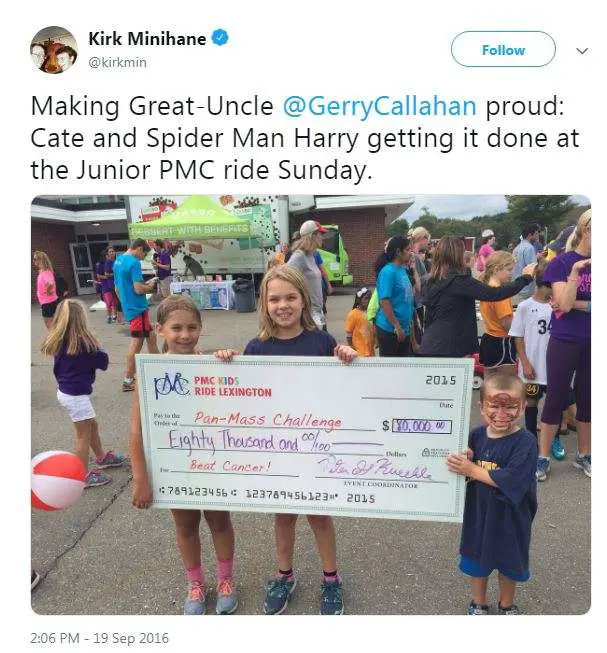 Children: Kirk Minihane posted a picture of his son and daughter with another kid in Twitter. (Photo: Kirk Minihane's Twitter-19 Sep 2016)
His witty dry humor, for which he is famous in the radio, might not be for everyone but it looks like it has scored well with his family as he leads a fulfilled and content life with his wife and kids.
Has The Tragedy Knocked Back To Kirk Minihane In 2018?
Kirk had his wife by his side when he lost his parents tragically. The professional part must have kept him from dwelling down the memory lane. But it looks like he couldn't overcome the grief to the fullest given he is fighting against mental issues, a year after the tragedy.
You May Like: Sam Frost Found Perfect Boyfriend After Split With Ex? Dating & Relationship Talks
The wryly humorous man took an indefinite leave of absence from his show on a serious note in August 2018. And he has shown no signs of return even two months later.
Apparently, Kirk's absence has been listed because of his issues with the management. But insiders claim the Radio Jockey is dealing with mental health issues which stemmed from his parents' death.
In January 2018, the anchor tweeted of taking a year-long break from WEEI but not revealed from when the break would begin. Seems like it has begun now!