CNBC Anchor Jon Fortt Parents Two Kids with Wife Gina Chung Fortt — Family Insights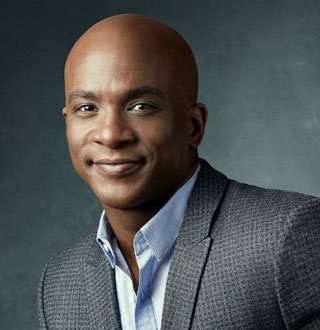 American journalist Jon Fortt has been long married to Gina Chung Fortt, with whom he parents two kids — both sons. 
The CNBC anchor and the reading specialist tied the wedding knots on December 30, 2006. Three years after the wedding, they welcomed their first son, Nathan Fortt, circa 2009. Their second son Benjamin Fortt was born circa 2011.
Talking about his married life and fatherhood with the DePauw in 2015, the Fortt Knox host stated he wanted to be a "good dad, and a good husband."
INTERESTING: Lodge 49's Wyatt Russell Married & Separated With Wife; Now Dating Co-Star Girlfriend
Who Is Jon Fortt's Wife? 
Jon Fortt's wife, Gina Chung Fortt, is a licensed reading specialist.
An MA graduate of the University of California, Berkeley, she started teaching from Barrington Community Unit School District in 1996.
@janewells My wife has got me reorganizing the storage closet this morning. So CNBC in the background is a joy. — Jon Fortt (@jonfortt) November 23, 2010
After five years, she took a brief break from teaching and only continued her profession from August 2003 as an elementary school teacher at the International School of the Peninsula.
Gina changed the school and moved to the Palo Alto Unified School District as a full-time elementary teacher in August 2005. After two years, she stepped down as a part-time teacher and invested her time as a reading specialist at the Barron Park Elementary School.
From 2009 to 2013, she became a part-time reading specialist at Ohlone Elementary School. After that, she took a long break from her job to focus on her family and kids. 
After seven years of break, she started her classes at her New Jersey house to teach struggling readers in August 2020. 
YOU MAY LIKE: Who Is Raymond Joseph Teller Married To? A Furtive Wife & Family Behind Work Or Gay?
His Parents Are Well-Educated
Born on December 12, 1977, Fortt's parents are John Fortt and Annette Fortt. As per his 2015 interview with the DePauw, both his parents are graduate-school educated.
His father was an architect-turned-United Church of Christ minister, while his mother was a Pratt Institute-trained artist and teacher.
As educated parents, they made Fortt and his siblings, Tavia Fortt and Steven Fortt, value education and complete their graduation.
Fortt, who has a height of 5 feet 8 inches, graduated in Journalism from DePauw University with an English major in 1998.
In 2010, he joined CNBC as a technology correspondent. Since November 2013, he started anchoring the channel's show, TechCheck, previously known as Squawk Alley.
The 44-years-old became the role of creator, executive producer, and host of CNBC's, Fortt Knox in November 2016. With over 11 years of experience in the channel, Fortt probably receives a handsome salary to enrich his net worth.
He also conducts The Black Experience in America: The Course through Forttmedia.com.