WSVN Erika Delgado Bio: Married Life Of Weather Reporter - If She Has One
American meteorologist Erika Delgado is best known for her current position as... developed her fondness and curiosity towards the weather after...she started her career as a...she is estimated to earn an average salary of...her love life is a closed book with little unclear insights from her Twitter...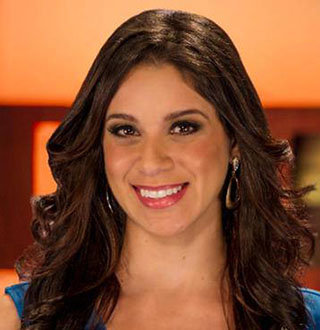 Voted as the favorite Miami based weathercaster, helping the Florida residents to start the day with up to date info on the weather delivered with clarity -- Erika Delgado is best known as the weekend morning meteorologist at WSVN.
Prior to her current position, she has worked as a weather forecaster for news networks like WCSH, WSI, and WTVJ.
Erika Delgado Bio 
A South Florida native, Erika Delgado (age undisclosed) celebrates her birthday every year on 4 April. Her birthday falls on The National Hug A Newsperson Day, coincidence or not; she definitely gets tons of hugs in the particular day for dual reasons.
See More: Britta Merwin Age 34 Bio Reveals Veteran Husband & Adorable Family
A weather enthusiast from a young age, she developed her fondness and curiosity towards it after Hurricane Andrew hit her hometown. As a little girl with supportive parents, she asked her father to leave small holes in the window to observe the storm during the hurricane. And after seeing the aftermath of the disastrous storm, she decided to study the weather in order to warn people about such disasters.

Delgado Family: Erika Delgado shares picture of her parents with a message of gratitude towards them (Photo: Erika Delgado's Facebook| 24 November 2016)
Standing by her decision, she pursued an education in the same field. She graduated with a Bachelor's degree in Journalism from Florida International University. Then, later attended Mississippi State University where she earned a Bachelor's degree in Broadcast Meteorology and a Master's degree in Geosciences.
Find Out The Salary Erika Delgado Earns As WSVN Meteorologist
The ambitious weather fanatic started off her career as a freelance meteorologist for Portland's local news station WCSH.
After this, she moved on to work as an on-air bi-linguistic meteorologist for WSI in Boston. While working at Boston, covering cities from coast to coast allowed her to build an understanding of the nation's weather.
Find Out: Show Host Ben Aaron, Wife Ginger Salary & Net Worth; Who Earns More?
With all the knowledge she obtained heights in her career. In 2013 she went onto NBC6 News affiliate WTVJ as a weekend morning meteorologist. And now she currently works as a meteorologist covering the weather of Florida in WSVN.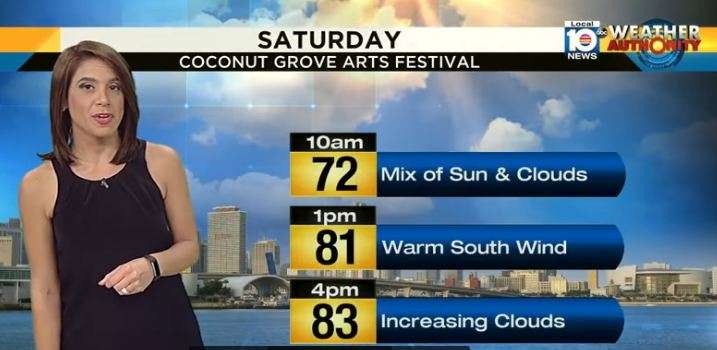 Meteorologist: Erika Delgado delivering weather forecast during the holiday weekend (Photo: YouTube| 5 April 2018)
As a Florida based WSVN meteorologist, she is estimated to earn an average salary of $94,744.
Is Erika Delgado Married or Still Single?
Famous also as the hottest female reporter in Miami, this radiant beauty's love life is a closed book waiting to be opened. Her Instagram is on private as well so it gives us no particular insights on her personal life up close. But her Twitter is on public mode which provides us just a little ray of hope to learn about her life besides her work.
You May Also Like: Meteorologist Michelle Bogowith Bio: Who Exactly Is She Married To?
Upon looking at one of her tweets in 2014, it's pretty clear that she is a fan of Johnny Depp and was very sad to learn about him being engaged. Besides that, in the same year, she also posted a throwback picture with her future mom-in-law baking baklava together. And the tagged future-mother-in-law falls into a Greek family line!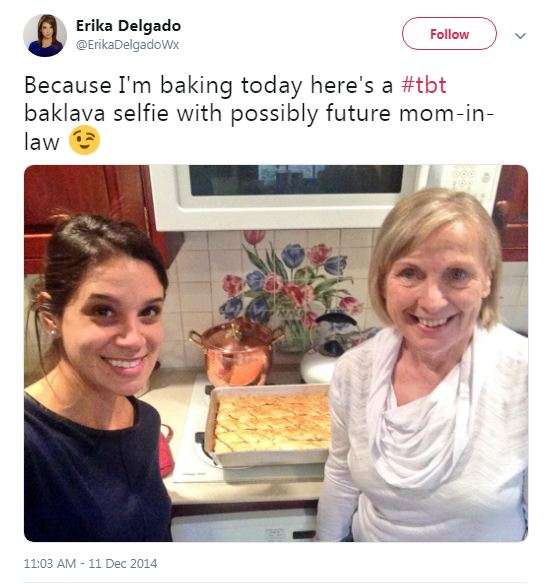 With Her Mother-In-Law: Erika Delgado shares picture with her possible mother-in-law (Photo: Erika Delgado's Twitter)
This hinted that her possible husband with whom she may get married is a Greek. And if they're still together, we might as well get to hear of their possible wedding!