Dylan Ratigan Talks Perfect Married Life With Wife! Gay Talks & Bio
He is so loving of his wife, Carlota, that he doesn't miss the chance...married her on 27 December 2016... former US President Barack Obama shared about agreeing to the gay...brought him a considerable amount of wealth to his coffers boosting his net worth by millions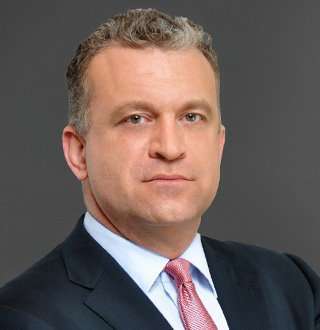 American businessman Dylan Ratigan had already made some jealous faces with his success in career, but he didn't hesitate to make them more jealous as he talked about his peaceful married life.
Dylan Ratigan is best known as the political commentator for The Young Turks and the former host of MSNBC's The Dylan Ratigan Show.
Competing For House Seat: Dylan Ratigan talks about how he's running for office in New York State on The Jimmy Dore Show (Published on 20 April 2018)
Dylan is the founder of Helical Holdings and has helped invent a standardized plug-and-play resource system to produce clean water, solar power, the company's Helical Outpost, community hub, and hydroponic produce.
Dylan Ratigan's Bio(Age): The Dylan Ratigan Show
Born on 19 April 1972, Dylan Jason Ratigan was raised in the village of Saranac Lake in upstate New York. He graduated from Union College of Union University earning a Bachelor of Arts degree in political economy.
You May Also Like: Tom Sosnoff Bio: Gleeful Family But Who Is His Wife?
The 46-year-old journalist started his career with covering Mergers and Acquisitions, IPOs, and the US Stock Market. He eventually became the Global Managing Editor for Corporate Finance at Bloomberg News Service, co-creating and hosting Morning Call for the USA Network and Bloomberg's cable network.
Dylan further contributed to ABC News and his articles appeared in The Washington Post, The New York Times, Chicago Tribune, and The Miami Herald. He anchored CNBC's On the Money and co-anchored CNBC TV Program, Bullseye. Grabbing the position of a host for Fast Money in 2006, Dylan left the network in 2009.
Since then, Dylan has contributed to launching platforms that debate the US government on policy as he opened the door for millions to learn about money's poisonous role in democracy. It wasn't long before The Dylan Ratigan Show launched in June 2009 being the second ever show on the network to air in HD.
The final episode of The Dylan Ratigan Show aired on 22 June 2012 and Dylan hasn't gone MIA as he makes frequent guest appearances on The Rachel Maddow Show, The Oprah Winfrey Show, Late Night with Conan O'Brien, and The Colbert Report with Stephen Colbert.
Dylan Ratigan's Impressive Net Worth
According to sources, Dylan Ratigan has got an estimated net worth of $10 Million, that he amassed through his contribution to journalism and hosting career.
He earns a salary of $3 Million on an annual basis, and he gained most of his fortune from his show, The Dylan Ratigan Show. His first book, Greedy Bastards, which became a New York Times bestseller brought him a considerable amount of wealth to his coffers boosting his net worth by millions.
Read Also: Paris Hilton & Boyfriend Getting Married; Dancing In Club Almost Postponed It
Currently, Dylan is earning his fair amount of pay from his regular show on Tastytrade.com alongside Tom Sosnoff, called 'Truth or Skepticism.'
Dylan On Gay Marriage Talks
The Dylan Ratigan Show host has not failed to show his presence in talks of gay rights and same-sex marriage. In one of the episodes of the show, he talked about gay marriage and how the government always found a way to avoid the topic.
He started the discussion by following up with the thought that former US President Barack Obama shared about agreeing to the gay marriage. Dylan seemed to support same-sex marriage fully and even tweeted his opinion on gay marriage not being immoral.
His support for same-sex marriage fueled rumors of him being a gay too, but the journalist is nowhere near gay as he is happily married to his gorgeous wife.
Dylan Leads More than Happy Married Life
Following an unsuccessful relationship with then songwriter girlfriend, Aprille Goodman, Dylan hadn't expected to start another affair, until he met his wife and married her on 27 December 2016.
He is so loving of his wife, Carlota, that he doesn't miss the chance to gush about how much he adores her on social media sites as well.
On the occasion of their anniversary, Dylan tweeted a photo stating about the reasons why he married his wife, talking about the strength they shared together as a team to be the most positive and creative combining he had ever experienced in the world.
You Don't Want To Miss: Paul Goodloe, Previously Married Reporter, Flaunts Family With 2nd Wife
And adding to that, Dylan posted a picture of the rose he painted for his wife as a traditional gift on Twitter.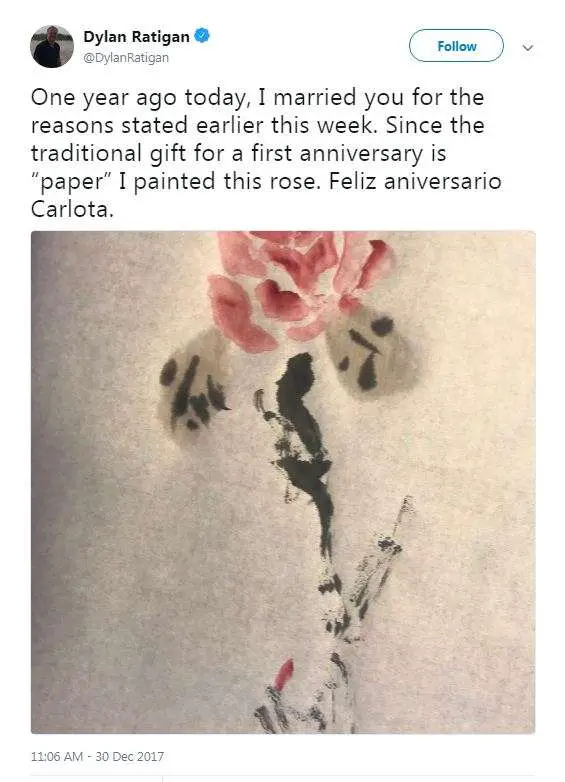 Married & Happy: Dylan posts a picture of his tradition anniversary gift for his wife on Twitter on 30 December 2017 (Photo: Dylan Ratigan's Twitter)
Despite the fact that he hasn't revealed his wife to the world, Dylan doesn't hesitate to show his affection for her on special occasions, like on her birthday.
Explore: Is John Basedow Gay? Age, Birthday, Family, Net Worth And More Facts 
He openly admitted on how his wife had changed the person he was and how the simple decisions he made every day had changed ever since they got married. It's been a couple of years that Dylan got married, but doesn't have any child as he's too occupied gushing about his wife.