WSVN 7 News Belkys Nerey Bio: Married Life Closing In, Who Is Fiance?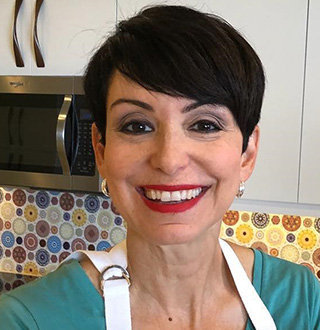 As per Belkys Nerey's Twitter bio, she is a pop culture enthusiast, lover of travel and good food. Having been a diehard TV junkie her whole life, it's of no surprise that the lady, exuberant even at her 50's, Belkys Nerey ended up as a TV personality.
She is a five times Emmy Award-winning journalist who is best known as the long-serving newscaster and reporter for WSVN 7. She is also an anchor of her own WSVN 7 cooking show Bite With Belkys.
Belkys Nerey Bio (Age)
Born on 16 July 1967 at Havana to her father and Mother Cary, Belkys Nerey grew up in Long Island and Miami along with her family. She is very close with her parents who are already above 80 years and often shares their picture on her social media.
Discover: Rare Facts About ABC News' Janai Norman Bio, Parents & Relationship Revealed!
From a young age, she was a versatile kid taking classes from piano to ballet. A television lover, she pursued bachelors in broadcast journalism from the Florida International University.
WSVN 7 News -- Career Haven For Versatile Belkys Nerey Since 1994
She started her broadcasting career as a reporter for a South Florida cable station where she worked as a one-man army; shooting and editing her own stories. After two years, she got a job as a general assignment reporter for the New Haven ABC affiliate WTNH-8.
Later in the years in 1994, she went onto join Miami based Fox News affiliate WSVN-7, where she still currently works at. WSVN-7 news is the focal point of success in her career. As during her time at WSVN-7 News, she covered major news, co-hosted WSVN-7 entertainment segment Deco Drive and even got the opportunity to host her own cooking show.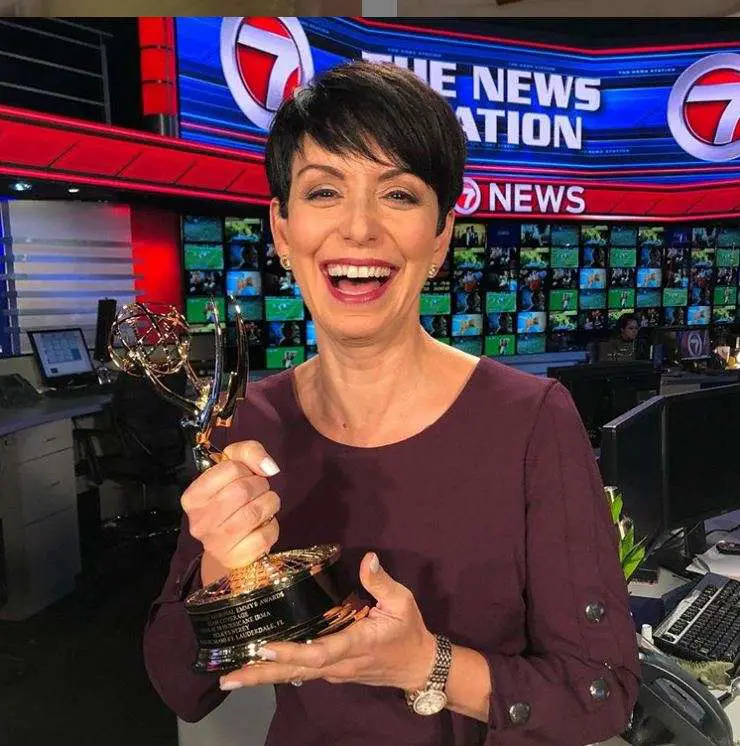 Winners - Team WSVN 7: Belkys Nerey shares her gratitude towards the channel 7 family on their TEAM COVERAGE Emmy Award 2018 win for covering news on Hurrican Irma (Photo: Belkys Nerey's Instagram| 11 December 2018)
More from WSVN 7: WSVN's Lynn Martinez Family Status & Husband Info, Bio Reveals Everything
Currently, she anchors for the evening newscasts for WSVN-7 news and also hosts her cooking Bite with Belkys. Her twice-weekly two minutes cooking show started since 1999 and as of now, the show has been extended to be an hour and a half long.
Belkys Nerey Says YES To Her Fiance On Romantic Trip To Paris
When it comes to her love life, she is blessed with two handsome husbands; one her jokingly 'claimed work spouse, Craig Stevens (because they spend so much time at work together) and second her lifetime partner Demetri Mouratis with whom she has been dating since 2013. Her husband has a daughter from his previous marriage named Alison Mouratis.
The 51 years old beauty got engaged in May of 2018 to her fiance Demetri who is a Senior Vice President and Head of Infrastructure Engineering and Architecture at Northern Trust Corporation.
After covering the royal wedding of Prince Harry and Meghan Markle for WSVN 7, the darling reporter went on a romantic trip to Mouratis, Paris. And that's where her fiance put a ring on her finger!!!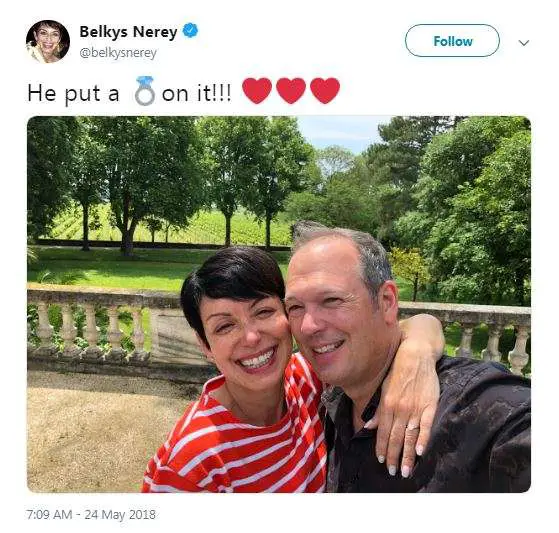 Got Engaged In Romantic Trip: Belkys Nerey shares a glimpse after her fiance proposed her with a ring on their trip to Paris (Photo: Belkys Nerey's Twitter)
Find Out: MLB's Lauren Shehadi Dons Shiny Rock On Ring Finger In 2018, Engaged, Married, Or Single?
Her fiance hops along by her side at all functions and events. And for the first time, Belkys shared her joy to be her husband's plus one at an event where he was awarded the American Financial Technology Award in 2018.
With a pure bond of love they share, looks like the pairs are going to get married no time sooner as well!
---