Gage Edward & Jeff Lewis Building Family | Age, Baby, Net Worth & Facts
Gage Edward started dating Jeff in...The couple got along quite well and they have come a long way since then... the couple welcomed their daughter via a...celebrated their first child's first birthday, the couple was interested in...The couple was particularly happy that their daughter had just turned...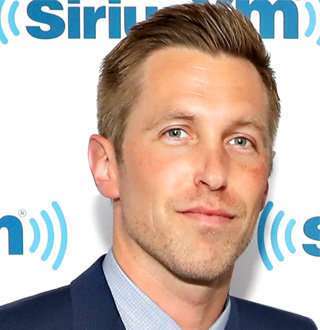 Never in his wildest dreams, Gage Edward would have thought to be able to parent a baby with his gay partner Jeff Lewis. Though the process proved to not be comfortable with the surrogate mother, Gage and Jeff relish with joy to have welcomed a new member to their family.
Gage Edward is popularly renowned as a reality television star in the Bravo TV's show Flipping Out. He appears on the show in an essential role alongside stars Jenni, Zoila, and Megan.
New Manager: Jeff Lewis with Gage Edward talks about their new project manager in the first episode of the new season of Flipping Out (Published on 31 Aug 2018)
The Reality TV star is now playing a major role in show Flipping Out's 10th season which majorly highlights the life of Jeff Lewis. In the show, Gage is Jeff Lewis's business manager as he helps him carry out his works as an assistant to him, advising him on his difficult situations and trying to solve his problems.
Gage Edward's Bio (Age): Career & Net Worth
In his early years, Gage, aged around 33, was interested in drag racing so much so that in 2001, he went on to win the division league of NHRA Jr. drag racing.
Interesting: Openly Lesbian Comedian Hannah Gadsby On Dating Status, Partner, Weight Loss & Sexuality
The Omaha native now practices being a business manager to his boyfriend Jeff Lewis in his venture Jeff Lewis Design where he helps with the clients and daily business activities. He even stars in Bravo TV's show Flipping Out as the business manager of Jeff Lewis.
With his business associations and the TV show, he has amassed a giant net worth of around $2 million.
Gage Edward and Jeff Lewis Welcomes Baby Monroe Christine
Gage Edward started dating Jeff in 2011 when he joined Jeff Lewis Design as a new project manager. The couple got along quite well and they have come a long way since then.
After being together for more than five years, the couple welcomed their daughter Monroe Christine via a surrogate on 25 October 2016.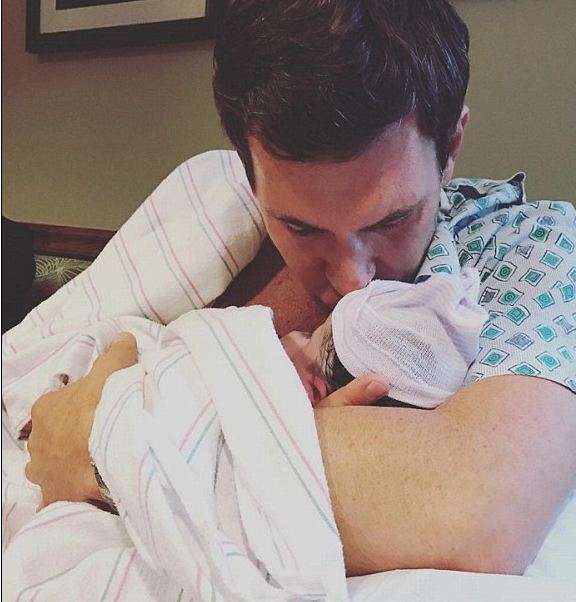 I Am A Father Now: Jeff Lewis kisses the baby on 25 October 2016 in the hospital after a few hours of birth (Photo: dailymail.co.uk)
Jeff captioned the photo he shared on Instagram with him holding the baby carefully in his arms and kissing her forehead subtly:
At 4:22 today, I grew up. Welcome, Monroe Christine Lewis.
Before this too, the couple had tried to adopt a child via a surrogate but had failed due to reasons unstated. This time though, everything went well and the couple welcomed the newborn delightfully to their happy family.
Gage and Jeff Want Second Baby
Just a year after Gage and Jeff celebrated their first child's first birthday, the couple was interested in expanding the family.
On the radio show Jeff Lewis Live on SiriusXM (October 2017), Jeff revealed that the couple is looking forward to conceiving a second child via a surrogate mother again.
You May Like: Eboni Williams Stalker Aims To Be Husband! Bio Reveals Parents, Ethnicity
The couple is looking forward to using Gage's embryo for a process of IVF to conceive a baby. Jeff said on the radio show:
We have five frozen embryos … the next baby will be Gage's embryo and his strongest embryo is a boy. So hopefully we are going to have a boy...Not yet though, we're not pregnant yet.
The couple was particularly happy that their daughter had just turned 1 and so they wanted another member to double the happiness. 
It has almost already been a year since the announcement and the news of the new baby is not out now, however, the now-ready attitude of the couple gives a slight idea that the good news is either a secret now or is very near to be announced.
Gage Edward and Jeff Lewis Reveal Lawsuit; Surrogate Mother Made Family Bonds Stronger
It was just the time that Gage Edward and Jeff's baby had grown to be 19-months old that the surrogate mother, Alexandra Trent, filed a case against the couple. She accused Gage and Jeff of filming her private body parts during the delivery, which was not a part of the agreement they had made about the baby. Alexandra claims to have never consented to anyone on filming her delivery.
The mother had a handful of charges against the gay couple and the cameramen of the show that she had to unveil. She also filed a lawsuit on account that Edward and Jeff had humiliated her on the sets of Flipping Out. She claimed that the humiliation left her deeply damaged. On their show, Jeff had said:
If I was a surrogate, and I had known there was going to be an audience, I probably would have waxed.
Her lawsuit also alleged that the cameramen secretly filmed her, and tricking her saying that they wouldn't film her. About the lawsuit, Jeff said to The People:
"This is like a blow to the head. We are completely blindsided by this. We are just devastated. I thought we had a nice relationship, a friendship. We treated her like an extended member of the family. So you can imagine this is pretty stunning."
Jeff later spoke about the mother and said that it is a shame on the mother for muddling a very beautiful experience of having a baby to the ground. 
Read Also: "A Quiet Place" Star Noah Jupe's Close-Knit Family Insight With Famous Parents
The lawsuit brought disaster with it and did unrepairable damages to the family. However, the couple has been very positive about the lawsuit now, and they agree that it has made them an even more solid couple, after all the endurance, and brought the family even more in the pond of love and support.