Elliot Page Shows off Summer Body in Swim Trunks
Actor Elliot Page posted his first shirtless photo showing off his ripped abs and scars from top surgery.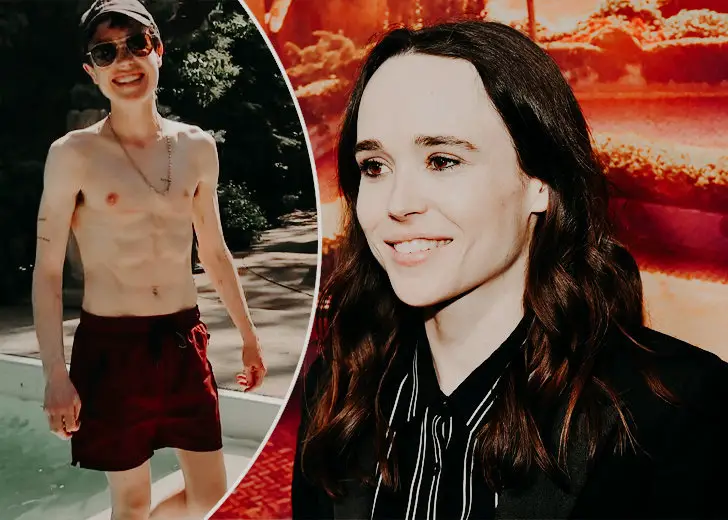 In December 2020, actor Eliot Page, who used to go by Ellen Page, came out as transgender. In a lengthy Instagram post, he revealed his identity, and in return, he received all love and support from his fans and followers. 
Recently, he posted his first shirtless picture on his Instagram showing off his ripped abs, which sent the internet into a frenzy mode. 
Page's First Shirtless Picture 
The 34-year-old posted a picture by the poolside, wearing nothing but red swim trunks. 
Via the captions, Page revealed that this was the first time he was wearing swim trunks. The actor also proudly showed off his body with scars from the top surgery he underwent earlier this year. 
Health Line defines top surgery as reconstructive surgery on people who wish to alter their chest size and shape. It is done on individuals who want to look either more masculine or feminine based on their chest. Page went through surgery to remove his breast tissues to achieve a flatter chest. 
Ever since he posted the picture, the Inception star has received nothing but love from his famous friends. Page's co-star from Umbrella Academy, Justin Cornwell, praised Page's muscular physique and claimed he understood why he was terrific during workouts. 
Jillian Mercado commented he was proud of Page, and his photo was "a pure joy." Miley Cyrus simply wrote "Hot" with a heart emoji while actress Julianne Moore wished the 34-year-old a happy summer. 
Fans React To Page's Photo 
As soon as the actor posted his photo, 'Elliot' started trending on Twitter. His fans showed appreciation to Page, sharing their feelings about his shirtless photo. 
Most of the fans were appreciating how 'ripped' Page looked with his abs.
Elliot did not need to come that hard out of the gate with the abs. Damn. — Aubrey Hirsch (@aubreyhirsch) May 24, 2021
All in all, people couldn't help but be happy for the actor. 
Elliot Page looks so happy in his new pic!!!! We love to see it. This is what we need to see more of and what the media rarely shows: trans joy and prosperity. pic.twitter.com/gsVEnmHlwx — Serena Daniari (@serenajazmine) May 24, 2021
Elliot Page breaking the internet and I'm here for it. Live your best life as your best self. 👏 pic.twitter.com/apkjANvkwr — Mama Doctor Jones | Danielle Jones, MD (@MamaDoctorJones) May 25, 2021
Page Coming Out As Transgender 
After the actor announced his gender identity on Instagram, he further elaborated it with Time. He revealed he wanted to be a boy since the age of nine.
However, he couldn't do that since he got his first gig at the age of ten. Since then, he started acting professionally, which made his desire to change his gender difficult. 
Nevertheless, he finally came out, and since then, he has been strongly advocating for Trans rights. He reflected coming out as transgender with Oprah Winfrey on Apple TV+'s The Oprah Conversation. 
He shared he wanted to share his experience, as he wanted people to know how much it had changed his life.
He opened up that it was not just life-changing but also a life-saving moment for him.
Page also claimed he is grateful to be at the place he is in right now and wants to help others in all ways.