Bretman Rock Shows Impeccable Abs and Rainbow Flags in Nike's 'Be True' Campaign
Internet sensation Bretman Rock is the face of Nike's Pride Month campaign.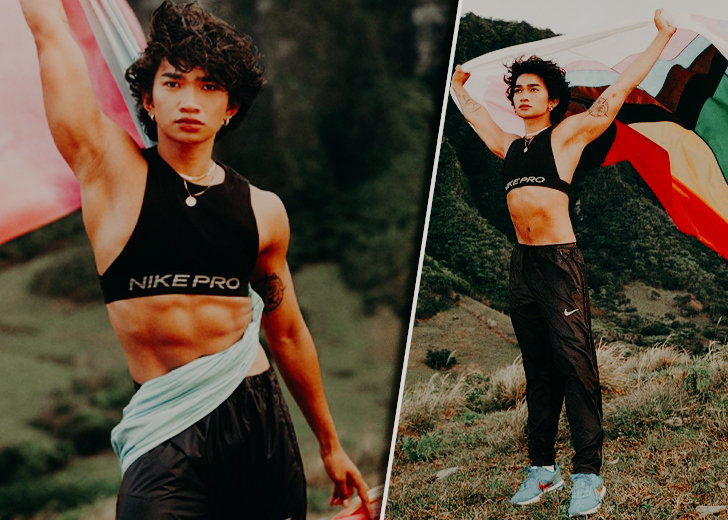 It's hard to put into words what Bretman Rock is all about. You might call him a makeup artist, entertainer, or comic, but you could also call him a queer Filipino-American influencer from Hawaii. 
As Pride Month began, the YouTuber has been celebrating it with utmost dignity and grace. And now, he's the face of Nike's 2021 Pride Month campaign. 
The 22-year-old took to his Instagram on June 7, 2021, to announce that he is one of the faces to represent the #betrue campaign. 
Sharing the images of the ads for the company's Be True 2021 line, he mentioned he feels truly honored for the opportunity. Rock also explained that strength has no gender, and it's a measure from within. 
The makeup artist was seen wearing the collection's matching black trousers and crop top while proudly waving a rainbow flag. He paired his outfit with a pair of blue footwear and accessorized it with gold jewelry.
Aside from his amazing outfit, his flawless abs were on display in the photo.
The collection was inspired by the idea that sport can be the setting for radical inclusivity, according to Nike.
Rock, who calls himself a 'digital celebrity,' had previously shared photographs on Instagram on June 1, 2021, to mark Pride Month. He posed in front of a giant rainbow flag with his rainbow-clad dogs.
Rock's $2 Million Hawaii Mansion Needed to Scream "Gay Asian Immigrant Success"
The internet icon has around 40 million followers across TikTok, Instagram, YouTube, and Twitter, a constant following base that he began building in 2015 with hilarious material and how-to beauty videos.
His online presence has only grown in the six years since, which got him to feature on magazine covers, his own reality tv show, front-row seats at Fashion Week, a slew of business collaborations, and an astonishing net worth.
In a special 2021 Pride Month edition of Architectural Digest, Rock wanted to acknowledge and express his level of achievement with his new house, a three-story house in Hawaii.
I wanted the house to feel as if a cool, gay island kid got really rich.… It needed to scream gay Asian immigrant success.
According to him, he wanted to live that fantasy in his dream home, a light-filled, colorful estate set between the mountain ranges and the sea.
He defines it as "fantasy" but he landed his own reality program this past year, achieving peak internet popularity.
MTV's Following: Bretman Rock extends his regular programming, which includes anything from kite flying to pole dancing and makeup videos to his abs workout videos.
This season centers on his day-to-day activities in a fancy seaside rental, while his dream home was being renovated.
Now that the renovations are complete, three of his five bedrooms have been changed to more usable rooms including an extra bedroom, makeup room, and a studio with professional lighting, recording equipment, and a green screen.
Rock hired MCYIA, a Hawaii-based interior design business led by Chuen Yee, to refurbish the home's interior.
The team began by whitewashing the formerly yellow walls and adding accent walls in plum, rust, and gray. To satisfy Rock's predilection for vibrant primary colors with furniture and lighting, Yee wallpapered several sections in neutral tropics-inspired Philip Jeffries patterns.
The most fascinating space to renovate, according to Rock, was his "BretMan Cave." Formerly a light-filled attic space, now houses a lounge/recreation room with a pool table, his crystal collection, and plush Moon Pod beanbags.