WhistlinDiesel's Wife Lends Helping Hand to His Crazy Ideas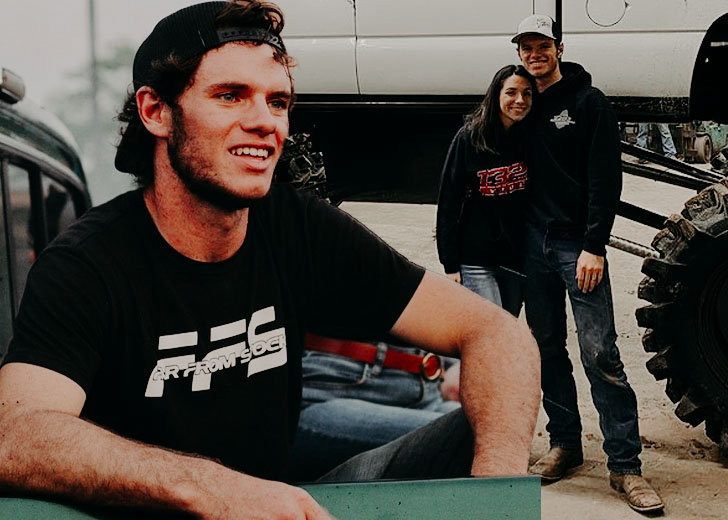 If you're an automobile enthusiast, you have probably come across YouTube content creator WhistlinDiesel and his outrageous videos.
WhistlinDiesel — whose real name is Cody Detwiler — is known for making videos where he puts his trucks through crazy "tests" and "experiments" that often end with the vehicles getting wrecked.
Considering that his works of ingenuity mostly end up in damage and destruction, one would think that his wife would be opposed to it.
(A quick pause, for those of you questioning, "Is WhistlinDiesel married?" the answer is: yes, he is married.
But as it turns out, Mrs. WhistlinDiesel likes to take part in her husband's shenanigans, too.
Who Is WhistlinDiesel's Wife?
One such instance would be in the video titled 'My Wife Destroys My $100,000 Truck with a Crowbar.'
The YouTuber's wife, previously known only by her social media handle 'Mrs. Whistlindiesel' did just that — she destroyed Detwiler's $100,000 truck with a crowbar.

WhistlinDiesel and his wife Mrs. WhistlinDiesel in January 2021. (Photo: Instagram)
The wife seems to be equally enthusiastic about trucks as her husband and has her own YouTube channel called Mrs. Whistlindiesel, where she mostly posts videos about her Ford F-250.
As of recent, she goes by Rae on her socials, including Instagram and OnlyFans page. Well, it might be another alias, or Rae might just be Mrs. Whistlindiesel's real name. 
As is mentioned in The Diesel Podcast, the YouTuber married his wife at the young age of 18.
His wife occasionally appears in his videos and social media posts.
Not much else is known about her, which is surprising because she is quite popular with over 353,000 followers on Instagram and 116,000 subscribers on YouTube.
Either way, she seems to be very supportive of what her husband does, and the two live together as a happy couple with abundant trucks to drive and destroy.
In November 2020, Mrs. Whistlindiesel posted an Instagram photo with her husband and what looked like a new Monstermax truck built in the background.
Just months before that, Mrs. Whistlindiesel had taken to Instagram to share that she felt "so lucky and grateful to be sharing life with" her spouse.
WhistlinDiesel's Crazy Truck Tests
The YouTuber has done several crazy acts, but the most startling among them was when he drove his Monstermax, a converted Ford pickup truck, into the Gulf of Mexico.
The truck was afloat throughout the stunt, as eight massive tires spun freely in the open water.
Safe to say, the truck cruising in the water got plenty of attention, including some from the coast guard and the local sheriff.
The YouTube personality avoided any legal consequences other than a measly $70 fine for not displaying the correct boat number. Yes, the truck was registered as an aquatic vessel.
A still of the video had been uploaded to his Instagram, while the video itself can be found on YouTube.
The description for the now-deleted post read: "I will be back with Monstermax 2.0. And I'll have scuba equipment and proper registration for water, land, and air."
In early 2020, Detwiler purchased a 2017 Ford F-350 Limited with massive wheels, lush interiors, and a hydraulic lift to destroy it.
In what the YouTuber called "testing," the pickup truck worth approximately $102,000 was set on fire, smashed with sledgehammers, worn spikes as wheels, dragged through the mud, jumped fences, and ripped apart with an excavator.
Additionally, Detwiller has also played tug-of-war with trucks, pitted trucks head-on with one another, installed razor-sharp wheels or 20-feet wheels into vehicles, and more.
In his 2020 end-of-year Instagram post, the video creator told his followers that he'd like to do bigger things in upcoming years.
And it wouldn't be surprising to see him jump a truck off a building or something along those lines!
WhistlinDiesel's Videos Always Get Mixed Reactions
Not everybody seems to enjoy Detwiler's work, and therefore, his videos always get mixed reactions.
Some love his videos, while others accuse him of being a spoilt brat.
Many are unable to come to terms with why he goes about destroying perfectly good vehicles.
The YouTuber seems to love the attention either way and in many of his videos, he has called out his haters and addressed specific comments made by them.
Love him or hate him, WhistlinDiesel is doing pretty well with his YouTube videos and has amassed close to 3.4 million subscribers as of February 2022.
He seems to have a decent number of sponsors and partnerships and sells merchandise with his branding. His current estimated net worth is close to $1.7 million. 
No wonder Mrs. Whistlindiesel is all too happy letting his husband destroy expensive trucks!